This article is part of Inc42's special year-end series — 2019 In Review — in which we will refresh your memory on the major developments in the Indian startup ecosystem such as funding deals and acquisitions, and their impact on various stakeholders — from entrepreneurs to investors. Find more stories from this series here.
---
This year was nothing short of a rollercoaster ride for startups in India with a plethora of developments in every sector and all major startups in the country. This year, digital payments, deeptech and electric vehicles or mobility startups made headlines not only for their innovation but also for the huge investment being poured into these startups. Enterprise tech and B2B commerce startups also ruled the roost when it comes to funding for the year. As a result, the list of the top funding deals of 2019 reads like a who's who of the best startups in the country.
Well, even though the total funding and number of deals this year could not match up to last year's, Indian startups did leave a mark in the global arena. Pune-based cloud data protection firm Druva, B2B ecommerce marketplace Udaan, fintech major Paytm and Gurugram-based grocery delivery startup BigBasket managed to get large cheques.
The most surprising entry in the unicorn club was Ola Electric, which crossed into the coveted club with a $1 Bn investment from SoftBank, Ratan Tata, Tiger Global, Matrix Partners in just a few months after launching
India's Biggest Startup Funding Deals Of 2019
According to Datalabs by Inc42, Indian startups raised $11 Bn in 2019 (up to November 30, 2019) across 736 deals, while they had raised, while they had raised $9.57 Bn across 717 deals in 2018.
Founded in 2010 by Vijay Shekhar Sharma, Paytm is one of the earliest fintech companies in India and accelerated to popularity with demonetisation of 2016.
In a country that was thrust into digital payments overnight, Paytm emerged as one of the most popular solutions to the problems of not having enough cash. Paytm dominated the funding landscape in India this year with a $1 Bn from asset manager T Rowe Price, raising its valuation to $16 Bn from the previous $10 Bn. The funding is part of a larger round that could go up to $2 Bn overall as per speculation in late November.
While it started as a digital wallet, Paytm has constantly adapted its business model to cater to the latest trends. From P2P payments and merchant payments, it ventured into the payments gateway business followed by billing, ecommerce, investments, wealth management and a payments bank that is soon set to become a digital lender.
India is no stranger to cab-hailing services and that's largely down to Ola. With sights set on international expansion as Uber stumbles, Ola has emerged as one of the biggest players ride-sharing apps, not just in India but globally.
According to an app research firm Sensor Tower, Ola was the fourth most downloaded ridesharing app globally. The platform, which was started in 2010 in Bhavish Aggarwal and Ankit Bhati, has expanded to 20 international cities in UK, Australia, and New Zealand.
Moreover, Ola has also decided to diversify its portfolio with plans for popup restaurants and cloud kitchens, self-driving car rental and separating its financial service Ola Money from its main businesses. in 2019, the startup has raised $597  Mn in funding Mn DIG Investment, Samih Toukan and Hussam Khoury, ARK Ola Pre IPO Fund, allowing Ola to experiment with its portfolio. Not just that, Ola has also started preparing to go public, hinting that the company has been heading towards profitability.

Whenever businesses think delivery in the Indian, they think Delhivery. Even though logistic startups rarely have high brand recall value, Delhivery stands apart. The company, founded by Mohit Tandon, Sahil Barua, Bhavesh Manglani, Kapil Bharati, and Suraj Saharan, runs its operations in over 2000 cities and 17,500 pin codes in India. The company has set up over 12 fulfilment centres for B2C and B2B segment. The company has partnered with major ecommerce companies such as Flipkart and Paytm.
In June 2019, SoftBank, which already owns 22.44% major stake in Delhivery, increased its stake by 3.28% to reach 25.72%. This is a part of Softbank's strategy to acquire 37.97% stake in the company. The startup also raised $115 Mn in fresh funding from the Canada Pension Plan Investment Board (CPPIB) in 2019.
With the new generation of ecommerce shoppers, comes a new generation of parents that want the best and latest products for their children and babies. Baby products are no more about utility but more about quality, variety and trends.
Catering to this niche, Pune-based Firstcry has made a name for itself in the online baby products segment. Founded in 2010 by Supam Maheshwari and Amitava Saha, the vertical ecommerce company offers products across from clothing to toys to school essentials, bringing globally loved brands like Funskool, Hotwheels, Nuby, Farlin, Medela, Pampers and Disney, among others. bathing essentials, right furniture to myriad baby care products.
Looking at the potential growth within this sector, in January this year Japanese conglomerate SoftBank invested $395.7 Mn (INR 2,824 Cr) in a Series E round. The startup used part of the funding to acquire playschool chain Oi to move into the edtech space in November 2019.
With global carbon emissions reaching record levels and adversely affecting the environment, the need for green products also reached its peak. Not only are governments pushing for this, but private players are also seeing a market opportunity for sustainable energy. In India, the renewable energy industry is an area of high priority for the government. It has set a target for creation of 225 GW of renewable energy capacity by 2022.
That's where cleantech startup ReNew Power, founded by Sumant Sinha, came into the picture. The startup focuses on producing renewable energy through its wind and solar power assets, which are available across 16 states in India. Since its launch in 2011, ReNew Power has emerged as India's largest renewable energy independent power producer (IPP), in terms of total energy generation capacity.
The startup has also managed to double its operational capacity in the last three fiscal years. Thanks to the large market potential, Goldman Sachs, Canada Pension Plan Investment Board (CPPIB) and Abu Dhabi Investment Authority (ADIA) poured in $300 Mn funding into ReNew Power via a rights issue in July.
Besides clean energy, green mobility is also a big focus area for public and private stakeholders. Ola also launched its electric vehicle fleet cab-hailing business in 2017. The company is currently running several pilots involving charging solutions, battery swapping stations, and deploying vehicles across two, three and four-wheeler segments.
With SoftBank's $250 Mn investment in July 2019, Ola Electric entered the unicorn club, and the company has also raised $56 Mn investment from Ratan Tata, Tiger Global, and Matrix Partners.
Ola Electric has also partnered with several original equipment manufacturers (OEM) and battery manufacturers. The company intends to work closely with the automotive industry to create seamless solutions for electric vehicle operations.
In November 2019, the startup raised an additional $14.8 Mn funding from South Korean automobile makers Hyundai and its affiliate Kia Motor. The company wants to put 1 Mn electric vehicles on road by 2021.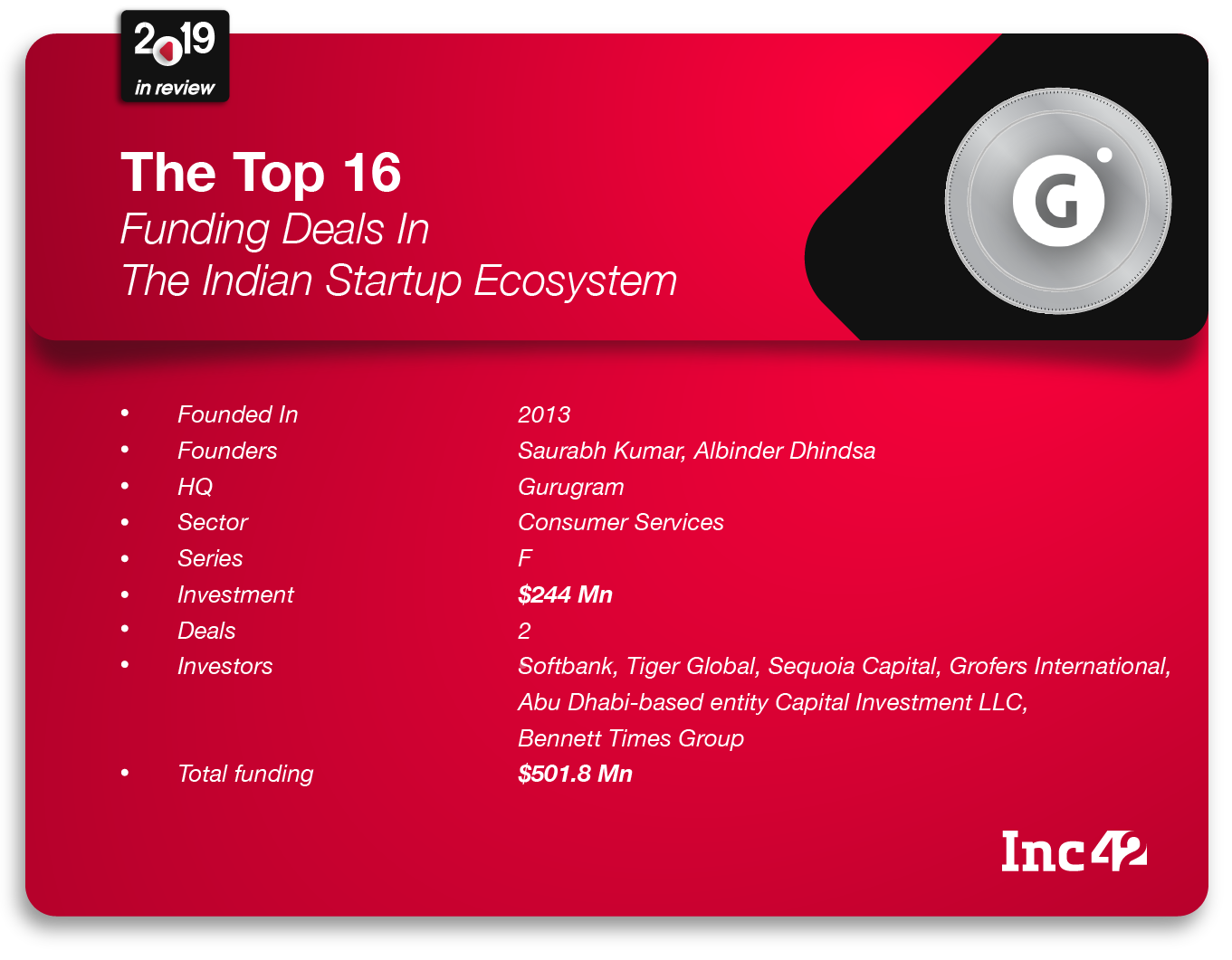 Just like the food delivery space, grocery delivery has boomed in the Indian context and particularly in metros thanks to the ease of use and convenience. Founded in 2013 by IIT graduates Albinder Dhindsa and Saurabh Kumar, Grofers has been expanding from online to offline grocery stores by setting up new stores and bringing local kirana stores on board to expand its services to every nook and corner.
In a bid to beat its competitors like BigBasket, Grofers has increased its operational activities, which has resulted in 56% hike in its losses, accounting for INR 448 Cr in the financial year 2019. At the same time, the company has also noted a 56.5% jump in its revenues to account for INR 531.6 Cr in FY19.
Well as far as the funding is concerned, the startup raised $150 Mn from Japenese conglomerate SoftBank, $10 Mn Abu Dhabi-based entity Capital Investment LLC, $24 Mn from Times group and $24 Mn from its parent company Grofers International.
Grofers also entered the personal care and beauty products market with Orange Something this year.
Grofers' biggest competitor online delivery startup BigBasket also bagged massive $250 Mn funding in 2019 from investment firms like Mirae Asset, CDC Group and Alibaba Group in Series F, gracefully entering the unicorn club.
The next milestone for Bigbasket is to achieve profitability. The company has already announced that it is on the verge of break even its operational cost in more than 10 major cities.
Interestingly, BigBasket has also turned into a facilitator for Indian startups by starting an accelerator programme BB Accelerate to look for potential partnership opportunities in 20-25 the Fast Moving Consumer Goods (FMCG) brands in India. According to media speculations, BigBasket was also in talks to buy micro-delivery platform DailyNinja for INR 100 Cr.
Digital lending has grown rapidly in the Indian context as millions of underserved individuals and businesses mean a never-ending supply of customers. Delhi-based DMI Finance has been successfully grown in this space thanks to a diverse portfolio of corporate money lending, housing finance, consumer loans, MSME lending and asset management. It claims to have over 5 Lakh customers in 9 cities.
The company has more than $852 Mn assets under management and the business growing at a rate of 30% every month. This is largely thanks to a network of 38 live partners who are developing bespoke digital credit solutions for diverse borrower populations.
DMI Finance was founded in 2008 by Shivashish Chatterjee and Yuvraja C. Singh. In 2019, it raised $230 Mn from an asset management New Investment Solutions. In November, DMI invested $14 Mn in Chennai-based developer Vista Homes through DMI Alternatives.
Launched in 2013 by Ritesh Agarwal, Oyo has expanded and transformed at a meteoric pace. From a budget hotel aggregator to entering the franchise model to owning and buying properties around the world, Oyohas set foot in almost every possible segment of the housing and hospitality in 800 cities across 74 countries.
This year, Oyo has acquired multiple companies to venture into multiple portfolios such as @Leisure Groups to start its own Holiday homes, Innov8 coworking to expand its offering to coworking spaces and Hooters Casino Hotels enter Las Vegas's shiny casino market. Also, the company is also partnering up with educational institutions such as Lovely Professional University (LPU) to start student accommodation services by OYO.
Even though the year was marred with controversies and complaints from hotel partners, OYO still managed to double its valuation to $10 Bn. This year, it raised $200 Mn from US-based multinational hospitality company Airbnb in Series E. Also, according to unconfirmed media reports, OYO raised $750 Mn to $1 Bn from SoftBank in September 2019.
This year, Ritesh Agarwal also gave a successful exit to two previous investors Lightspeed Venture Partners and Sequoia Capital India by buying their cumulative 15% stake in the company for a whopping $1.5 Bn.
Beyond the massive funding round, replacing OPPO as the official jersey sponsor of the India cricket team was another highlight of the year for Byju's. In addition to this, the company s is also planning to expand overseas.
Founded in 2008 by Divya Gokulnath and Raveendran, Byju's was launched in 2015. The edtech unicorn offers learning programmes for students in classes IV-XII along with courses to help students prepare for competitive exams like JEE, NEET, CAT, IAS, GRE, and GMAT. Leaving no sections alone, Byju's also launched an early learning segment for 6 to 8-year-olds, in partnership with Disney.
According to DataLabs by Inc42, In 2017 Indian edtech startups raised $375 Mn funding raised in 2017. Interestingly, Byju's had emerged out as the big gun of edtech startups with $230 Mn that year. Maintaining a similar lead in 2019, the startup has scored massive funding this year with $150 Mn from Qatar Investment Authority and Owl Ventures; $11.43 Mn from General Atlantic and Chinese media giant Tencent.
With this, the company' valuation has risen to $5.7 Bn with total funding of $819.8 Mn. Moreover, the company also claimed profitability on a full-year basis with INR 200Cr  monthly revenue in FY19.
Paytm Mall is the ecommerce unit of digital payments platform Paytm that works on a hyperlocal offline-to-online (O2O) business model. The company was launched in February 2017 and is led by Rudra Dalmia. Within 14 months of its launch, Paytm managed to cross over to the unicorn status after a $450 Mn investment from Japanese conglomerate Softbank and Chinese ecommerce giant Alibaba.
The company has raised more than $805 Bn and is currently valued at more than $2 Bn. This year, the platform also started a wholesale entity to add 15% gross merchandise value (GMV) its catalogue. In July 2019, Paytm Mall entered a strategic partnership with ecommerce giant eBay, who also bought 5.5% stake in the company for $150 Mn, with a $10 Mn topup. Under the partnership, eBay will help Paytm offer its catalogue top global audience, in addition Paytm will make eBay's inventory available to Indian consumers.
In terms of losses, Paytm managed to reduce its losses by 35% from INR 1,806 in FY18 to INR 1,171 in FY19, ending March. Paytm Mall's revenue has recorded a 25% hike to INR 968 Cr in FY19, compared to INR 775 Cr in FY18.
Logistics unicorn BlackBuck has made it to this list with a whopping $236 Mn funding round from various big names in the investment sector such as Goldman Sachs, Accel, Sequoia Capital and the World Bank's investment arm International Finance Corporation (IFC), among others.
Blackbuck is not just a regular logistic company but is a platform to make truck transport smarter and convenient.BlackBuck majorly relies on technology to connect truckers with a shipper real-time. With this, the company ensures there are transparency, higher truck utilisation and better shipper service levels at efficient pricing.
It is planning to penetrate deeper into the market by boarding more trucking partners and venturing into new transportation corridors. In addition to this, the company is also working on enhancing its data science and product capabilities to be more efficient in freight matching processes.
Founded as Freshdesk in 2010 by Girish Mathrubootham and Shan Krishnasamyas, the company rebranded itself in 2017. With total funding of $399 Mn, the company has reached $3.5 Bn valuation this year. In 2019, alone, the company has raised $150 Mn from Google, Sequoia Capital, Capital G and Accel.
Freshworks is not only one of the biggest SaaS companies in India but has expanded and tailored its products and offerings to hit all major technology markets in the world. In July 2019, Freshworks was planning an initial public offering (IPO) by 2021. The listing is expected to be on New York-headquartered stock exchange, NASDAQ.
Besides raising funds for the IPO listing, the company is also working to create increased awareness for its brand in the US.
A surprise entrant in the unicorn club this year, cloud data protection startup Druva is going places with its enterprise-focussed offerings. The startup raised $130 Mn funding in 2019 from Viking Global Investors, Neuberger Berman, Atreides Management, and existing investors including Riverwood Capital, Tenaya Capital, and Nexus Venture Partners. Before this round, Druva raised $198 Mn in funding.
Founded in 2008 by Jaspreet Singh, Milind Borate, and Ramani Kothandaraman, Druva leverages on public cloud to offer a single pane of glass to protect, preserve and discover information.
Druva's clientele includes 4K organisations, with the majority of its revenue coming from US-based companies. The company currently has an annual run rate of $100 Mn. This year the company also planned to acquire cloud computing startup CloudLanes to fill the gap between datacenter and cloud.
Social commerce startup Meesho was named the Best Personal Growth Apps of 2019 by Google Play this year. Founded by IIT graduates Vidit Aatrey and Sanjeev Barnwal in 2015, Meesho is an online reseller network comprised of individuals and small and medium business (SMB). The sellers sell the products to their network of contacts and followers on social media platforms like WhatsApp, Facebook and Instagram.
The startup raised $125 Mn in 2019 from a group of investors which included SAIF Partners, Naspers and social media platform Facebook, among others. With this funding, the company has raised a total of $215 Mn.
In 2018-2019, Meesho has managed to increase its losses from INR 5 Cr to INR 100 Cr. The losses can be attributed to staff salaries, logistics, marketing and reseller bonus programs, discounts, rewards, referrals and reimbursements. The startup's revenue also grew to INR 84 Cr from INR 5 Cr.