Between Jan 2018-Dec 2019, Indian startup ecosystem witnessed the entry of 17 unicorns
This year most of the buzz was made by some of the veteran unicorns of the Indian startup ecosystem
We bring to you the 7 unicorns that made the most buzz in 2019
If we say, becoming a unicorn in India is not a dream anymore, it won't be an exaggeration.
There was a time when the Indian startup ecosystem looked up to the Silicon Valley for the unicorns it produced. Well, that's not the case anymore. Between Jan 2018-Dec 2019, Indian startup ecosystem witnessed the entry of 17 unicorns. In 2019, we saw BigBasket, Druva, Icertis, Delhivery, BlackBuck, Dream11 and Ola Electric gain the billion-dollar valuation. According to Datalabs by Inc42, there are currently 31 unicorns in India and 34 soonicorns are on their way to make it to billion-dollar club by 2020.
In fact, according to some analysts, the term 'unicorn' has now become overrated and they are now willing to find new definitions and sub-definitions for the somewhat rapidly attained valuations by companies all over the world, including India, which is currently the third-largest startup ecosystem in the world by most estimates.
While each company differs in its business model and expansion strategy, what's common among them all is the consistency and persistence for growth.
And as they say, old is gold, this year most of the buzz was made by some of the veteran unicorns of the Indian startup ecosystem. As part of special Inc42's year-ender series — 2019 In Review — we bring to you the 7 unicorns that made the most buzz in 2019 and also tell you what they were up to.
Walmart-Flipkart: Of Venturing Into New Domains
Walmart founder Sam Altman once said, "Keep everybody guessing as to what your next trick is going to be. Don't become too predictable." Interestingly, no one could predict what Walmart's newly-acquired Indian ecommerce unicorn Flipkart was going to do next this year.
In 2019, there was no sector that the company left untouched including food retail (FarmerMart), sports and fitness (Adranex), used gadget buying, mobile insurance, video originals, bringing local artisans online (Samarth) along with the expansion of groceries marketplace (Supermart) to new cities, among others. From marking its entry into the hottest sectors to upping its game in logistics and warehousing and from securing partnerships with leading brands like MiMiso, NSDC, ClearTax, Axis Bank and strengthening its tech to take an upper hand in ecommerce– Flipkart did it all this year.
With more than 300 differently-abled workforce in the team, Flipkart has also been playing its CSR role well, further planning to curb plastic packaging and goals of generating 50K+ jobs. At the same time, it is looking forward to bring a promising future in tier 3-tier 4 with plans to bring 50K small-town shops online.
Yet, the company is still struggling to get into the good books of seller bodies like CAIT, which are so aggressive that recently they even urged to ban ecommerce in India, sighting the plight of offline sellers. Guess that's has gone quiet on the high end. Nevertheless, there is no stopping for Flipkart.
Going ahead, Walmart is now planning to spin-off Flipkart's digital payment entity PhonePe at a valuation of $7 Bn. This can be observed something on the lines of PayPal spinoff from eBay in 2015. If taken place, how this will impact both the companies in the coming years, will be something to watch out for in 2020.
Walmart and Flipkart signed off the year by announcing a joint investment in NinjaCart, while Flipkart extended its partnership with Shadowfax by leading its $60 Mn Series D funding round.
PhonePe: A Year Of New Beginnings
This year could not have been better for Indian unicorn PhonePe. Rooting for $7 Bn valuation, the company is enroute to be spun-off from its parent company Flipkart, now a Walmart entity.
The company seems on track right from the start of the year. Entry into wealth management services, tapping in-app merchants in multiple categories for added revenue streams; partners with PoS provider Payswiff; launching new digital keyboard for users —  the list goes on.
It also introduced new use cases to make a customer's experience on its platform more seamless and convenient. This included 'Switch', which does away with the need for downloading multiple apps. Switch allows customers to seamlessly switch between PhonePe and other food, grocery, shopping and travel apps from within the PhonePe app, with just a single tap. Another one is 'Stores', which helps customers discover hyperlocal shops in their vicinity. Customers can pay using their preferred payment modes like UPI, Wallet, Credit or Debit Cards at any of these stores.
While strengthening its offline biz, it now claims to have 5 Mn offline merchants and has a network of  80 lakh MSMEs in over 215 cities in India.  It also has 150+ million bank accounts linked on its platform, with over 56 Mn saved credit & debit cards on its platform as of December 2019. In December, it crossed 5 Bn transactions on its app, which is a 5x growth as compared to last year.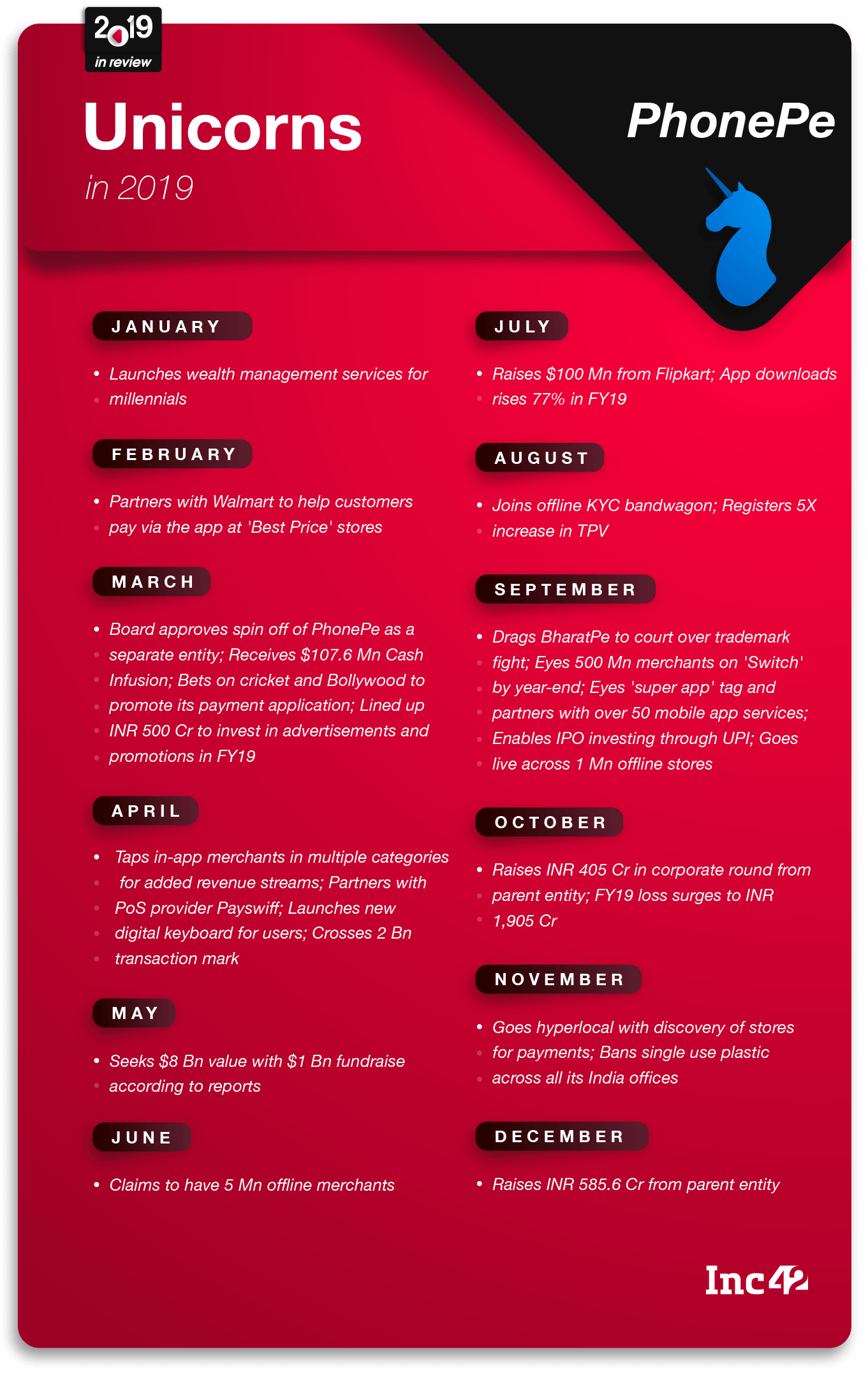 OYO: Of Navigating To Unknown Lands
2019 proved to be a rollercoaster ride for Indian unicorn OYO. Right at the beginning, in January 2019, the Federation of Hotel and Restaurant Associations of India (FHRAI), a pan-India body of hotel owners and operators, alleged that more than 200 hotels have ended agreements with OYO over mismanagement of contracts, arbitrary charges and other disputes. Once this debate began, it never ended. The issue induced strikes in Pune, Nashik, Kota, Manali, Jaipur Ahmedabad, Bengaluru and Delhi; reached CCI and even crossed the international waters reaching to the USA.
While this was not enough, OYO founder and Group CEO Ritesh Agarwal along with two company representatives—Anand Reddy and Prathik Singh— were named in a Bengaluru police complaint in an alleged case of INR 1 Cr fraud. Further in November, another Bengaluru-based hotelier filed a first information report (FIR) at the Ulsoor police station in Bengaluru against Agarwal as well as others in the company.
With Softbank continuously pouring money and the company being on an expansion spree, OYO's new trouble is to show profits in the books as a valuation report from June 2019 by the company's valuers hints at burgeoning losses for the global company. OYO as a group aims to turn profitable in 2022.
The company is expecting $285.9 Mn in losses for 2020 but aims to turn a profit of $45.2 Mn in 2022. As of December 2019, OYO Hotels & Homes claims 35K hotels, 1.2 Mn+ rooms, 125K vacation homes in more than 800 cities in 80 countries, including the U.S., Europe, U.K., India, Malaysia, Middle East, Indonesia, Philippines, and Japan.
Towards the end of the year Agarwal announced that the company would cut ties with some hotel partners over quality issues, as he broke his silence over the hotel protests.
Ola: On Track To Profitability
As far as trouble goes, Indian unicorn Ola did not face anything new this year. Surge pricing and driver concerns like high commission charges, safety and well being were the primary issues faced by the company, which have been present in the past too. and yet, a permanent resolution to these problems was not found this year.
But that's a story for some other time. 
On the whole, this year, Ola did quite well. Rooting for IPO, Ola is on track to attain profitability, taking some tough calls. In order to reduce cash burn, the company could lay off up to 8% of its 4500+ employees, and will transfer many more employees will be transitioned to other parts of Ola's empire — Ola Electric, Ola Foods, Ola Financial Services etc. According to reports, 500 pink slips were passed on to Ola employees this year.
The company is also speculated to be spinning off its payment arm Ola Money, while EV arm Ola Electric has achieved unicorn status by itself. Finally, Ola suspended the food delivery business of acquired entity Foodpanda and managed to keep Softbank at bay despite raising funding rounds and continuing its expansion. Towards the end of the year, the company announced major plans around Ola Foods and also launched its first brand of hybrid restaurants which walk the line between quick-service restaurants and cloud kitchens.
On the international front, it began its international foray last year with Australia being the first country to launch, within a span of a few months, Ola expanded its services to the UK and then New Zealand in quick succession. Recently, Ola was granted a Private Hire Vehicle (PHV) license by Transport for London (TfL) and is subsequently starting to onboard drivers ahead of launching its service in London. The company aims to double its scale by 2021, as it introduces technology and category innovations to cater to local mobility needs.
Zomato: An Impactful Yet Controversial Year
Till June, the year can be said to have been a fine dining experience for Zomato. But just one tweet from an angry 'religious' consumer over a Muslim delivery boy, turned it to roadside chaos and a never-ending series of debates in the industry. While over 100K tweets were received against Zomato through the #BoycottZomato and #ZomatoUninstalled campaigns,  differences over halal and non-halal meat was another hot trend observed. The company had to explain why it has a separate tag but was accused of having double standards.
In the following months, the company also had to face protests from restaurants over commission issues, with questions raised on Zomato Gold and Infinity Dining programmes. Industry critics were assuming this fallout to be a severe blow to Zomato's brand and expansion goals in the near future, with rivals Swiggy and UberEats closing on rapidly.
Amid all these controversies, Zomato, however, managed to raise its long-pending $600 Mn funding round. This means that the company is very much in the game for the year 2020. With operations in 11 countries and 48 Mn consumers, Zomato is currently busy testing drone delivery, making more food shows ( 'Eat Like a Girl), piloting greener deliveries among others.
Swiggy: Betting High On 'Cloud'
In comparison to its arch-rival Zomato, Indian unicorn Swiggy has a good year. While the company stayed away from most controversy, it was briefly caught up in the issue of deep discounting on food aggregators, which was a major point of protest for restaurant bodies this year   But beyond that, the foodtech unicorn launched a number of new programmes like Swiggy Smile, Swiggy Udaan, Swiggy Go, Swiggy Stores and Swiggy Daily Meal among others.
Swiggy is reportedly planning to generate 30% of its overall revenue from beyond its food delivery service. Its cloud kitchen programme, Swiggy Access, now hosts kitchens by 1000 restaurant partners across India.
It has invested INR 150 Cr in setting up Pods — spaces purpose-built for setting up multiple cloud kitchens and is investing an additional INR 75 Cr to bring more partner cloud kitchens in 12 new cities by March 2020.
Paytm: Moving Forward With A Cautious Approach
Paytm has been working with a cautious approach all year around. Amid the new launches and expansion, we found two most interesting developments at the Indian unicorn.
One, the controversial Sonia Dhawan made her entry back into the Paytm camp. She's joining First Games (former Gamepind) as Vice President (VP) public relations and marketing. Overall, the company saw a lot of restructuring with many senior-level exits and new appointments. However, as Paytm is enroute to float an IPO soon, no one seems to mind these rejigs. The way investors put in $1.6 Bn in the company recently, indicates that Paytm is certainly moving in the right direction. And that made the second most interesting development for Paytm this year.
Nevertheless, flush with funds, there is no stopping for Paytm next year. Paytm will invest around INR 10,000 Cr ($1.39 Bn) to acquire customers and merchants in smaller towns. Additionally, Paytm will also spend this money to partner with online merchants as well. The company's businesses such as payments and ticketings are already in the process of breaking even and it is investing in its business segments — education, financial services and insurance, among others.
Good luck everyone for the year 2020!