B2B startups dominated the new faces in the Indian startup unicorn club in 2019 as two startups from Pune made the cut.
When Aileen Lee, founder of Cowboy Ventures, in 2013, coined the term 'unicorn' for startups with valuations over $1 Bn, India had only two of them — Makemytrip and Inmobi. But things have changed quite a bit in 2019.
Since then with large international conglomerates such as SoftBank, Alibaba, Tencent, and Bytedance entering the Indian market with a bang and signing large cheques, Indian startups have regularly crossed the threshold. These foreign tickets have helped India to become home to 33 unicorns. While in 2018, 10 startups entered the coveted club, 2019 witnessed the journey of seven startups claiming the tag of a unicorn. Moreover, five out of these seven startups, which joined the unicorn club, were B2B.
This year also witnessed the addition of two unicorns from Pune. The list of surprise unicorns for the year includes cloud data protection firm Druva, ride-hailing company Ola's electric vehicle arm Ola Electric, and enterprise SaaS company Icertis. These three are an interesting addition to the list primarily because they differ so much in their journeys.
Seven Startups That Joined The Unicorn Club In 2019
From Ola Electric raising money at a high valuation (while it is still yet to roll out the service) to Druva's' sooner-than-expected entry into the unicorn club and Icertis's leap in funding, all three have surprised the ecosystem in some way. Especially, as their rise as coming before some older startups such as Zerodha, Nazara, IndiaMART, Pepperfry and many others.
BigBasket: Grocery Delivery Gets First Unicorn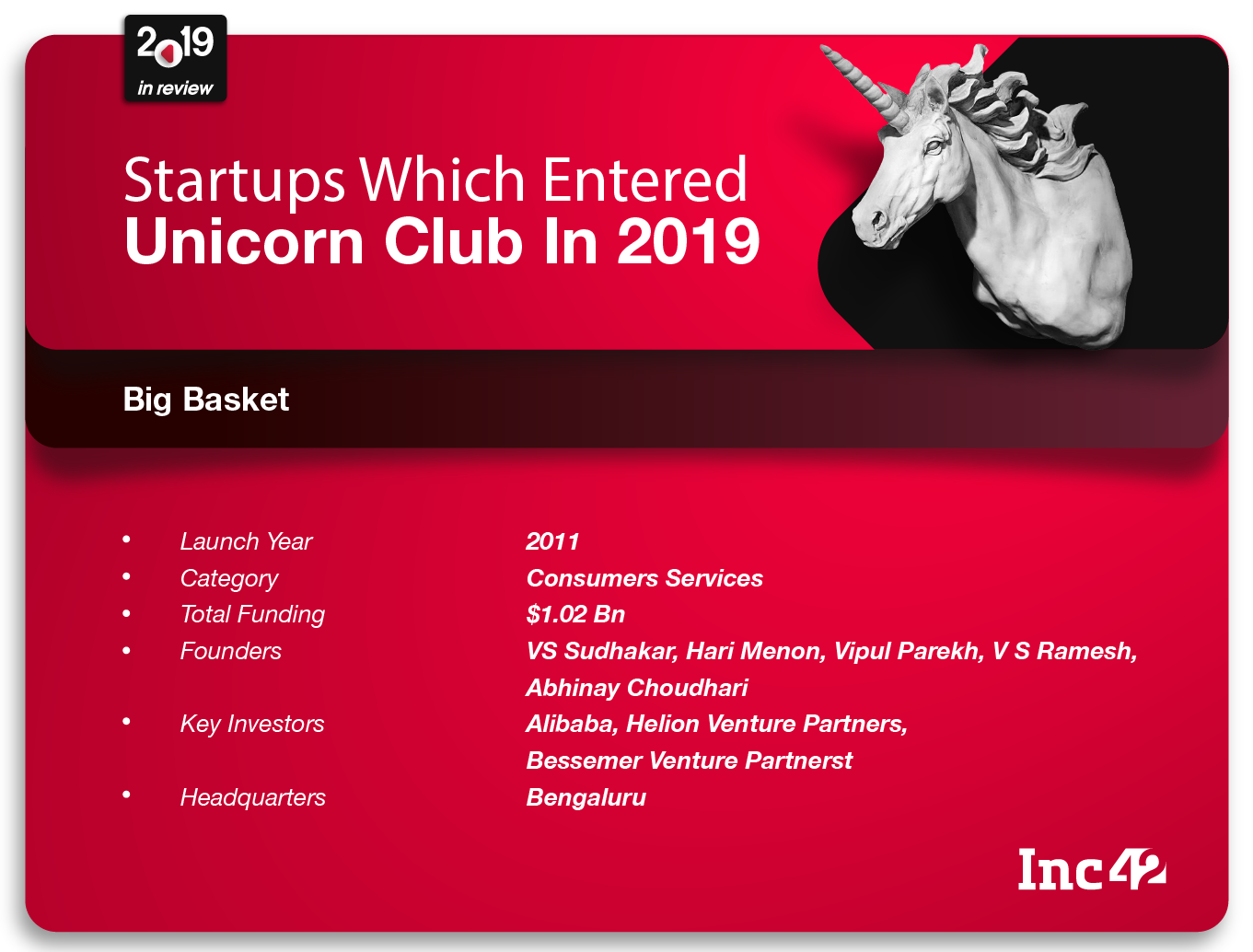 With the close of its $150 Mn Series F funding round, Bengaluru-based hyperlocal grocery startup BigBasket, in May 2019, entered the niche unicorn league.
Founded in 2011 by VS Sudhakar, Hari Menon, Vipul Parekh, V S Ramesh and Abhinay Choudhari, BigBasket is a grocery delivery startup which has expanded its product offerings in categories such as including household essentials and cosmetics, among others.
Till now the startup has raised $1.02 Bn and counts on marquee investors such as Alibaba Group, Helion Venture Partners, Paytm Mall, Helion Venture Partners, South Korea's Mirae Asset Global Investments and the UK government-backed CDC Group.
Recently, the company has announced that it is all set to achieve the breakeven point in 10 Tier 1 cities, including Delhi, Mumbai and Bengaluru, in the next three to four months.
Druva: On Enterprise Cloud Nine
Pune-based tech enterprise Druva offers cloud data protection and information management software solutions with the majority of its revenue coming from US enterprises. The startup raised $130 Mn, in June, led by Viking Global Investors that saw it join the unicorn club.
Founded in 2008 by Jaspreet Singh, Milind Borate, and Ramani Kothandaraman, Druva offers enterprises cloud data protection and information management solutions by leveraging the public cloud with an integrated cloud management console. NASA, pharma giant Pfizer, hotel chain Marriott, the US National Cancer Institute and global logistics player DHL are some of Druva's clients.
So far, the startup has raised around $328 Mn and counts on the back of investors such as Neuberger Berman and Atreides Management, Riverwood Capital, Tenaya Capital, and Nexus Venture Partners, among others.
Recently, Druva has announced that it has surpassed $100 Mn in annual recurring revenue (ARR). The company said that this has been fueled by increasing cloud adoption and a shift to SaaS delivery for data protection.
Ola Electric: Mobility Goes Green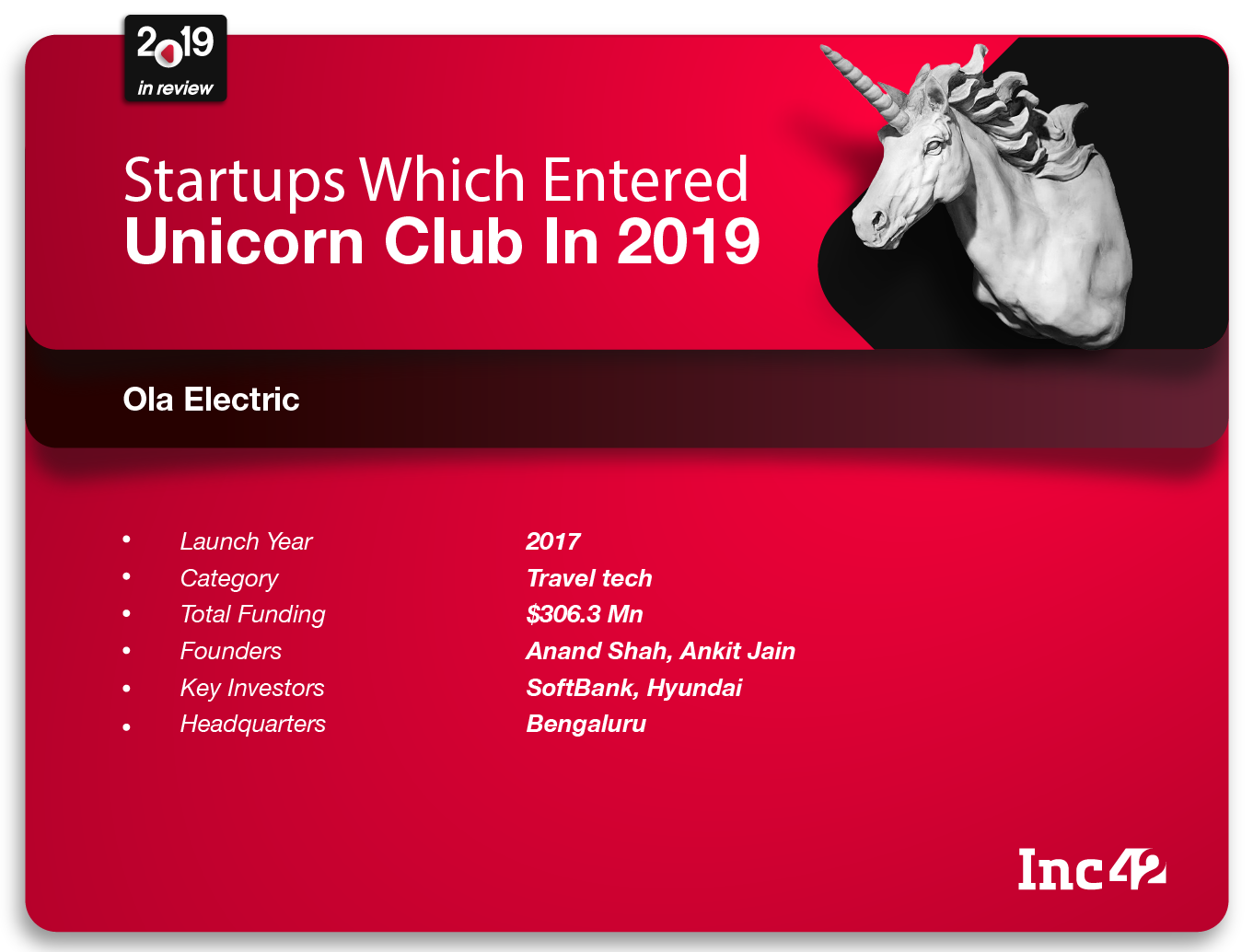 The concept of unicorns making new unicorns fit perfectly well for cab aggregator Ola's electric vehicle startup Ola Electric. With backing from Ola and a slew of investors, the EV startup joined the coveted unicorn club with raising a massive $250 Mn Series B funding round from SoftBank earlier in July 2019.
Incorporated in March 2019, Ola Electric had previously raised $56 Mn (INR 400 Cr) from investors such as Ratan Tata, Tiger Global, and Matrix Partners. Recently, the company has also received $11.9 Mn from South Korean automobile maker Hyundai and $2.9 Mn from Hyundai's affiliate Kia.
The high valuation that Ola Electric now commands is indicative of the growing confidence in India's EV market which was valued at $71.1 Mn in 2017 and is projected to reach $707.4 Mn by 2025.
Ola Electric is currently running several pilots involving charging solutions, battery swapping stations, and deploying vehicles across two, three and four-wheeler segments. The company has partnered with several OEMs and battery manufacturers and says it will work with the automotive industry to create seamless solutions for electric vehicle operations.
Rivigo: Getting Trucks On Track
Logistics startup Rivigo raised around $4.9 Mn funding in September 2019 from a South Korea-based investor KB Global Platform Fund, which helped the company to enter the league of billion-dollar companies.
Founded in 2014 by Gazal Kalra and Deepak Garg, Rivigo owns and operates over 2,100 trucks and has a pan-India network across 150 locations. It offers pan-India delivery services to ecommerce, pharmaceutical, automobile, cold-chain and fast-moving consumer goods companies. The company said it covers more than 29K pin codes in India.
While Rivigo posted a loss of INR 600 Cr in FY19, the company also registered a 45% annual growth last year. Moreover, Rivigo is planning target of achieving EBITDA profitability in March 2019.
Delhivery: Delivering Ecommerce To India
Gurugram-based ecommerce logistics startup Delhivery joined India's growing group of unicorns with $400 Mn-plus funding round led by Japanese investment firm SoftBank. The infusion from the Japanese marquee investors helped the logistics company to become a part of India's unicorn club.
Founded by Mohit Tandon, Sahil Barua, Bhavesh Manglani, Kapil Bharati, and Suraj Saharan, the Gurugram-based startups is one of India's newest unicorns, valued at $1.5 Bn. The logistics startup has services in more than 600 cities in India.
Besides any potential play in the B2B side of the business, Delhivery is also looking to enhance its logistics services by bringing in electric vehicles (EV) and drones into its operations.
The company claims that it has fulfilled over 500 Mn transactions. It claims to work with over 10K direct customers, which includes large and small ecommerce participants, SMEs and over 350 leading enterprises and brands.
Notably, Delhivery acquired the India business of Dubai-based logistics firm Aramex for an undisclosed amount. Delhivery took over Aramex's local operations in March.
Icertis: Continuing India's SaaS Legacy
Seattle and Pune-based SaaS company Icertis joined the coveted unicorn club in July this year. A $115 Mn funding round, led by US-based venture capital firm Greycroft and PremjiInvest, had then helped the company to earn this tag.
Founded in 2009 by Monish Darda and Samir, the Bellevue-headquartered cloud enterprise software startup is a provider of enterprise contract management in the cloud. The company's flagship product, Icertis Contract Management (ICM), can manage, sell-side, buy-side, and corporate enterprise contracts across the globe by leveraging the power of the cloud.
So far, the SaaS unicorn startup has raised funding over $211 Mn from B Capital Group, Cross Creek Advisors, Eight Roads, Ignition Partners, among others.
Icertis joins the likes of Zoho, Freshworks and Druva as SaaS unicorns from India, and enterprise software remains a strong suit for the Indian startup ecosystem. This is perhaps explained by the decades of expertise Indian IT companies have in the outsourced IT services industry, which has helped them become more keen about the software needs of large enterprises.
Dream11: Fantasy Gaming, Real Business
Mumbai-based fantasy gaming startup Dream11 joined the Indian unicorn club with an investment round led Steadview Capital in April this year. It became the first gaming startup to achieve a $1 Bn-plus valuation, and has revived investor interest in this segment.
Founded in 2008 by Harsh Jain and Bhavit Sheth, Dream11 offers its users fantasy gaming in categories such as cricket, football, kabaddi, and National Basketball Association (NBA). The disclosed funding of Dream11 stands at $100 Mn. Notably, this funding, which came in September 2018, was led by Chinese Internet conglomerate Tencent.
The gaming startup claims to have over 50 Mn users and enables them to showcase their sports knowledge through fantasy gaming. Despite launching in 2008, the company had a few pivots and took on its current form only in 2012. Today, Dream11 is seen as a pioneer in the fantasy gaming industry — the number of fantasy sports users in India grew 25x to over 50 Mn users in 2018 from mere 2 Mn users in June 2016, according to KPMG.