Twenty years ago India's young millennials were entering their teenage years and got their hands on broadband (or what passed for broadband in India). These early years of the internet in India were dominated by dial-up connections (that took sometimes up to 15 minutes to just connect), the blue screen of death from Windows 98 and XP, Yahoo and MSN Messenger and chat rooms and chain emails! Startups and technology were limited to international imports. But come 2020 things have indeed taken a drastic turn.
Well, we have come a long way since then, but the journey has been far from simple, and the rise of tech in India has coincided with the new millennium.
The new century began with young millennials (18-22 years) witnessing the Y2K scare and thousands of Indian engineers being hired to fix the Y2K bug. This job, which could have been given to workers in many other countries, was outsourced to India and made India a global powerhouse for outsourced work. It built India's IT prowess and by the middle of the first decade of the 21st century, India was seen in a different light, presenting itself as a serious contender in the global software race of the late 1990s and early 2000s.
Smartphone Boom Ushers In Startup Age
One would be forgiven for forgetting India's first startup wave that came with the dotcom boom. Only a handful of companies that arrived on the scene then still survive. But the early 2000s brought the heady buzz of mobile — Nokia, Blackberry, Moto Razr, Windows Mobile and Palm and finally the iPhone and Android smartphones. The domination of mobile was accompanied by the rising ambitions of India's sprouting middle class, the birth of India's first few global metropolitan cities, Facebook 'scrapping' with Orkut in the social media game and, most importantly, the birth of India 1 or Tier 1 markets.
As many have said over the years, there are many different versions of India. India 1, as the upwardly mobile urban population of the country is known, has built a reputation for being quick tech adopters and with 31 Mn workers, represents 6% of the population in the country, according to some estimates.
While the first decade of the 21st century was all about this 'India 1', the decade of 2010-2019 began with over 100 Mn millennials entering the workforce and the rise of Tier 2 and 3 markets or India 2 and India 3. India is today home to the world's largest working population thanks to this workforce.
This coincided with one of the most prosperous periods of growth, with GDP growth being unrivalled by any economy in the world and per capita income grew by nearly 300%, leaving India's youth with increasing disposable incomes and spending power. In short, the India tech story was going great and things looked to be in full bloom.
As India leapt into the smartphone era in the early 2010s after the 2G scam and the rise of 3G, there was palpable excitement in the air around the potential of India. The economic growth coupled with the rise of the internet and smartphones made India a ripe destination for tech products and services.
The last few years of the decade have shown India has a great appetite for technology, data and the internet. In just the last 2 years, mobile data users have nearly tripled to 460 Mn, data prices have reduced by 98%, and data consumption has increased by 11x.
In the midst of all this, we started Inc42 five years ago, and the word 'startup' had just found its mainstream moment. From having a handful of tech companies to dozens and thousands of innovative new ventures, India's startup ecosystem has grown immensely in the past decade.
From 29K startups in 2014, the numbers grew exponentially from 2015-2017 to touch 49K in 2018. In less than half a decade (2014-2019) startups and their enabling ecosystem have flourished with the support of the government's ambitious Startup India, Make in India and Digital India programmes.
Thanks to favourable factors, Indian startups have created a value combined value of about $130 Bn with overall funding skyrocketing to touch $53 Bn during 2015-2019 alone. Moreover, apps developed by Indian companies surpassed their Chinese counterparts in terms of downloads this year — 41% of the top 200 applications downloaded in 2019 were Indian — which is another sign of the market maturing.
In 2020, India will have over 410 Mn millennial consumers, contributing more than $330 Bn to total consumption expenditure, which is ripe for the taking for startups in the Indian market. This growth has been unparalleled in any modern economy, and much of it has been written in the past ten years when startups hit it big time. In the decade the follows 2020, this promise will be fully realised as India's data user base for startups is expected to cross 1 Bn users by 2030.
"Our vision of India in 2020 is of a nation bustling with energy, entrepreneurship and innovation…" – India Vision 2020 Report — Planning Commission, 2002
But things are changing rapidly. While so far the Indian startup story has just been about tapping into India 1, as we move into the next decade from 2020, startups have begun to look at capturing 'India 2'. The opportunity in India 2 and 3 begins with job creation, skill development and working to improve financial inclusion and reducing the digital gap.
Speaking of jobs, together, India's unicorns and soonicorns alone have created over 100K white-collar jobs and more than 2.5 Mn blue-collar jobs. According to the government of India, the Startup India initiative has helped create an estimated 187K direct jobs since its inception in 2016, with the number of related indirect jobs currently estimated to be at 560K. This job growth has come at a rough cost of over INR 2,500 Cr disbursed by the government to fund startups. But more is needed to make this a holistic transformation, across the different Indias.
The major contributor and benefactor of this startup job creation wave have been the gig economy with companies such as food delivery startup Swiggy, which employs around 210K delivery partners and plans to increase this to 500K by 2021. Swiggy rival Zomato, on-demand delivery service Dunzo, hyperlocal services company UrbanClap, cab-hailing companies Uber and Ola together employ millions of workers who were not considered employable in the past before startups came on to the scene. While unemployment continues to be a major problem in the country, tech companies are doing their share of the work to solve this.
Not just this, companies such as Flipkart have contributed directly to the launch of new startups by nurturing tech workers into entrepreneurs. As per DataLabs by Inc42, over 250 of Flipkart's former employees are now founders at startups that have created thousands of jobs. And that's just one unicorn.
2020 And The Decade Ahead For Indian Startups
Over the next decade from 2020 to 2029, the India growth story is likely to include growth across sections of society. That's because one of the key focus areas of tech companies has been inclusion. The unique nature of the Indian market makes growth and scale impossible without inclusion, as India has such a massive Tier 2 and Tier 3 base.
As seen in the fintech developments over the past few years, technology inclusion will come to the fore in the next decade through edtech, cleantech, agritech, SME-focussed products/services and social impact startups. These sectors present great opportunities for Indian tech startups as they are primarily about solving the problems in India 2 and India 3.
But as the population migrates from Tier 3 to Tier 2 and Tier 2 to Tier 1, startups will find it challenging to balance their models for these mingling segments.
According to a Mckinsey report, India is expected to grow from a largely lower-middle-income economy to an upper-middle-income economy by 2030, with per-capita income estimated to grow $2,000 currently to around $5,700 in the next ten years.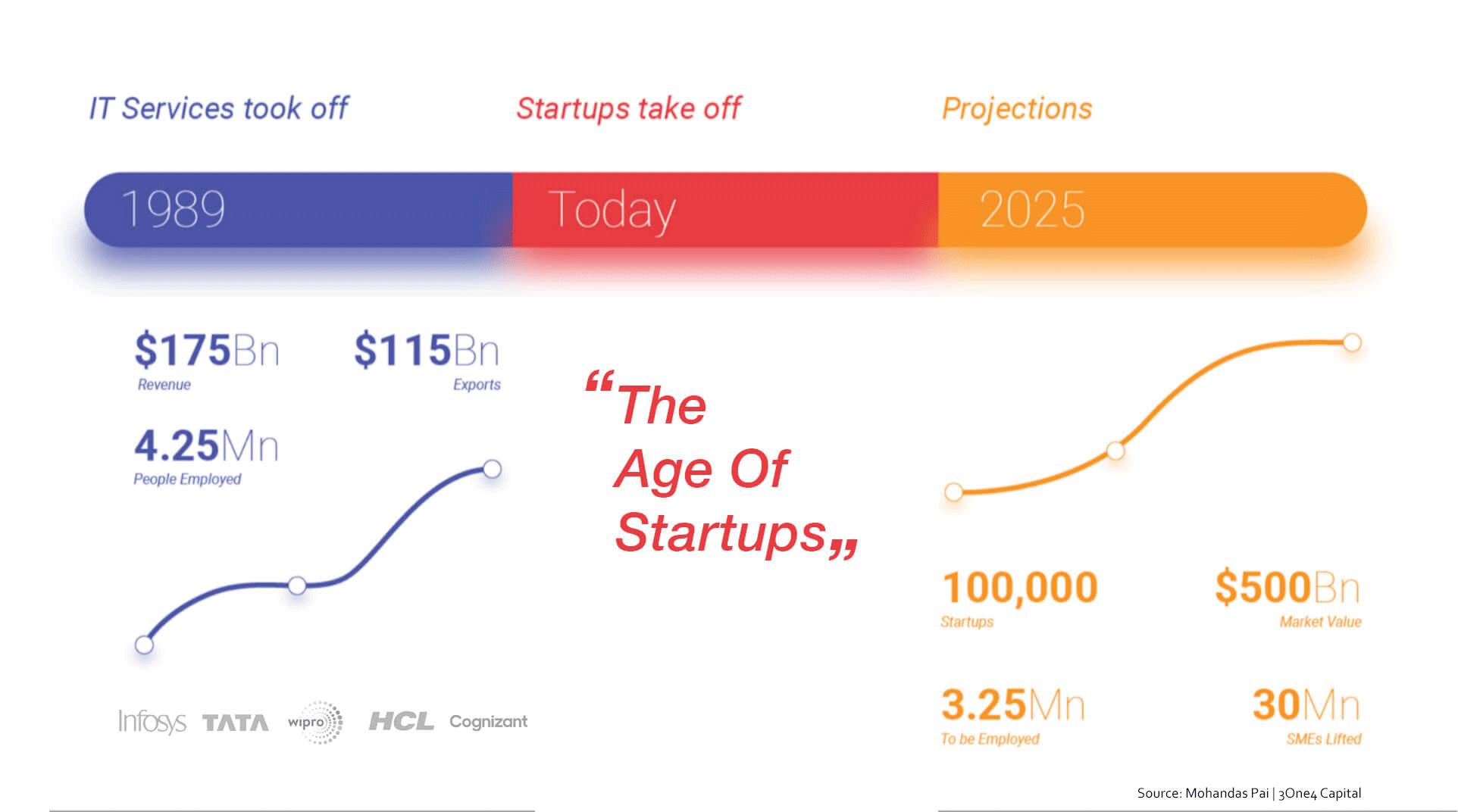 By 2030, India's cities are expected to account for nearly 40% of the population and this massive urban population will contribute to as much as 75% of the total GDP from 63% currently. This rising urban class will dominate the tech landscape opening up more opportunities for startup products and services. Estimates say that India's capital Delhi could overtake Tokyo as the world's largest city by population by 2030, and 68 cities in the country are expected to have a population of more than 1 Mn.
Given the state of the environment today, climate change poses a real threat to life. Consequently, between 2020 and 2029, cleantech and green mobility innovation will be thrust into the limelight. There definitely is plenty of investor interest in this segment at this time, and this is likely to realise its potential in the next decade. Besides investors, the government has allocated a huge amount of its budget to transform the mobility sector with electric vehicles.
In many ways, green mobility and cleantech are having their internet moment, and it's only just starting. There was a time when the internet was a good-to-have element in everyday life, but now it's become indispensable. Cleantech products and services will become similarly — if not more — critical to life and business.
When it comes to improving inclusion and closing the digital gap between Tier 1 and Tier 2 India, startups have already doubled their efforts towards this by going deeper on the localisation and value-creation fronts. Consequently, we expect the growth in startups to accelerate as these efforts come to fruition.
By 2025, the number of startups in India is expected to cross 100K, creating more than 3.25 Mn jobs in the process. At the same time, the total funding in Indian startups is likely to increase to over $150 Bn and with the total value creation exceeding $500 Bn. Innovation will be more broad-based in the next decade with several new sectors emerging as value creation spreads across segments and tiers. As can be expected, newer business models within existing sectors will be the norm as the market matures. In fact, we region-specific sub-sectors to sprout up by 2030 given the vast geography and landmass of India.
By 2025, India will have 100 unicorns compared to around 160 unicorns in China in 2019. While that figure seems rather small in comparison, in relative terms — given the market factors and vibrancy of the Indian startup ecosystem — this is still the dawn of digital innovation in India. In other words, the day has only begun!