Bengaluru-headquartered Swiggy has edged out its main competitor Zomato in terms of the annual revenue for FY2020 as well as the overall rate of increase in losses. 
For the fiscal year ended March 31, 2020 (FY20), Swiggy has reported total income of INR 2,956 Cr, as compared to Zomato's total revenue of INR 2,486 Cr. Swiggy's revenue grew 129% year-on-year (YoY) from INR 1,292 Cr in FY19. During the same period, Swiggy's total expenses grew 88% YoY to INR 6,864 Cr. As a result, the company's losses grew 66% from INR 2,362 Cr in FY19 to INR 3,909 Cr in FY20. 
While the overall loss is higher than Zomato in absolute terms, Swiggy seems to have its expenses and profit-loss margin in better check than its Gurugram-based competitor. Zomato's net loss in FY20 grew by a whopping 161% YoY to INR 2,451 Cr, a bigger jump than Swiggy's 66% higher losses. This despite Zomato spending far less than Swiggy in the year. Compared to 88% growth in expenses for Swiggy, Zomato reported a 37% growth in expenses for the fiscal year with INR 4,628 Cr spent overall. Swiggy's financials were first reported by Entrackr.
Notably, in FY19, Zomato had registered a higher revenue than Swiggy, the latter having burnt more cash.
Revenue Comparison
In terms of revenue, Swiggy has continued its strong growth momentum, whereby, it has grown by more than 100% YoY since 2018. In FY19, its revenue had grown 176% YoY to reach INR 1,292 Cr.  The company's net loss grew 490% to INR 2,346 Cr in 2019. 
Major growth drivers for Swigy were the service fee collected from restaurant partners, growth of sales from private labels, advertisement income and income from delivery services. 
As for Zomato, ad sales, online ordering and Zomato Gold (now called Zomato Pro) business segments were the major sources of revenue for the company. 
Swiggy's income from providing delivery services nearly tripled YoY to INR 545.7 Cr, while that for Zomato increased by 1,167%, from INR 16.28 Cr in FY19 to INR 206.3 Cr in FY20. 
Expense Comparison
For Swiggy, the biggest contributors to the expense sheet were costs related to the operation of private label brands and payments made to delivery workers, together making up 42.5% of the company's total expenditure. Employee benefit expenses also more than doubled while advertising and promotional expenses increased 13.5%, according to the Entrackr report. 
For Zomato, employee benefit expenses and finance costs both increased by 33% each, to INR 621 Cr and INR 77 Cr respectively, while other expenses, which includes the company's spending on rent, fuel, conveyance, bad debts, legal, advertising and promotional and other miscellaneous expenses, increased by 36% to INR 3,856 Cr in FY20.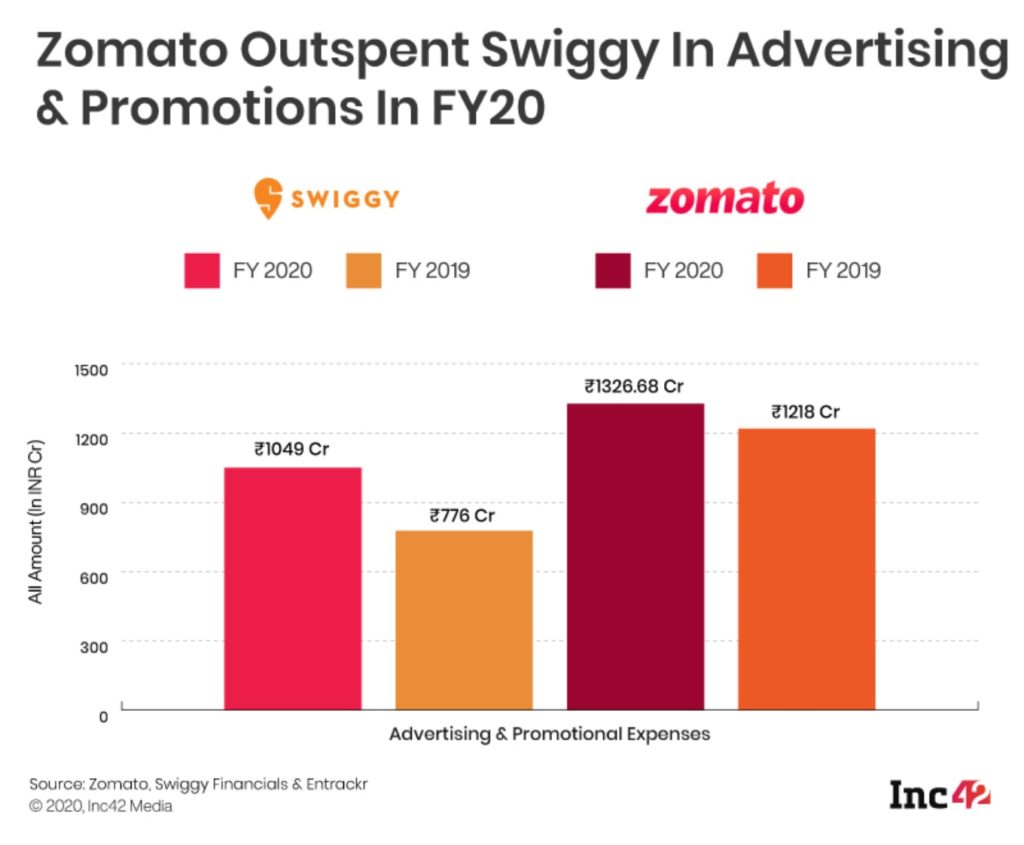 How The Pandemic Has Changed Food Delivery
Beyond FY20, since April 2020, both companies had to face a severe downturn in business and were also forced to lay off employees and delivery partners amid the pandemic. Swiggy even saw protests in various cities by its delivery partners, who complained about a fall in wages and the removal of monthly incentives. A recent report by the Fairwork India Foundation, which talked about the treatment meted out to India's gig workers by its companies, served as a severe indictment of the work conditions for delivery workers engaged with Zomato or Swiggy.
While business seems to have recovered well since July onwards, leading to a boom towards the end of the year, the pandemic's impact could mean that losses for both companies could grow even further in FY21. 
Both companies had launched grocery delivery services during the Covid-19 lockdown to cater to the peak demand during this phase. While Zomato has all-but exited the space now, Swiggy recently discontinued its marketplace approach for retail stores and is looking to embrace the dark stores model for hyperlocal deliveries. 
Besides grocery delivery, Swiggy also expanded its Genie hyperlocal courier services to boost its revenue prospects in the post-pandemic market. It expanded Genie to over 15 cities, going directly after Dunzo with pick-up and drop-off of items or parcels.
In July, Inc42 reported that Zomato's earnings in the Covid-19-hit first quarter of FY21, from April to June, stood at $41 Mn (INR 299 Cr), while the loss was $12 Mn (INR 88 Cr). 
Based on Zomato's revenue in the first quarter of the current fiscal year, it looks like FY21 wouldn't be as profitable for the company as FY20. Assuming that the average quarterly revenue for Zomato will be between $41 Mn and $45 Mn, the expected annual revenue for FY21 will be in the range of $165 Mn-$180 Mn. Compared to FY20, the financial year 2020-21 might bring a revenue decline of approximately 54% to 58% for Zomato.