The online grocery business can be brutal on unit economics as the past year has shown. BigBasket knows this all too well as even a 36% growth in income in FY20 has not been able to turn around its loss-making streak. Despite a robust rise from INR 2,803 Cr in FY2019 to INR 3,818 Cr in FY20, BigBasket ended the fiscal year, ended March 31, 2020, with INR 710 Cr loss. 
Given that margins are thin in the traditional grocery delivery business, over the past few years, BigBasket has been looking at private labels for positive growth in the unit economics. The company owns private labels such as Fresho (fruits, vegetables, idli/dosa batter, meat), BB Popular & BB Royal (grocery staples) and Tasties (coffee, snacks) and other brands. 
The company generates over 35% of its total sales from private labels, cofounder Hari Menon had said in October 2019 (in FY20) and added that it wants to scale this up to about 45% with new FMCG products. This in turn meant the company spent a lot more on purchase of stock and inventory in the year. It's notable that this cost by itself comes up to over 91% of BigBasket's total revenue of INR 3,818 Cr in the fiscal year. And therein lies the problem for BigBasket. 
Overall, the startup's expenses grew 31% in the fiscal year to INR 4,411 Cr in FY20, The increase in the company's expenses can be attributed to a substantial rise in purchases of stock in trade (groceries and other household items) by 34% to INR 3,546 Cr
Some Positives In Another Loss-Making Year
Even though the losses grew 26% year-on-year in FY20, given the scale of BigBasket's business, this can be considered an improvement, especially after the nearly 2x YoY increase in losses in FY19. 
Moreover, the company's revenue witnessed a progressive increase for at least the third straight year. In FY18, its revenue had increased by 34% YoY, while in FY19, it increased by 69%. 
Given that purchase of stock in trade was the primary cost centre for the company, it's pertinent to see how much it earned from sales to consumers, which is its primary business. The company's revenue from the sale of products increased by 38% to INR 3,709.7 Cr, while its B2B business or sale of services saw a 41% growth in income to INR 77.7 Cr. 
Among the other major expenses, the grocery delivery company reported a 26% jump in employee benefits expense to INR 343.46 Cr. Other expenses, which include spending on rent, fuel, power, legal and advertising services, among other things, fell by over 5% to INR 467 Cr.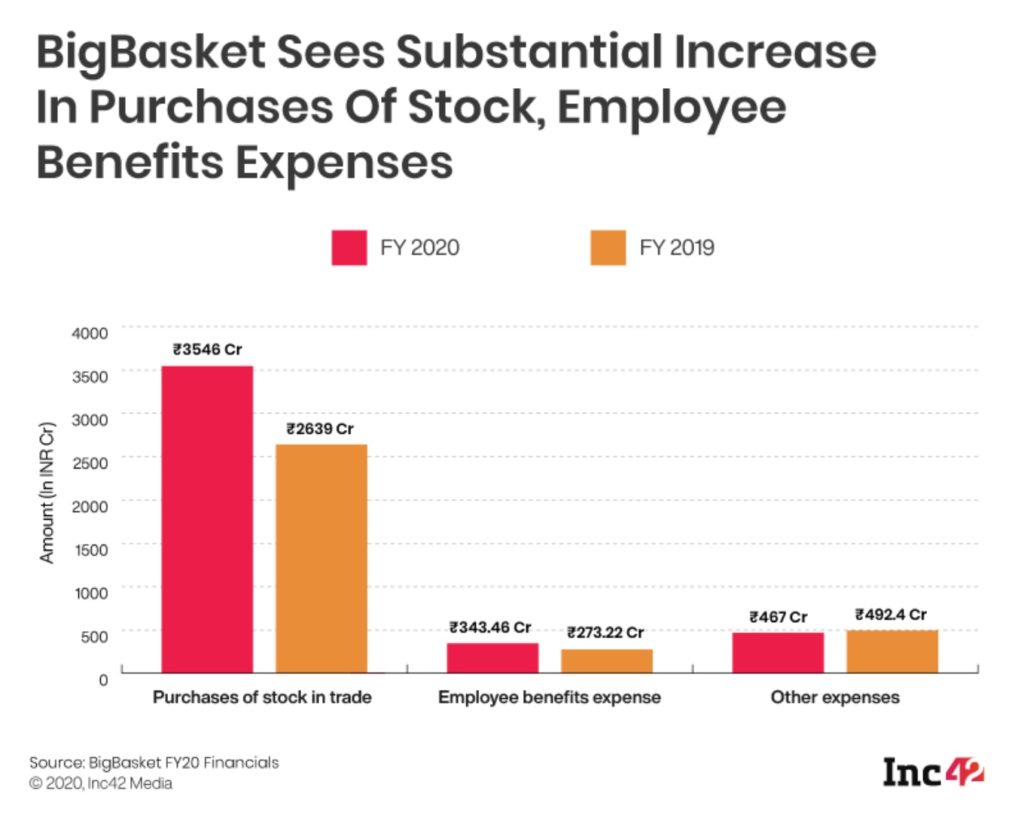 To take a leap in the subscription delivery space, BigBasket, in March last year, acquired online milk delivery service DailyNinja.
With the acquisition, BigBasket will be able to facilitate the growth of its BBdaily milk and daily needs subscription business. The grocery delivery startup believes that the acquisition will help it to grow its BBdaily network by 150 to 200% over a period of 12 months as it will also get access to DailyNinja's network of 2K delivery partners.
What Will FY21 Bring For BigBasket?
The company's filings mentioned that while the Covid-19 pandemic affected most businesses in 2020, BigBasket's operations weren't majorly affected as it deals in the sale of essential products. 
Both BigBasket and Grofers witnessed a surge in sales during the Covid-19 induced lockdown last year. While BigBasket reported a 35% increase in sales in April, Grofers registered a 60% increase in its GMV, compared to pre-Covid-19 levels. BigBasket will continue to face increased competition in the segment from Reliance's JioMart, Amazon Fresh and Flipkart SuperMart, all of whom are expanding and adding grocery to their vast bouquet of offerings. 
The filings mentioned that despite the increase in losses, the management is confident that it will be able to generate sufficient cash flows to meet its obligations. 
"These assumptions also require the Company to obtain a fresh infusion of capital from investors to be able to continue as a going concern in the foreseeable future," read the filings. 
Last month, it was reported that Tata's planned acquisition of BigBasket had progressed to its last stages. The acquisition is touted to happen through Tata Digital, the vertical within the Tata Group which is focussed on the company's super app ambitions. 
Grocery Delivery Opportunity Or Trap?
According to a recent report by management consulting firm Redseer, the online grocery market in India was expected to grow from $1.9 Bn GMV in 2019 to $3 Bn GMV by the end of 2020, and reach a market size of $18 Bn by 2024, growing at a compound annual growth rate (CAGR) of 57%. 
This would help the online grocery stores increase their share in the overall food and grocery market from 0.3% last year to 2.3% by 2024. 
However, there are a few challenges inherent in the online grocery delivery model. The commissions in the grocery delivery space aren't as attractive as compared to what food delivery startups such as Zomato get with the delivery of cooked food. The low order value also makes it very difficult for hyperlocal delivery players to actually make anything substantial out of it. Other problems include stock management as most of the retailers often don't update the stock while taking orders
Zomato, which had entered the online grocery delivery space in April 2020 with the launch of 'Zomato Market', wrapped up the business just two months later. This despite the company's COO of food delivery Mohit Sardana telling Inc42 in April that the company had all the factors in place to sustain the new business model. 
Zomato's rival Swiggy also shut down its hyperlocal grocery delivery play called 'Swiggy Stores' and is replacing it with Instamart, an instant grocery delivery service which will see the company operate a chain of dark stores to service consumer demand, similar to the model being utilised by Bigbasket and other online grocery stores.
The advent of dark stores is a trend that has created a dilemma for online grocery startups as it does offer some benefits over partnering with kirana stores, but also requires a larger upfront investment, as seen in our detailed look at the model — The Hyperlocal Conundrum: Kiranas Vs Dark Stores In India's Retail Market Post-Covid.