This week, electric vehicles startup eBikeGo launched its franchisee partner programme to promote clean, non-polluting mobility solutions for users. The programme has been developed in order to help EV startups and businesses, whose operations have been impacted by the Covid-19 pandemic. The company is also looking to partner with legacy businesses, who are planning to enter this domain.
The programme will open up self-employment opportunities for hundreds across key markets like Delhi, Bengaluru and Mumbai. The eBikego Franchise Partner model will require investments between INR 20 lakhs to INR 1 Cr with high return of investments upwards of 30%.
eBikeGO's founder and CEO Irfan Khan, said, "Our move to launch a franchise program will help generate much-needed opportunity at a time when millions of Indians have lost business and livelihood… We are all for encouraging young budding entrepreneurs who want to contribute to a cleaner environment by investing in e-mobility solutions and join our platform and endeavour in boosting the adoption of EV vehicles."
Chart Of The Week: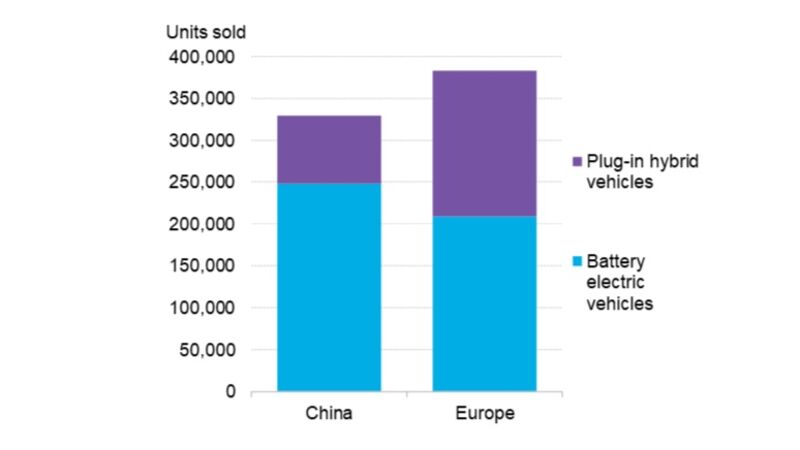 Europe surpasses China as the market for plug-in EV market in the first half of 2020. Europe bought more than 350K EVs, while Chinese bought nearly 300K.
EV News Of The Week 
Grinntech Unveils Batteries For Indian EVs
EV battery manufacturer Grinntech has unveiled a range of high-tech lithium ion batteries customised to Indian conditions. The batteries come with proprietary, IoT-enabled Building Management System (BMS) to power two-wheelers, three-wheelers and tractors and light vehicles.
"It was always our dream to create a technologically advanced lithium-ion battery product-line that was built-to-cost for Indian conditions along with its production system. We are hopeful that we will catch the fast-growing wave for EV products by Indian customers," said Nikhilesh Mishra, cofounder, Grinntech.

Flipkart Eyes Complete EV Transition
Flipkart is looking at a phased integration of EV into its entire delivery fleet by 2030. The ecommerce giant plans to do this by placing requirements in service contracts, installing charging infrastructure close to its 1,400 supply chain premises, conducting awareness programs and incentivising delivery executives for using EVs.
The company in its statement said that it is the first ecommerce player in India to commit to the transition, it will spearhead the sector's sustainability transformation, and support India's ambition of ensuring 30% electric mobility by 2030.
Ola Electric Plans Global Expansion With Electric Scooter
Bengaluru-headquartered mobility unicorn Ola Electric is planning to launch its electric two-wheeler soon to scale up its operations and expand globally. The company is also looking to hire nearly 2k employees across different roles including software, vehicle design, engineering and battery technology. The company has confirmed the report.
The developments come after Ola Electric acquired Amsterdam-based Etergo BV for an undisclosed amount in May 2020. Etergo has developed an all-electric state-of-the-art AppScooter.
Statiq Graduates From Y Combinator's Summer Batch 2020
Statiq has graduated from Y Combinator's first all-virtual summer batch 2020, which hosted 14 Indian startups across sectors. Overall, 197 startups across the globe had participated in this accelerator programme.
Statiq is an electric vehicle (EV) charging network that allows users to find the nearest charging station to charge electric cars or bikes. The Gurugram-based startup was founded in 2020 by Raghav Arora and Akshit Bansal.
EV Headlines From Around The World
Honda Goes Small With Its Latest EV Offerings
Japan-based automaker Honda released its compact EV model in Europe meant solely for city driving. The model can cover upto 280 kms per charge, which is roughly half of Tesla's Model 3. The model will only be sold in Europe and Japan, where it goes on sale in late October.
"Most EVs use large capacity batteries, but often, much of that capacity goes unused during city driving. We question whether larger vehicles are appropriate for urban areas, and believe that smaller is a better option for cities," said, Honda chief engineer Tomofumi Ichinose.
Europe Overtakes China As Plug-In EV Market
According to the figures compiled by Bloomberg, European drivers bought more plug-in electric vehicles than Chinese consumers. Figures suggest that over the first half of the year, European consumers bought over 350,000 hybrid electric and battery electric vehicles. Meanwhile, Chinese sold 250K units this year, while Europe sold 200K.