For many traditional businesses, second-generation entrepreneurs have been keen on taking the D2C route to appeal to younger audiences
After the pandemic, 100% offline brands such as Havells, Cornitos, Kiehl's have strengthened their online presence, embraced the latest engagement solutions and UI/UX standards to drive sales and loyalty
For most brands, pursuing an ecommerce strategy was not just an option, but absolutely crucial. Will the entry of valuable primarily-offline brands with huge capital be a threat to D2C startups?
"Digital sales have their squirrel's share that goes up to 5%, as compared to the offline distribution sales channel," – Nevil Patel, director, Ajanta-ORPAT Group.
It's early days for many of India's traditional brands in the D2C space, but slowly and certainly, brands such as Ajanta-Orpat, Cornitos, LG, Kiehl's, Havells and dozens of others are looking to own the customer journey from product development to last-mile delivery.
From retail presence and traditional distribution, direct-to-consumer (D2C) is fast becoming the new buzzword for brands in India's storied consumer products and goods market. Over the past few years, even traditional businesses have had to rethink their approach to selling. And if many brands were on the fence in the past, the pandemic has well and truly pushed them on to the D2C corner.
The success stories of centuries-old brands has acted as a catalyst for many of India's consumer goods manufacturers. And while not all of them might have embraced D2C completely, there's a greater degree of certainty about their D2C destiny, thanks to the market conditions.
From basic first steps such as digitising inventory or payments to enabling automation across business processes, maximising reach and optimising marketing to cut spends — brands are doing it all these days. For instance, while Bata has listed its entire portfolio on Amazon, Flipkart, Myntra and other platforms, it has also rolled out WhatsApp shopping for those who may not be familiar with ecommerce. Other brands such as Havells, Cornitos, Ajanta-ORPAT, Kiehl's have also joined the bandwagon and launched an online store.
"Native online stores allow the brand to offer a wider portfolio of products and get to the market faster. It also reflects how new customers prefer multiple purchase points. We are also able to give complete product information which helps the customer to make more informed decisions and access all our latest products at their fingertips any time to order and have them shipped safely directly to their home," Sanjeev Mehtani, country manager for sales for Acer India, told Inc42.
The Taiwanese PC giant launched its native online store in November 2019 and since the pandemic, this has been able to serve over 20K postal codes. Acer claims sales from its ecommerce have grown by over 3X.
Globally too, many brands have been focussing on scaling up D2C channel. US-based Nike reported a 75% increase in digital sales despite reporting a $790 Mn quarterly loss. This has pushed the brand to realign strategies further and focus on ecommerce.
Brands Carrying The Torch Forward, The D2C Way
For many traditional businesses, it is the second-generation entrepreneurs and business leaders that have emphasised on the D2C segment. Even as the brick-and-mortar business continues and was the primary focus before the last decade, the newer generation of business leaders is keener on embracing ecommerce sales and other D2C channels. It has resulted in fragmentation within FMCG majors or sub-brands that are geared towards D2C sales. But it's not just about launching new labels or brands — it's also about addressing specific consumer niches or segments.
The likes of Caprese by VIP or Kapiva, which is owned by the Baidyanath Group (founded in 1917) are looking to appeal to the younger generation of consumers with new-age products that are design-forward, have a unique brand narrative and create engagement through social media channels. This is the D2C way and a brand like Baidyanath, which is over a century old, embracing it bodes well for the segment.
For Ameve Sharma, cofounder and managing director, Kapiva, who represents the third generation from the family that runs Baidyanath Group, the objective of D2C is twofold. The first is to acquire new customers to drive revenue and the second to create a valuable customer base and establish a channel where it is directly talking to the customers.
Many second or third-generation entrepreneurs like him have been trying to create an extension within their portfolio under the same company umbrella to cater to younger millennials and gen-Z.
Another example is Tribe by Amrapali, a contemporary jewellery brand run by the younger generation from the family that owns Amrapali Jewels, a jewellery house founded in 1978 by Rajiv Arora and Rajesh Ajmera in Jaipur and has stores in India and London. What it offers online is different from the products on retail shelves and the brand persona is also different. The new-age sub-brands want to be in sync with the younger audience, so a lot of focus goes into product packaging, social media marketing and influencer campaigns.
As Arjun Vaidya, CEO, Dr Vaidya's, a new-age ayurvedic brand says, "My grandfather was an ayurvedic doctor. I realised over the years that it has all the solutions. However, it did not appeal to the younger generation. That is why I'm focussing on packaging and marketing it in a way that millennials also benefit from this ancient science."
For Parvati Fabrics, a 30-year-old garment manufacturing company from Surat, the idea behind D2C Indian contemporary wear brand Raisin came in 2018. It was meant to bridge the gap and offer Indian women premium fabric garments at the right price point. After 30 years of manufacturing specialisation in Indian ethnic wear, the company leveraged its expertise and network to step into the online retail channel and target international sales.
"Although the core value of delivering high-quality remains the same, Parvati Fabrics and Raisin have stark differences in their product range, approach and market. The names are formulated to serve different purposes and cater to different needs of our customers. The key differences would be, first of all, the product line, Parvati offers ethnic collection while Raisin is an Indian contemporary fusion brand," Raisin cofounder Vishal Pacheriwal told Inc42.
He added that the perspectives of the brands in terms of how they approach customers are different, the former being traditional and classic, the latter being modern, bold and fearless. The other major difference, of course, is that Parvati is a B2B brand, exporting across the globe while Raisin is a D2C brand, directly reaching to the end customer.
In the last two years, the ratio of online to offline sales has come to 50:50 for the company.
For other brands, the D2C channel is about finding an opportunity to explore new product categories from their family businesses. For instance, Aradhana & Dhanraj Minawal launched The CAI Store, a D2C footwear brand, in 2015. Dhanraj's family business actually was in diamond jewellery manufacturing, but the couple wanted to do something creative and environmentally conscious and that's when CAI was born. The footwear is manufactured without the use of leather in contemporary styles to cater to the younger audience that believes in sustainability and cruelty-free products.
Early Adopters & Pre-Covid Entrants
Of course, not all companies are waking up to the D2C or online potential now. Some have focussed equally on offline and online channels for years. Ferns N Petals, for instance, introduced its ecommerce platform in 2002, and today, it delivers across 400 cities and towns in India and 120 other countries.
"We have been one of the very few early adopters of ecommerce channels in the country with focus on hyperlocal, fixed-time and mid-night deliveries. When we started, there were marketplaces like Indiatimes and Rediff, and those were the primary source of orders in digital space," recalled Manish Saini, COO for ecommerce for Ferns N Petals.
He added that the company learnt very quickly that the business model, where hyperlocal perishable goods were required to be delivered the same day with personalised cards, was not supported by any ecommerce platform, but the potential of the category was huge.
"We already had the infrastructure of delivery hubs, in terms of offline stores, in place. It was the right time with all the ingredients in place," Saini added. The company's ecommerce channel contributes to more than 60% of revenue, with the overall turnover of around INR 500 Cr in FY 2020.
Centuary Mattresses was one of the first mattress brands in India to create an ecommerce footprint when it launched in 2015. "The Indian consumer has been shifting online over the last few years; and this trend has only been accelerated post-Covid. They are actively seeking to engage with brands online – whether it be for purchase of products and services; or simply finding out more product and availability information. Keeping this in mind, Centuary was launched," said Uttam Malani, executive director, Centuary. Through the lockdown, the brand also repurposed its website to further improve the UI/UX and also launch a range of online-exclusive products focussing on new-age consumers.
Apart from driving sales and having an omnichannel presence, some brands want to focus on online channels to keep in touch with customers. As Sangeeta Boochra, director and chief designer of Sangeeta Boochra, a brand by the Silver Centrre, a traditional and contemporary jewellery design house established by Seth Kistoor Chand Boochra in 1897, told us, "An ecommerce platform helps us to inform customers about the brand and products available, to convert the ecommerce clients at offline stores, to increase the visibility of the brand all over the world, to supply our products to people living in cities where our offline stores are not there and to adapt to changing business dynamics."
The website was launched in 2012 and Silver Centrre, a brand that has served the likes of Queen Elizabeth II of England, Maharani Gayatri Devi of Jaipur, the Nizam of Hyderabad and other royalty, got a new face and approach altogether.
Playing Catch Up Post-Covid
Despite the successes of many of these brands, traditional luxury brands have stayed away from ecommerce or have not been keen on scaling up online ops for multiple reasons. Some brands fear that it would dilute their image while others want to have more control over sales and pricing. For some data sharing practices followed by online marketplaces — which cannot be ignored in India even with a native ecommerce channel — is not trustworthy.
However, with D2C finding more takers and the pandemic giving it a further push, brands are investing in native online stores. Legendary shoe brand Bata plans to strengthen its online presence to drive sales. And, during the lockdown, Cornitos by Greendot Health Foods quickly realised that this would be the new normal and pursuing an e-commerce strategy was not just an option, but absolutely crucial. Thus the ecommerce platform was launched and was integrated with its offline dealer network after it was approached by consumers about the availability and delivery of its products through hyperlocal and grocery platforms.
Greendot MD Vikram Agarwal told Inc42, "We have reformed our business model and website launch is a part of our post-Covid strategy. This one-stop-shop approach makes it easier for us to continue delighting our customers."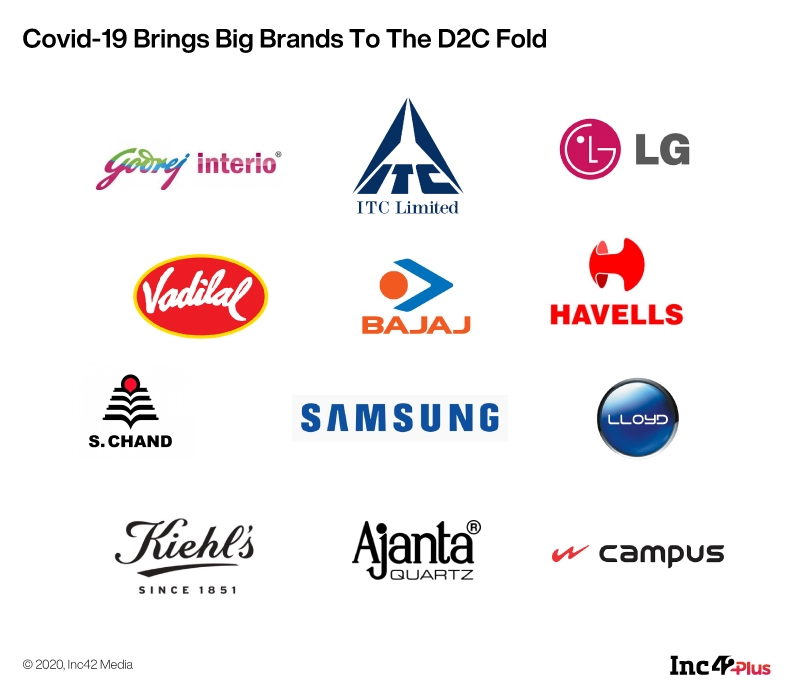 Kiehl's, Havells, Ajanta-ORPAT and many other brands have also joined the bandwagon as the impact of the pandemic was far and wide. "The response to online stores has been good so far and has helped us to reach out to our loyal customers. Online shopping saves time, effort and gets the product delivered at home from authentic digital factory outlets," added Ajanta's Patel about the company's baby steps into the D2C pool.
Keeping In Sync With Consumers
Like Bata, many brands plan to digitise processes and scale up D2C channels. The main objective seems to be about capturing loyal customers with attractive pricing in the current situation as well as offers. "With times changing and everyone moving towards online shopping, we wanted to reach every consumer looking for our products. With this evolving trend of online shopping, we have buckled ourselves up already and started targeting countries such as the USA, Australia, the UK along with Indian markets." Ajanta's Patel told Inc42.
Other brands have opted for innovative offers and aggressive scale-up plans to win over customers. Ferns N Petals launched digital gifting options during the lockdown such as a musician on call, digital caricatures, celebrity video messages and more. Now, the brand plans to invest heavily in technology and will allocate INR 25 to INR 30 Cr on technology over the next 18 months to boost its ecommerce play.
Beauty brand Kiehl's launched Kiehl's Koncierge, a live chat feature for online skin consultations, while Centuary Mattresses is betting big on its first online-exclusive product range called Sleepables by Centuary. The mattress company claims the traffic to its ecommerce platform has increased thrice as compared to the pre-Covid days. "Through the lockdown, we repurposed our website to further improve the UI/UX and also launch a range of online-exclusive products tailored for the e-savvy consumer," Malani added.
The overall contribution to category revenue for the brand has been in the mid to high single digits and has seen 3x growth in traffic and conversions post-lockdown. Pre-Covid online mattress retail was below 2% of the total sales and now it has increased to almost double at 5% of the total sales. The company is targeting 3X online sales contribution growth as compared to pre-Covid times over the next year.
Will Traditional Brands Usurp D2C Startups?
While D2C startups may have the edge in terms of marketing tactics, sales analytics and technology deployment, traditional businesses have multiple advantages. This is not just limited to financial support from the family and understanding the nuances of running a large business, but also extends to manufacturing, R&D and distribution network and more. They even have the luxury of leveraging relationships with retailers which have been forged over several years.
As D2C startups look to offset this traditional advantage, the role of marketing tools, manufacturing and logistics partners will be invaluable in the D2C space.
Disha Singh, founder & CEO, Zouk, a D2C brand for bags, believes that startups will win in the short term, but big brands will catch up. "The impact is mixed. So, when a Bata nudges customers to order online or via WhatsApp chat, it will help all shoe brands. It also makes it a level playing field. Customers can compare and contrast the digital experience, from browsing, to placing the order to receiving the product at home. The competition will keep D2C brands on their toes."
At the same time, startups have to keep a close eye on customer acquisition costs. This means D2C brands need to innovate on their messaging and targeting to find greener pastures. "Traditional brands need to solve the problem of digital discovery and engagement in this new world, while D2C brands need to continuously work on distribution. If D2C brands are addressing existing categories as challenger brands, their value proposition needs to come across clearly and quantifiably but cannot be price-based alone. For category-creating brands, communication to users is key and adoption takes time, hence patience is required," believes Karan Mohla, partner at Chiratae Ventures which has invested in D2C brands including Lenskart, PlayShifu, Emotix and D2C services such as CureFit and HealthifyMe.
The challenges are thus expected to be there for both sets of companies — the new-age startups and age-old brands. Arpit Aggarwal, an independent D2C brands and ecommerce consultant, does not feel that new D2C brands need to worry. "There are huge advantages to D2C, but there are also major challenges, both for startups and established brands. Consumer loyalty has changed significantly post the pandemic and they are looking for what brand values are offered to them."
A Message From Simpl:
Low consumer trust, sluggish checkout and a broken post-checkout experience leads to low conversions, high CoD share and high RTOs for D2C ecommerce. See how Simpl can help..