Content marketing is the present and the future.
As the digital age progresses, more businesses are turning to content marketing to help drive sales. So what exactly is content marketing?
The Content Marketing Institute defines it as: "a strategic marketing approach focused on creating and distributing valuable, relevant, and consistent content to attract and acquire a clearly defined audience – with the objective of driving profitable customer action."
Content marketing can take a number of different forms. Some of the most prevalent forms today include case studies, blogs, videos, webinars, infographics, or informational whitepapers.
Regardless of your expertise in the growing realm of content marketing, one of the most important factors that goes into successfully marketing your brand is knowing how to use your time and budget to effectively relate to an evolving marketplace. Here are some upcoming content marketing trends to keep an eye on in 2017:
Mobile
Mobile marketing is not a new concept. However, its importance in a brand's content strategy is rapidly growing. The foundation of content marketing is delivering relevant content to the audience, wherever they might be. People are spending more time staring at their smartphones than ever before. Content marketers need to be prepared for an increasingly dominant mobile marketplace. Content should be available and easy to navigate on any mobile device. Failure to adjust will cause users to look elsewhere for captivating content.
The mobile experience creates profound impressions on users. With more people owning smartphones, it is crucial in 2017 and beyond, that a mobile content strategy works to enhance the customer experience.
Interactive Content
Let's face it, the average attention span today is at an all-time low. Now more than ever, users need captivating content to maintain their focus.
One of the best ways for brands to capture attention is by creating interactive content. According to a recent study done by The Content Marketing Institute, 81% of the marketers surveyed said, "Interactive content grabs attention more effectively than static content."
Users today like to feel involved in the content they consume. Some of the popular ways brands are implementing interactive content is though quizzes, polls, or assessments.
Digital Newsletters
Digital newsletters play a pivotal role in a lot of business' marketing strategies. They do wonders for brands in effectively reaching their audience and proving marketing ROI.
In order to create a newsletter that gives the best results, you need to make sure the content is captivating and will look perfect on every device. When executed correctly, email marketing can be the most effective tool in driving customers to buy.
Live Stream Video
Consumers are now connected 24/7 and companies have a constant need to stay fresh and relevant. One of the best ways in which brands are doing this is by using live stream video. Live stream video is a fantastic way for consumers to see a company as a relatable news outlet.
Live video is becoming increasingly popular due to its unique ability to provide an unedited, unfiltered look. In addition to boosting awareness and engagement, one of the key results live stream video achieves is driving conversation amongst viewers. Seeing content in live video form gives the subject a greater sense of realism and allows brands to adjust their message on the go based on viewer engagement.
Native Advertising
Advertisers are constantly working to keep users from closing ads during their online experience. As a result, the use of tools such as Adblock is skyrocketing with the desire for a natural online user experience. That is where native advertising comes into play. Native advertising works to display helpful content without disrupting the user experience.
Due to its smooth integration into web content, native advertising has been extremely successful in recent years. Based on a study conducted by Business Insider, US native display ad revenue is expected to reach nearly $21 billion in 2017 whereas 2016 has seen just under $17 billion.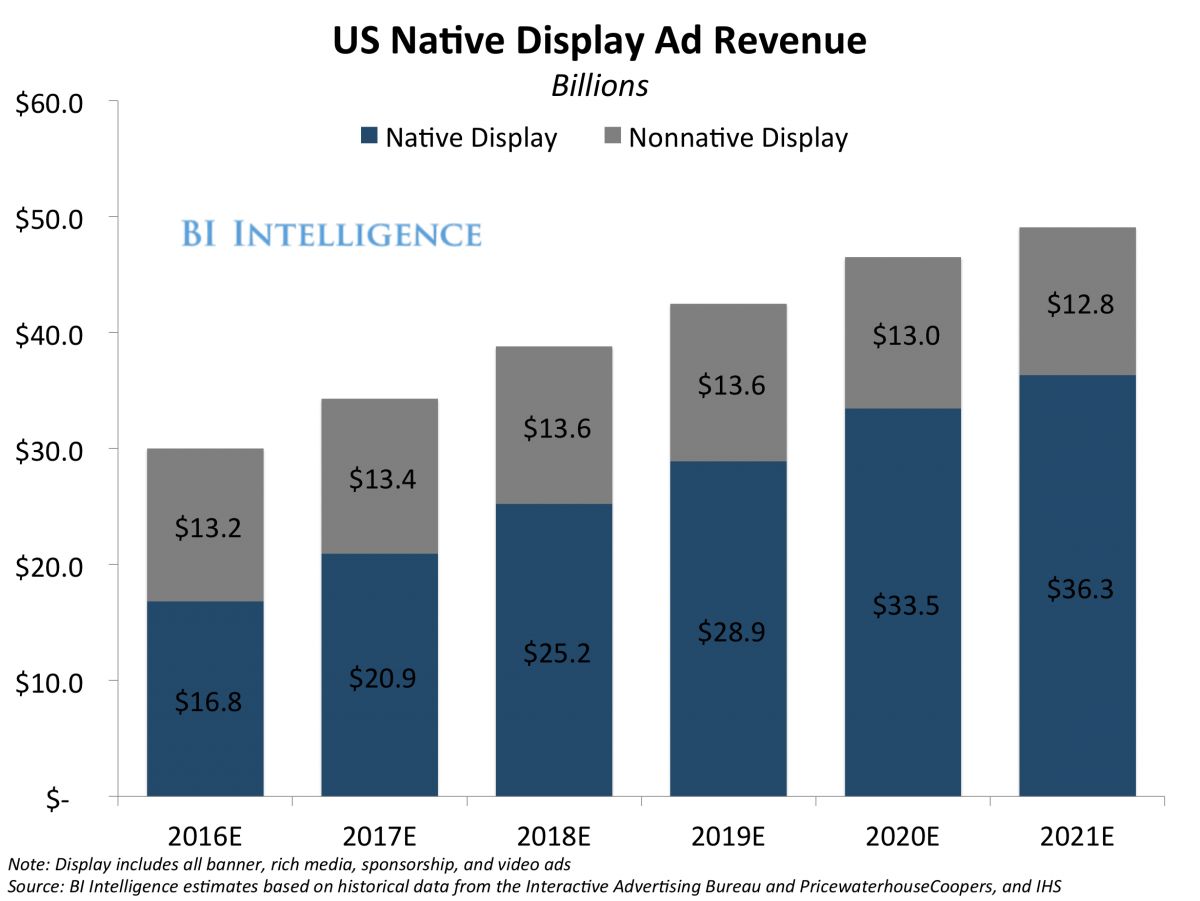 Native advertising should play a prominent role in content marketing budgets in 2017 due to its ability to enhance storytelling skills and connect users to quality content in an authentic way.
Purpose-driven Content
Purpose-driven marketing is all about the "why." With an oversaturation of content on the web, it is crucial from brands to be able to bond with their audience by providing impactful reasoning for investing their time. To do this successfully, organisations need to develop and execute their content marketing strategy in an organic way that brings benefit to everyone involved.
One of the key findings in a Cones Communications Social Impact Study was that "89% of Americans are likely to switch brands to one associated with a cause, given comparable price and quality, jumping nearly 35% since 1993."
Forgetting the audience or the purpose when creating content will only alienate the reader. To make sure your content creates buzz, maintain a clear image of the target market and what they will gain from engaging with your material.
Marketing Through Influencers
Over the past year, influencer marketing has become one of the top strategies companies are turning to. Audiences tend to be more receptive to brands endorsed by leaders within their specific communities. Getting key influencers involved early is extremely important in effectively relaying your message to a mass audience.
There should be a primary content strategy that markets to influencers, and a secondary campaign in which they can drive greater awareness to their followers within their respective community.
Virtual Reality
One of the most-hyped topics in the tech world going into 2017 is the concept of virtual reality. From test driving cars to exploring the universe, it appears that VR is poised to be next big thing in content marketing. Even though it is still in the infancy stage, VR is commonly referred to the "empathy machine" in that it gives the audience the opportunity to actually experience brands for themselves.
For example, IKEA has used a virtual augmented reality tool that allows customers to use their mobile device to see exactly how a piece of furniture would look in their home. A study conducted by Greenlight VR found that "62% of respondents would feel engaged with a brand that sponsors a VR experience, and 53% say they are more likely to purchase from a brand that sponsors a VR experience."
Even though VR is a bit more expensive than traditional content media, it does so much more to sell a story. As stated earlier, readers today like to feel involved and engaged with the content they consume.
Brands need to keep an eye out in 2017 for how they can use VR to create a unique customer experience that resonates with their audience.
Conclusion
2016 has been the year of innovation in content marketing and 2017 will most likely showcase even more brilliant developments. New and existing businesses must evolve their content marketing strategies accordingly in an increasingly digital marketplace.
Keep in mind, content marketing is an extremely vast industry. It is better to be excellent within a few trends rather than trying to adapt to all of them.