Inc42 brings you a curated list of 30 early-stage startups set up after 2018 that are disrupting the way businesses used to operate
In our 17th edition, we have taken a deep dive into the world of early-stage D2C startups, changing the traditional market dynamics across sectors
We have listed 8 startups operating in the personal care segment, 8 in the food and beverage category and 4 startups specialising in the nutraceutical space. Plus, there are a few startups that work as D2C enablers, offering them a platform to be seen, heard and discovered
The second wave of the Covid-19 pandemic recently swept through the country, once again bringing traditional retail to a standstill due to stringent lockdowns required to contain the virus.  But this time around, it created a massive opportunity for online retailers of all kinds, especially those that have adopted the agile and capital-light direct-to-consumer (D2C) model.  In essence, the Indian startup ecosystem did prepare well during and after the first Corona shock wave. And the second wave saw the new generation of digital-first D2C businesses take command, grow online and even make successful pivots when required. 
Now in the 17th edition of our much-loved series, we have curated a plethora of D2C startups that have tapped into niche consumer preferences and created value-added brands with which users can quickly identify. In other words, the brand narratives are changing. Not so long ago, 99% of the Indian population boasted of a personal care regime comprising brands like Parachute, Medimix/Lifebuoy, Clinic Plus/Sunsilk, Ponds and Vaseline. For decades, these brands offered standard quality products with single-digit SKUs or stock-keeping units. (Apart from their operational usage, these product codes can help track the most significant profit generators.)  
But in the past five years, many brands have massively expanded their in-demand SKUs, with online-only offerings emerging as a mainstay for the businesses. The companies' interest in online-first brands has been primarily driven by increasing competition and the market share of top-spending consumers who seem to embrace D2C brands instead of sticking to traditional market leaders.
As mentioned in the Inc42 Plus' India's D2C Market Opportunity report, FMCG giants such as Johnson & Johnson, Himalaya, Hindustan Unilever, ITC, Lakme and others, which have dominated the Indian market for decades, are now challenged by young startups like Mamaearth, The Moms Co., Bey Bee, Azah, Nua among others. Interestingly, popular beauty brands such as Revlon and Lotus took around 20 years to reach the INR 100 Cr revenue mark. But new-age brands like Mamaearth and SUGAR took four years to cross the same milestone. This speaks volumes about the effectiveness of the D2C model in a digitally prone new economy and helps us understand why and how these disruptors are winning the trust of new-age consumers. 
30 Startups To Watch: June 2021
As we head towards the Inc42 Plus' The D2C Summit, the month of June was the right time to look at the early-stage startups riding the D2C wave and decode their success. 
A look at the use cases is one way of decoding things. For instance, people cooped up at home for months and researching health and wellness measures to stay safe have networked and discussed these measures online, giving brands a treasure trove of information regarding user preferences. And the same goes for other segments. So, it is not surprising that India's D2C market is estimated to reach $100 Bn by 2025, with segments like fashion, consumer electronics and FMCG leading consumer spending.
As we looked for early-stage D2C startups and brands that have captured social media discussions and investor interest, we came across buzzwords like non-toxic, sustainable, eco-friendly, local, natural, fresh, recyclable and compostable. Interestingly, these are the essential features of most of the products that the brands are building. 
For instance, as many as 10 startups listed in June fit the food, beverage and nutraceutical space. True, it is a wide range, but their unique offerings are difficult to fit into one category, as you will see. Again, eight startups listed here have created social media cults with their unique beauty and personal care product lines. And six startups are operating as D2C enablers, connecting brands with their audiences faster and better. While most of these companies are two-three years old, they have already created the kind of brand recognition that takes businesses decades to achieve. 
Check out the 17th edition of Inc42 Plus' 30 Startups To Watch list (28 this time). 
Editor's Note: The list below is not meant to be a ranking of any kind. We have listed the startups in alphabetical order.
The D2C Startups That Made It To The List
Almo Man
Why Almo Man Made It To The List
Gurugram-based Almo, specialising in men's innerwear and loungewear, was launched in 2019 to fulfil a vision. The D2C brand wanted to create value-added products for millennial customers and knew there was a white space in the market. After all, Gen Y tends to look for affordability as well as sustainable choices, a combination that the dominant brands in the market did not meet. 
In contrast, Almo's products are crafted from sustainable fabrics such as TENCEL™, micro modal, GOTS-certified (Global Organic Textile Standard) organic cotton and BCI (Better Cotton Initiative) cotton. The company extensively uses social media platforms like Facebook, Instagram and has formed key partnerships (in terms of promotional offers) with other D2C brands (targeting male shoppers) and the likes of CRED, Airtel and StepSetGo to expand its customer reach.
Almo has more than 65 SKUs, and nearly 35% of its sales are generated through third-party marketplaces. The company claims a 25% customer retention rate on its website, with a monthly average order value of more than INR 5,000 on its premium products.
Right now, the startup wants to expand its reach across third-party marketplaces. In the long term, it aims to evolve into a multicategory one-stop destination for premium men's essentials.
Auric
Why Auric Made It To The List
Although many D2C brands are developing natural and ayurvedic products, New Delhi-based Auric caught our attention due to its novel product offerings. Instead of ayurvedic churan and bitter kadha concentrate (used for digestive health and general wellness, respectively), this brand provides ayurvedic formulations as hot and cold beverages that one can drink just like coffee, cola or beer.  
Set up in 2018, the brand offers as many as 11 products, including turmeric-infused coffee, ashwagandha-powered hot chocolate and several cold beverages for addressing skincare issues, obesity and hair growth, among others. Auric is a pure-play D2C brand, with less than a quarter of its sales coming from ecommerce platforms and the rest from its website. It mainly depends on social media channels like Instagram for customer discovery.  
The company's immediate and long-term goals include adding more products to its portfolio so that Auric may emerge as an aspirational brand for millennial customers.
Bare Anatomy
Why Bare Anatomy Made It To The List
Thousands of brands offer hair care products, but most of these are generic and may not meet an individual's needs as everyone's hair care requirements are unique. So, data-driven beauty tech startup Bare Anatomy has developed a suite of personalised hair care and skincare products to plug this gap. 
Set up in 2019, the Gurugram-based startup did a thorough analysis of all hair types, figured out specific requirements and developed a number of hair care kits best-suited for people in the 16-45 age group. The D2C startup retails its value-added products only through its website, as these are customised for individuals. The company claims a monthly average order value of INR 1,500 and a 40% customer retention rate.
Currently, Bare Anatomy offers as many as six products and wants to increase the number and the range of customised offerings as part of its growth plan. To implement the same, it will also double down on its technology and R&D focus.
Belora Cosmetics
Why Belora Cosmetics Made It To The List
With thousands of products available in the market today, consumers can end up buying make-up items high in toxins and other harmful chemicals. On the other hand, make-up made of natural ingredients alone may not bring out the desired effect or even cause skin pigmentation or allergic reactions. However, Gurugram-based Belora Cosmetics believes in 'beauty with safety' and aims to close this gap by packing the benefits of optimum skincare into all its make-up products. 
Founded in 2019, the company's product line of lipsticks, moisturisers, kajal (kohl) and eyeshadows are infused with natural ingredients known for their rich colour performance. Besides, the team has deep-dived into R&D for the past two years, formulating products in sync with the stringent EU and Australian certification standards for make-up. Belora is the first MADE SAFETM certified make-up brand in the EU and Asia, the company claims.
The startup primarily sells its products through its D2C channel (website), although these are available on ecommerce platforms. The price range varies between INR 700 and INR 900, and its target customers include those aged 16 and above. Based on the product feedback received from users, Belora plans to launch its skincare range in July this year and also increase its make-up SKUs. Apart from R&D, it plans to invest in technology to enable superior pre-purchase and post-purchase for better customer traction.
Daughter Earth
Why Daughter Earth Made It To The List
In the past few years, urban millennials have moved away from chemical-filled personal care products and embraced naturally grown or non-toxic items. As the craze for 'natural goodness' grows, one tends to forget that even natural products can be harmful if not used with care. However, Hyderabad-based Daughter Earth identified the gap and decided to come up with an effective solution. 
Launched in 2018, the startup has 25 SKUs in place and puts ayurvedic and other natural ingredients through standard pharmaceutical procedures to create 'completely safe' make-up and skincare formulations. The company collaborates with chemists, cosmetologists, make-up artists and researchers to create multiple prototypes of its skincare products to find the right fit. The brand also opts for eco-friendly materials like glass for packaging.
Daughter Earth sells its products through its channel, ecommerce marketplaces and platforms focussed on clean beauty products. It also leverages social media channels and micro-influencers to reach its target consumers. The company had not responded to Inc42's queries on its short-term and long-term business goals when this list was published.
Disguise Cosmetics
Why Disguise Cosmetics Made It To The List
The Indian market for make-up and personal care products is largely dominated by global MNCs and FMCG companies. And many of these companies import and relaunch products better suited for Western consumers. However, Mumbai-based Disguise Cosmetics seems to have addressed this concern by developing a product line that is just right for Indian skin tones and lasts longer as it is better tuned to local weather. 
Set up in 2018, Disguise targets 16+ age groups and has developed more than 75 make-up products that match almost every skin colour seen in India. Besides, it addresses a predisposition to sebum formation (causes oily skin) and pigmentation and ensures product wearability in spite of the generally hot and humid Indian climate. 
More than 70% of the company's order volume comes through third-party marketplaces, while Disguise claims a monthly average order value of INR 760 and a 16% customer retention on its platform. Its immediate plan includes adding more varieties of the face and eye make-up to its offerings, and the long-term goal is to scale up its distribution channels.
Earth Rhythm
Why Earth Rhythm Made It To The List
India generates nearly 9.5 Mn tonnes of plastic waste every year, and about 40% of this waste is not collected for recycling. This waste generally accumulates over time, piling up in landfill sites, choking drains and rivers, and hurting marine life. The environmental impact is too big to be handled by lone warriors. But the cofounders of Gurugram-based Earth Rhythm were fully aware that the brand should make a small but tangible difference to support the cause. Hence, they decided to develop a zero-waste skincare brand that would not add to the pollution load or plastic curse.  
The brand was launched in 2019, and its flagship product called the Shampoo Bar claims to replace at least 12 shampoo bottles per year. The company claims to have an average order value of INR 1,350+ and says that more than 75% of the sales come from its D2C website and the rest from ecommerce marketplaces. It has also started shipping globally in 2021. 
Now that it is exporting, Earth Rhythm wants to expand its product line beyond the current range of 130-odd items, penetrate deeper into the Indian market and hire more people.
Evo Foods
Why Evo Foods Made It To The List
Intensive animal farming (livestock rearing for commercial purposes) accounts for more than 19% of global greenhouse emissions, much higher than the environmental footprint caused by transportation emissions (14%). Clearly, there is an urgent need to adopt sustainable alternatives to animal products.
After analysing the Indian market and its overall protein requirements, Mumbai-based Evo Foods launched a vegan substitute for eggs made from indigenous crops. The global egg industry (animal products) is currently worth $200 Bn. But the value of the plant-based egg substitutes industry is also rising worldwide and is estimated to touch $1.3 Bn by 2023, according to Expert Market Research. That is why Evo is catering to clean protein (agri produce with high protein content) and plant-based food substitute markets. 
Founded in 2019, Evo mainly targets millennials and Gen Z customers who often prefer green proteins. The startup plans to launch its flagship product, a plant-based egg substitute in a bottle, both online and offline. Evo Foods will sell its products via food services (hotels, restaurants, cafes and more) and through its direct-to-consumer (D2C) channel in Mumbai, Delhi and Bengaluru by October this year. It is also planning to hit the global market by next year, especially the U.S. market, ripe for growth in the vegan food segment.
Fitspire
Why Fitspire Made It To The List
There is an increasing demand for vegan products globally, both for the political correctness of the concept and the perceived health benefits of these food items. So, it is not surprising that a growing number of D2C startups in India are trying to tap into this market. New Delhi-based Fitspire is one such startup that has developed 100% vegan and vegetarian healthcare products across categories, including health, sports, children's wellness, personal wellness and sexual health.
Set up in 2018, Fitspire claims to be a masstige brand (belonging to the value-added mass premium category). The D2C startup offers more than 50 products and boasts 83% repeat customers on its platform. Its product range includes protein shakes, snacks, energy bars and health supplements, among others, and these are available across brick-and-mortar stores as well as online platforms. Currently, more than 25% of its sales are generated through its website. However, it has pushed its products through e-health platforms and e-pharmacies such as Apollo, Healthkart and 1MG, thus emphasising its health-based offering. 
Fitspire's next goal is to make its products available across rural and global markets through effective marketing strategies. 
Gourmet Garden
Why Gourmet Garden Made It To The List
Many D2C FMCG brands have tapped into the market opportunity for clean and green products, but farmers have been exploring the organic food space for decades. However, the economies of scale, logistics hurdles and marketing faux pas have always been a dampener to the branding of organic produce. Despite these difficulties, Bengaluru-based Gourmet Garden saw an opportunity in hydroponic farming for two-way benefit. First, it could use agritech effectively for chemical-free natural farming. Second, it could leverage the core D2C operations and ensure doorstep delivery of the fresh produce at the earliest.  
Established in early 2019, Gourmet Garden offers a wide range of zero-contamination vegetables and fruits and other curated essential offerings. It also claims high quality and food safety owing to its patented naturoponic farming operations, certified organic farming extensions and a lean one-day and two-touch supply chain. The company claims to have 60,000 customers in Bengaluru and Chennai, with more than 75% of monthly orders coming from repeat customers.
The startup will soon add organic sauces, dips and bread to its offerings of fruits and dry fruits, vegetables and spices. In the long term, it wants to expand its zero-contamination farming operations, broaden its portfolio with additional categories, boost customer experience by deploying an end-to-end tech-enabled cold chain and improve ease of ordering with a mobile app and a revamped website.
Ilana
Why Ilana Made It To The List
The rise of the influencer culture across social media has spawned an alternative product universe for people who adhere to their lifestyle choices. Some products are meant for minimalists. Some products target those who shun chemicals of all sorts and embrace the purity of the natural world. Then there are people who want to know everything about the ingredients that go into their food or cosmetics. Pune-based Ilana was launched in 2018 to tap into the market for sustainable and ethical beauty products.
With its unique range of non-toxic products in place, the startup is trying to plug several gaps in the beauty industry, such as the lack of ingredient details and provenance, including sustainable sourcing, not following regulatory standards and non-adoption of ethical norms and techniques. While most of its products can be discovered via social media and content platforms, Ilana sells them on its website, through ecommerce marketplaces and in boutique stores. Nearly 40-45% of its orders come from ecommerce marketplaces.
As of now, the company has a limited product range — 13 to be precise. But it claims a customer retention rate of more than 22% on its platform and an average order value of INR 1,400 or more. And the non-toxic products, ranging from moisturisers to serums, target those aged above 16. 
In the short term, the company is looking to improve its customer engagement strategy, and in the long term, it will focus on building a global brand for ethical and transparent beauty products.
India Hemp Organics
Why India Hemp Organics Made It To The List
This startup might not have been on the ground but for a traumatic experience that badly affected the cofounders. After a life-threatening road accident in 2017, one of them was prescribed a strong dose of opioids for pain relief. Earlier, she suffered severe side effects due to the extensive use of commonly prescribed painkillers. So, her fiancé (he is also the other cofounder) decided to explore using medical cannabis-based natural pain relief medication.
While passing through this traumatic journey, the couple realised that a market should be there for this kind of pain treatment. For instance, more than 20% of people in India suffer from chronic pain and sleep disorders, and the majority is prone to stress and anxiety-related medical conditions. So, after extensive studies on medical cannabis, India Hemp Organics was launched in 2020, with products ranging from medical cannabis (available on prescription for stress, sleep and pain), supplements across plant-based nutrition and personal care items. 
The Bengaluru-based startup sells its products through its wellness clinic and website to a largely millennial customer base. And its goal is to reach 1 Lakh consumers in the next two years. The company supports its farmer community, and about 10% of its sales go to them in the Himalayan states where they reside and raise the crop. Going forward, the startup wants to increase this contribution.
Note: Cannabis in India is illegal under the Narcotic Drugs and Psychotropic Substances Act, 1985. However, a few states have legalised commercial cultivation and/or consumption of specific cannabis-derived ingredients. Cannabidiol, the key component of India Hemp Organic's cannabis products derived from the Cannabis Sativa plant, is legal in India.
Lo! Foods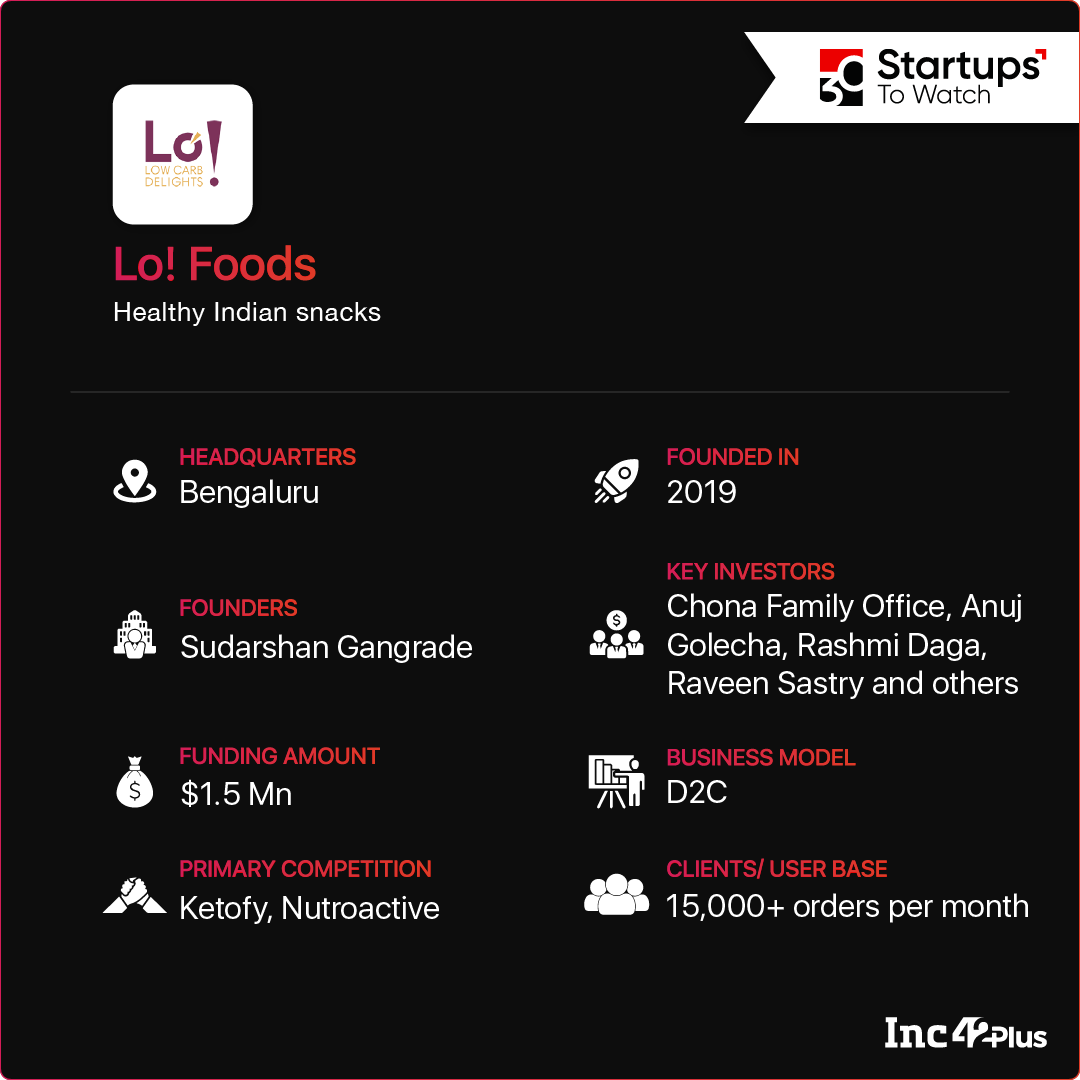 Why Lo! Foods Made It To The List
Diets rich in refined carbohydrates are known to increase the risk of diabetes, obesity and heart diseases. It is undoubtedly a matter of concern as many Indians suffer from these medical conditions. The cofounders of Bengaluru-based Lo! Foods were aware of these health issues and decided to introduce a range of low-carb but lip-smacking that would lure people back to healthy eating. 
Set up in 2019, Lo! Foods has reimagined Indian delicacies with low-carb ingredients and superfood alternatives without compromising on taste or flavour. Its range of packaged food products includes snacks, cookies, Indian desserts and gourmet chocolates. The company also retails a wide range of fresh foods such as parathas, rolls, sandwiches and desserts like almond halwa, delivered through 20 cloud kitchens in Bengaluru, Hyderabad and Delhi-NCR. 
With more than 100 products in its kitty, the company pursues an omnichannel strategy for rapid growth. While 85% of its sales come from ecommerce marketplaces like Amazon India, the startup has also tied up with five-star chains like Hyatt and Sheraton to offer low-carb and keto-friendly food to their customers. Lo! Foods claims to have a 30% retention rate on its platform, and the average ticket size is INR 690. It has recently launched its products in the US and Singapore and plans to enter the EU market soon. 
Malai.eco

Why Malai.eco Made It To The List
In 2018, Malai.eco was started in Kochi to explore the potential of bacterial cellulose (BC) for commercial products, with the focus on a minimum-waste circular economy. (BC is a biodegradable material formed by bacteria and frequently used in the biomedical space, food and food packaging and other industry segments). The startup works with coconut processing units in southern India as the latter finds it difficult to dispose of the excess coconut water after processing the white flesh. Typically, this water would have been discarded as waste, but Malai.eco collects it and gets it treated by a specific type of bacteria that turns it into cellulose. It is then harvested and processed to produce sheets of leather-like material for making bags, footwear, fashion accessories and similar products.
The bootstrapped company sells the raw 'vegan' leather to brands and also uses it for its product line. In 2020, Malai.eco entered the second phase of R&D to improve some of the material properties. It won the Circular Design Challenge award and PETA India's Best Vegan Leather Award in the same year. 
With a team containing fewer than 10 people, the startup handles an average monthly order value of €4,500. Its premium and value-added products target the young demography in the age group of 16-45 years. Its immediate goals include patenting the unique BC technology and growing website traffic by introducing new products.
Mokobara
Why Mokobara Made It To The List
Travel may not be people's top priority right now, but travel accessories, especially premium-quality luggage bags, have always wowed the crowd, ready to be off at the slightest pretext. Bengaluru-based Mokobara is a D2C travel lifestyle brand that offers a wide range of stylish but affordable travel bags for modern-day travellers whether they are vacationing or on business trips. Founded in 2019, its vision is to enhance the joy of travel with the help of its products and the experiences they create so that people will be inspired to travel more whenever it is possible to do so.
The startup targets the millennials and sells its products on its website and ecommerce marketplaces like Amazon and Flipkart. However, more than 75% of the sales happen on its platform. Mokobara currently offers 35+ products and has recently added laptop bags, duffle bags and backpacks to its product line. The average ticket size is more than INR 7,000, the company claims.
The brand will soon enter new categories, including travel blankets, neck pillows and wallets. By 2022, it will also launch offline retail to spearhead growth. In the long term, Mokobara aims to venture into the travel clothes category. 
Morning Owl
Why Morning Owl Made It To The List
Back in 2019, when Gaurav Raj, a corporate executive, was looking for an eco-friendly mattress made with non-toxic materials, he realised that very few good quality and affordable products were available in the market. Most of the big brands making foam mattresses used petroleum-based polyurethane (PU). When paired with chemical adhesives and flame retardants, they could emit chemical odours and volatile organic compounds (VOCs) over time, contributing to unhealthy indoor air quality and affecting physical and mental health.
This huge gap in the home furnishing market led Raj to launch Morning Owl mattresses, designed and handmade with certified natural and non-toxic materials. According to the Kottayam-based brand, the latex used in its mattresses are entirely free from PU and memory foams, chemical adhesives between comfort layers and toxic flame retardants. 
The startup says that 75% of its sales happen on its website and the rest on ecommerce marketplaces. It has a 15% customer retention rate on its platform. However, with growing consumer awareness and an increasing focus on health and safety, its 2021 sales have already surpassed the previous year's sales volume, and the brand expects to clock 10x higher sales in the current calendar year. It is also planning to add more products to the portfolio and establish an offline presence. 
Spice Story
Why Spice Story Made It To The List
Most people have a touch of nostalgia now and then and still remember the taste and aroma of the food they loved as children. But given our fast-paced lifestyle and the convenience of ready-made masala powders, it is near-impossible to procure fresh spices and condiments that bring back those tastes — may be a tangy imli chutney served by the neighbourhood mithai shop or a ketchup-mayo combo that turned a ho-hum canteen sandwich into a delectable fare. Mumbai-based Spice Story also noticed this craving among consumers and started rolling out a wide range of authentic Indian chutneys in the form of modern-day sauces to tempt the most jaded palate. 
During their initial research, the cofounders came across a huge demand for homemade chutneys and how the mom-and-pop shops served their customers. However, the market was quite unorganised, and there was room for growth. Therefore, the Spice Story happened in 2018 and gained considerable traction in the past years. The startup mostly sells its products on its website, but about 12% of the business comes from ecommerce marketplaces. Products are also available offline in seven cities. 
It is currently working on rebranding to target young consumers and strengthen its offline presence. 
Super Smelly
Why Super Smelly Made It To The List
The personal care market is flooded with traditional and new-age brands catering to both babies and adults. But few companies make specific products for tweens, teens and young adults who have different requirements. This is the white space New Delhi-based Super Smelly wanted to map and cater to when it was launched in 2018.
The D2C brand offers a wide array of natural and zero-toxin fragrances, body care, face care, lip care, hair care and hair styling products. Around 60% of the revenue comes from product sales on its platform, 30% from ecommerce marketplaces and the rest from offline retail across the Delhi-NCR region. 
Right now, Super Smelly is expanding its digital footprint through its website and ecommerce platforms and focussing on customer acquisition. It also wants to grow its online and offline distribution channels. The long-term goal is to establish Super Smelly as one of the leading FMCG brands for Generation Z.
Tangy Turmeric
Why Tangy Turmeric Made It To The List
Consumers today love experimenting with food, but they may not have the time, patience or skills to cook a new dish from scratch. So, the brand called Tasty Tales, from Bengaluru-based startup Tangy Turmeric, was launched in 2018 with a vision to recreate authentic regional dishes that would be easy to cook. To make home-cooking a pleasant experience for all (it takes about 20 minutes to prepare a dish), Tasty Tales offers a range of naturally preserved, ready-to-cook pastes made from regional ingredients that will bring in the most authentic flavour.
Currently, 40% of the startup's sales come from ecommerce marketplaces such as Amazon India, BigBasket, Grofers, Flipkart and Smytten. These products are also available across major offline chains in Bengaluru, including Nature's Basket, MK Retail, Namdhari's Fresh, Loyal World Market, and Ratnadeep Retail, among others. As of now, Tasty Tales is selling just seven products, but it claims to have a user base of 70,000+ and a 20% customer retention on its platform. 
The brand will launch two more products in July and export to the US, the UK and the UAE very soon to scale up in international markets.
TeaFit
Why TeaFit Made It To The List
Given the alarming diabetes explosion in India — the country used to rank second globally before the pandemic struck — Mumbai-based TeaFit wanted to make bottled beverages that diabetics could also enjoy. Launched in 2019, the beverage brand provides an array of unsweetened, flavourful and ayurveda-based beverages.
TeaFit drinks are brewed from high-quality, single-origin tea leaves, blended with a proprietary mix of 15 super herbs and contain 0-4g sugar, claims the startup. The brand does not use premixes, concentrates, thickeners, added colours or synthetic flavours. These products are highly recommended by wellness coaches and nutrition platforms such as Luke Coutinho's You Care Lifestyle, Swiggy's Health Hub and Apollo's nutrition teams. Around 35% of its sales come from ecommerce marketplaces, while the company claims a customer retention rate of 72% on its platform in spite of its limited product offerings — just three, to be precise.
TeaFit is currently building its team, SKUs and distribution channels to grow its business across the Indian subcontinent. In the long term, the company aims to develop a similar product line for children, strengthen community reach for healthy living and support research for sustainable packaging materials. 
The Beauty Co.

Why The Beauty Co. Made It To The List
The D2C space abounds with personal care brands, but Ahmedabad-based The Beauty Co. stands apart as it specialises in 'luxury' skincare products at affordable prices. Its products are curated for all skin types, and the ingredients used can help resolve several concerns such as ageing skin, inflammation, scars, dry and dead skin, acne and more.
Launched in 2018, the brand offers more than 70 products and sells them through its website, social media platforms and numerous ecommerce sites such as Amazon, Flipkart, Nykaa, Myntra and Tata CLiQ. In fact, 60% of its business volume is driven by ecommerce platforms. The company also claims a customer retention rate of 25% on its website, while the average ticket size is about INR 650. 
The Beauty Co. will soon enter global markets and expand its presence across offline channels. But it will continue to focus on product development powered by unique combinations of ingredients. The company also aims to introduce more sustainable packaging options to give its product range a green edge. 
Toffee Coffee Roasters

Why Toffee Coffee Roasters Made It To The List
Until now, a few large FMCG brands have dominated the coffee market in India. But there has always been a niche market that caters to coffee lovers who enjoy freshly roasted and brewed coffee. In the past few years, D2C brands have also tapped into this obsession for speciality and gourmet coffee, giving rise to an online market expected to reach $203 Mn by 2025. Mumbai-based Toffee Coffee Roasters is one such D2C brand that specialises in freshly roasted coffee with an added zing.
Launched in 2019, the brand is known for its array of speciality blends, barrel-aged and fermented coffees, some of the most popular beverages among its 18 different offerings. But there was a twist in this tale. Toffee Coffee started as a coffee shop with two outlets in Bandra and Phoenix Marketcity, Kurla. However, it shifted to the D2C space and began selling freshly roasted coffee online after the pandemic-induced lockdowns hit the city in 2020.
The company claims that its sales have grown about 10x in the past year, with 65% revenue coming from its website. It also boasts a monthly average order value of INR 1,450. Its immediate plans include scaling up the website traffic and ecommerce presence apart from introducing a wider variety of products. In the long term, the coffee startup wants to enter the international market to taste global success.
Zingavita

Why Zingavita Made It To The List
According to various studies, more than 50% of Indian kids suffer from one or more micronutrient deficiencies that hinder childhood growth, affect immunity and negatively impact memory and learning abilities. But children tend to avoid 'healthy' food as much as possible, and hence, plugging these nutritional gaps at a young age may be quite difficult for parents. 
However, Chandigarh-based Zingavita has addressed this pain point by introducing fun alternatives that are healthy and delicious. Launched in 2020, the brand is present on all major online marketplaces, including Amazon India, FirstCry, 1mg, Netmeds and Nykaa. Its offerings include nutritional supplements for kids and healthy breakfast options. 
As of now, this startup has eight products in its kitty, but it claims to have recorded more than 30% customer retention on its platform. Also, more than 70% of its sales come from ecommerce marketplaces. 
Currently, Zingavita is looking to expand its team aggressively and add up to 50 new products. It also wants to go global shortly, starting with the UAE. By FY22, the startup wants to reach a monthly revenue mark of INR 1 Cr.
Enablers Empowering Indian D2C Brands
Bambrew
Why Bambrew Made It To The List
India's thriving D2C ecosystem has a few recurring themes. Be it product development guided by best practices, green packaging, an efficient supply chain or a sustainable business model, these norms are as crucial as the products themselves. As a result, Bengaluru-based Bambrew has caught the attention of many for its go-green mantra.
Founded in 2019, Bambrew offers eco-friendly packaging materials made from bamboo, sugarcane and seaweed waste. What's more, these are 100% handmade and reusable plastic substitutes. The company has already developed 12 different packaging materials and claims nearly 99% customer retention on its platform. It also offers a subscription-based model for recurring packaging requirements. 
As of now, the packaging startup wants to onboard as many businesses as possible to ensure widespread usage of a suitable plastic alternative. In the long term, it intends to educate people on the harmful impact of single-use plastics. Bambrew will continue to innovate products that will be sustainable and affordable for mass usage. Future growth will also ensure some much-needed development of the tribal people who help Bambrew with production.
Living Food Company
Why Living Food Company Made It To The List
This Bengaluru-based startup is a managed marketplace for fresh, healthy and artisanal foods and beverages made by a wide range of food artisans — farmers, bakers, chefs and more. Living Food not only provides instant access to fresh foods and ingredients but also offers food provenance, a mechanism that tells consumers everything about the origin, production, procurement and transportation of the ingredients used in the food items up for sale. The company targets a high-spending customer base that regularly buys from the likes of Nature's Basket, BigBasket and other value-added grocery businesses.
Started in 2018, the startup has tied up with more than 18 food artisans offering 350+ fresh food products, which are home-delivered for maximum convenience. The company also provides do-it-yourself food kits co-created with these artisans. Its revenue comes from sales commissions and user subscriptions generated on the platform.
Living Food claims that more than 30,000 households place orders on the platform, and the average order value is $20 (INR 1,500). It boasts a six-month customer retention rate of more than 70% and a revenue retention rate of more than 105%. The company has already carved a niche in the Bengaluru market and aims to set up operations in Mumbai and Delhi-NCR at the earliest.
Retail Pulse
Why Retail Pulse Made It To The List
Now that you are reading about pathbreaking D2C brands, you must have realised that they mostly operate online. Most of their products have not reached brick-and-mortar storefronts yet and due to their niche offerings, they often fail to time it right when it comes to starting an offline retail journey. Also, FMCG brands require massive scale if they do not know where their customers are. So, Bengaluru-based Retail Pulse is addressing this pain point with its retail SaaS solution.
Launched in 2020, Retail Pulse enables D2C brands to pinpoint their sales and marketing to the right stores, which can help online-first brands retail offline effectively. The software solution helps sales representatives, storekeepers and auditors use image recognition technology to detect every product and asset inside a store. In brief, it is designed to work with chaotic shelves and the display structures used by kirana stores. This results in real-time shelf analytics such as the share of the shelf, in-store execution compliance and competition insights for FMCG companies. It can also generate deep analytics such as visibility score, store sell-in potential and essential sales drivers. 
The company has already onboarded more than 10 retail customers, including retail startup Dukaan and beverage giant PepsiCo, among others. Its immediate focus is to work with more customers and deliver value to them. In the long term, Retail Pulse wants to take its solution to global markets with small retail models similar to kirana stores.
Wherehouse.io

Why Wherehouse.io Made It To The List
Most D2C brands tend to face one major operational challenge: A lack of control over the supply chain, including logistics and last-mile delivery. Of course, warehousing is an essential part of this requirement. When small brands sell their products on large ecommerce marketplaces, they end up paying huge warehousing fees to meet potential customer demand. This is where D2C enablers like New Delhi-based Wherehouse.io come in with micro-warehousing solutions. 
Set up in 2020, this B2B startup offers a network of micro-warehouses within cities so that its D2C customers can utilise the service for faster product delivery. Simply put, the platform helps brands identify customer clusters and intelligently place inventory closer to them. It claims to have a network of more than 2,500 warehouses in more than 12 cities. The network also comprises hyperlocal and third-party logistics partners for same-day and next-day deliveries in a cost-efficient manner. The company taps into vacant commercial properties and also provides local entrepreneurs with storage space for additional income opportunities. The startup earns from order fulfilment and warehousing commissions. 
According to Wherehouse, it helps reduce the cost of delivery by 60% and offers same-day delivery service across brands. As of now, it is aiming to onboard more brands to grow its customer base. However, its vision is to empower more than 20,000 local entrepreneurs and emerge as the fulfilment network of choice for D2C brands.
Woovly

Why Woovly Made It To The List
Catering to the millennials is not easy as they are discerning consumers and love to make a lifestyle statement through the products they purchase. However, traditional marketing tactics such as celebrity endorsements and digital advertisements often fail to lure them, although social media mostly influence the people who buy skincare, cosmetics and wellness products. Keeping this trend in mind, Bengaluru-based Woovly has developed a social commerce platform (both website and app) that promotes D2C brands operating in the beauty and personal care space. The startup launches and markets these third-party brands on its platform, boosts their content interactions and develops their businesses.
A key value-addition by Woovly is its 'social media' feature that enables users to post honest product reviews and tips to help others. What's more, people on this platform earn incentives for posting/sharing content. This tactic has helped Woovly attract many micro and nano influencers who post reviews and recommendations on the platform. These users/influencers further drive the content by sharing it on other social media platforms as it helps them boost the incentives earned.
Founded in 2019, Woovly claims to have more than 75 D2C brand partners such as Pulp, Juicy Chemistry, Ustraa, Earth Rhythm, Iba Cosmetics, St.Botanica and Sirona, to name a few. It reportedly claimed 33% buyer retention on the platform and an average order value of $10 in FY21. In the short term, it plans to expand to categories like home furniture, fashion and gadgets. Eventually, the company aims to introduce a live commerce segment to drive sales.