India's transport and mobility landscape has changed so dramatically in the past few years that it's hard to imagine that this revolution is just the beginning. While the introduction of technology changed how Indians commuted to work and for their daily tasks, the infrastructure boost in terms of highways and ports have transformed shipping and intercity transport.
But that's just a taste of what all can come in the way of the Indian government's ambitious plan of achieving electric mobility by 2030. The Indian government has proposed that only electric vehicles would be sold in the country by 2030. A study by NITI Aayog says that this could help save up to 64% of the country's energy costs for road transport, and cut down on 37% of carbon emissions. Starting with some electric public transit options, the government is looking at an electric transition for three-wheelers by 2023, and most two-wheelers by 2025.
The cornerstone of this plan is the Faster Adoption and Manufacture Of Electric Vehicles scheme also known as FAME. While FAME set out to set standards for EV makers last year, its second phase, launched this year has proposed to invest INR 10,000 Cr ($1.4 Bn) over three years to support 10 Lakh two-wheelers, 5 Lakh three-wheelers, 55K four-wheelers, and 7K buses that operate on lithium-ion batteries or other electric power-trains.
Electric Vehicle Startups Driving India Towards A Sustainable Future
The transition to electric vehicles will not happen overnight and will be similar to how cars with engines replaced horse-drawn carriages. With the push from the government's side, innovation is not coming primarily from the traditional automobile giants, but from India's EV startup ecosystem.
The ecosystem is made up of startups that manufacture two-wheelers, as well as startups working in battery tech, vehicle diagnostics and analytics, charging and other such aspects of electric vehicles. India's sustainability goals are dependent on electric mobility, and we have curated a list of EV startups that are supporting this drive for a greener future.
22 KYMCO
Launched In: 2016
Headquarters: Gurugram
Total Funding: $66 Mn
Key Investors: Farhaan Shabbir, Ishwari Singh, Kymco
22 KYMCO is a partnership between Indian startup 22 Motors and Taiwanese manufacturer KYMCO. The collaboration focuses on developing advanced connected electric vehicles to change the urban mobility landscape and provide powerful, smart vehicles to the technology-savvy generation. The 22 KYMCO product portfolio is supported with artificial intelligence (AI), lithium-ion storage, Internet of Things (IoT) along with advanced smart features.
Achiredo Technologies
Launched In: 2016
Headquarters: Gurugram
Total Funding: NA
Key Investors: NA
Achiredo  is a connected emobility solution focussed on the B2B sector. It offers a pay-as-you-earn electric mobility service offering cargo electric bikes for B2B2C and B2B operations in last-mile logistics. Established in 2016, the startup helps low-skilled workforce with no vehicles or driving licence facilitate last/first/short mile logistics services to ecommerce firms, foodtech, SMEs & hyperlocal businesses.
Ampere Vehicles
Launched In: 2008
Headquarters: Tamil Nadu
Total Funding: $1.2 Mn
Key Investors: Ratan Tata, Axon Partners Group, Kris Gopalakrishnan, NuVentures
Ampere Vehicles develops and produces smart energy management systems. The systems include lithium-ion batteries, bidirectional inverter and EMS (energy management system). It manufactures smart batteries that use weather forecast, energy prices and user profile to achieve maximum energy independence.
Ather Energy
Launched In: 2013
Headquarters: Bengaluru
Total Funding: $91 Mn
Key Investors: Binny Bansal, HeroMotoCorp Ltd, InnoVen Capital, Sachin Bansal, Tiger Global Management
One of India's leading EV companies, Ather Energy is an electric vehicle company, designing and building intelligent electric scooters. The company's product line includes premium performance intelligent electric vehicles along with a comprehensive public charging network. Established in 2013, the company has received a total funding of $91 Mn till date.
AVERA Electric Vehicles
Launched In: 2017
Headquarters: Vijayawada
Total Funding: NA
Key Investors: NA
AVERA New and Renewable Energy is a vertically-integrated manufacturer in pure electric vehicles and energy retailer startup. AVERA builds electric vehicles and controls the entire electric vehicle supply chain from batteries to electric vehicles. The company focuses on electrifying traditional emission-releasing vehicles and aspires to disrupt the two-wheeler automotive industry in India.
BattRE Electric Mobility
Launched In: 2017
Headquarters: Jaipur
Total Funding: Undisclosed
Key Investors: Sangam Ventures
Batt:RE Electric Mobility, is a startup that has been ideated and incubated with the purpose of achieving all inclusive and sustainable modes of transportation using renewable energy sources. The company's product portfolio includes- E rickshaw, E scooters, E cycles & Lithium batteries. BattRE scooters have a top speed of 25 Km per hour and can cover up to 90 Km in one charge.
Cell Propulsion
Launched In: 2016
Headquarters: Bengaluru
Total Funding: Undisclosed
Key Investors: Undisclosed
Led by former Indian Space Research Organisation (ISRO) engineers, Cell Propulsion integrates all the critical attributes of Electric Mobility solutions under a single interface, to provide economically viable EV solutions for commercial vehicles focusing on the Transportation and Logistics market.
Cellerite Systems
Launched In: 2017
Headquarters: Hyderabad
Total Funding: Undisclosed
Key Investors: Powered Accelerator
Cellerite Systems is a deep tech company focusing on developing disruptive technologies for battery charging. The company works on innovative charging solutions for charging electric two-wheelers and three-wheelers, UAVs, industrial equipment, robotics, etc. The company makes electric vehicle supply equipment, charging stations, fast chargers and smart chargers.
Cellestial E-mobility
Launched In: 2019
Headquarters: Hyderabad
Total Funding: $200K
Key Investors: Meka Sudhakar Reddy
Cellestial E-Mobility provides smart and interactive electrical vehicles, systems and accessories to build entirely or to convert conventional vehicles to electrical vehicles. They manufacture electric tractors. Cellestial vehicles are designed as modular ones enabling them to retain the same platform for all its vehicles, while they effectively take shape as a complete vehicle based on utility and capacity. The vehicles come with a diagnostic fuse box, wireless steering system, intelligence unit and frictionless braking system.
eBikeGo
Launched In: 2017
Headquarters: Amritsar
Total Funding: $ 300K
Key Investors: Startup Buddy

Established in 2017, eBikeGo offers rental electric bikes and electronic taxis that run for around 100 km on 2 hrs of charge and has a top speed of 55 km/hr. The company offers services of eBikeGo rental and eBikeGo Delivery.
Emflux Motors
Launched In: 2016
Headquarters: Bengaluru
Total Funding: $650K
Key Investors: Meher Roy, Brian Fabin Crain, Nicky Sujan
Emflux Motors was founded in 2016 with a mission to empower 10 Mn electric two wheelers in India by 2027. The company followed a two-pronged market focus — building the brand around high-performance electric motorcycles and creating an ecosystem of partner OEMs for technology and components.
Gayam Motor Works
Launched In: 2012
Headquarters: Hyderabad
Total Funding: N/A
Key Investors: N/A
Gayam Motor Works (GMW) designs, manufactures, and sells electric vehicles. The company launched India's first electric three-wheeler powered by lithium-ion battery in 2015 and with its proprietary battery swapping technology, refueling time can be reduced from hours (of charging) to less than a minute (by swapping). The company produces most advanced electric auto rickshaws and electric bicycles.
Gegadyne Energy
Launched In: 2015
Headquarters: Mumbai
Total Funding: Undisclosed
Key Investors: Kishore Ganji, Mumbai Angels
Gegadyne Energy is developing a proprietary battery technology that can charge from 0-100% under 15 mins while compiling to highest safety standards compared to any existing battery tech across the globe. The technology can be used across electric vehicles, consumer electronics, grid storage and telecom.
ION Energy
Launched In: 2016
Headquarters: Mumbai
Total Funding: Undisclosed
Key Investors: Aakrit Vaish, Astarc Ventures, Sushill Jiwarajka, Swapan Rajdev
ION Energy is an advanced battery management and intelligence platform. The company is focussed on building technologies that improve the life and performance of lithium-ion batteries that power electric vehicles and energy storage systems.
JS Mobileon
Launched In: 2015
Headquarters: New Delhi
Total Funding: $250K
Key Investors: Undisclosed
JS Mobileon designs, develops, manufactures and sells technology-heavy commercial electric vehicles that claim to have superior performance and better efficiency than gasoline-powered counterparts. The company has established a network of stores, service centres, charging stations and vehicle financing channels to accelerate the widespread adoption of their products.
Ola Electric
Launched In: 2018 (Independent entity in 2019)
Headquarters: Bengaluru
Total Funding: $306 Mn
Key Investors: Ratan Tata, Matrix Partners India, SoftBank, Tiger Global Management
Ola Electric, India's only electric vehicle unicorn startup, was launched in 2019 and aims to work with driver-partners, cities, vehicle manufacturers, and battery companies to make sustainable technologies cost-effective and viable in daily mobility. The company ran a pilot in Nagpur involving charging solutions, battery swapping stations, and deploying vehicles across two, three and four-wheeler segments.
OYE! Rickshaw
Launched In: 2017
Headquarters: Gurugram
Total Funding: N/A
Key Investors: N/A
Oye! Rickshaw provides an app-based e-rickshaw booking facility to the users. The business model involves connecting the electric rickshaw owners and daily commuters who use public transport to and fro their homes and offices. Using two applications, one for the rider and other for the driver partner.
Pure EV
Launched In: 2016
Headquarters: Telangana
Total Funding: Undisclosed
Key Investors: VC Nannapaneni
Founded in 2016 by Dr. Nishanth Dongari, Pure EV is committed to drive the future of e-mobility and energy storage systems. The company designs and manufactures two-wheeler EVs and Lithium batteries.
SEDEMAC Mechatronics
Launched In: 2007
Headquarters: Mumbai
Total Funding: $7.5 Mn
Key Investors: Iron Pillar, Nandan Nilekani, Nexus Venture Partners
SEDEMAC Mechatronics touts itself as the world's first and only manufacturer of an integrated starter generator (ISG) technology, which is currently deployed in a major OEM two-wheeler. ISG technology eliminates the need for conventional starter-motor based engine start systems resulting in an instant and smooth engine start. The company aims to become a globally-relevant engineering organisation developing innovative control technologies and products.
SmartE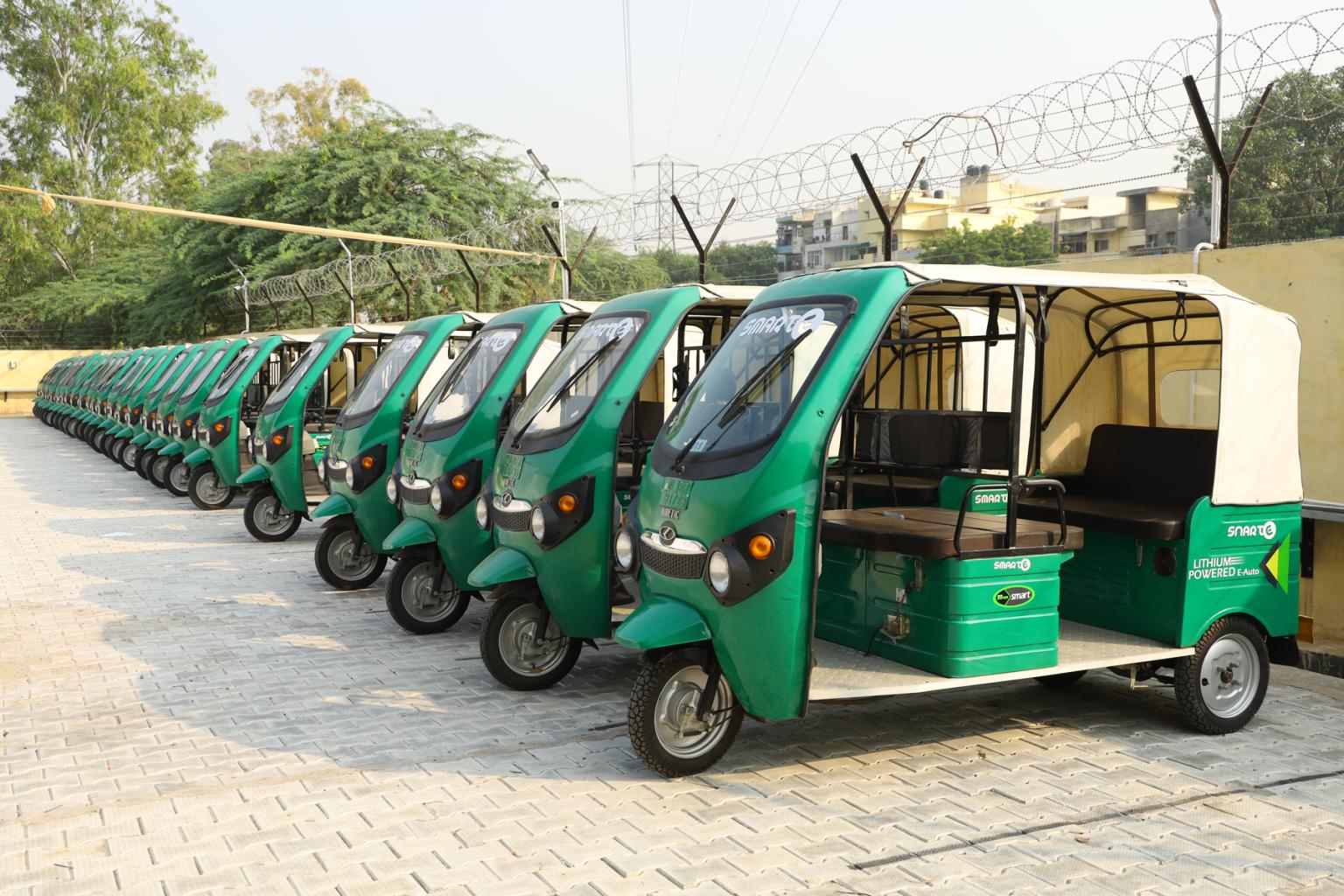 Launched In: 2016
Headquarters: Haryana
Total Funding: $20 Mn
Key Investors: Ecotransit Investments International, Mitsui & Co
SmartE offers first and last mile connectivity to commuters every day. The company offers three wheeler fleet systems and also manufactures battery charging stations across various metro stations as a short distance travel solution in Delhi NCR.
Three Wheels United
Launched In: 2016
Headquarters: Bengaluru
Total Funding: N/A
Key Investors: Techstars
Three Wheels United is a tech-enhanced financier for light electric vehicles in India, starting with auto rickshaws. The company uses structured financed and credit enhancers specifically designed for mobility assets, to cover a loan to cover up to 100% of the vehicle cost at a low interest rate, removing the challenge of high down payment.
Tork Motors
Launched In: 2010
Headquarters: Mumbai
Total Funding: $4.7 Mn
Key Investors: Ankit Bhati, Bharat Forge, Bhavish Aggarwal
Tork Motors is a high-performance electric motorcycle and charging infrastructure manufacturing startup based out of Pune, India. The company has stated its ambition to gradually localise all the components required in the electric drive from battery to charger, controller and motor thereby making key components not only locally available for manufacturing but also for after-market requirements.
TresMoto
Launched In: 2015
Headquarters: Bengaluru
Total Funding: $255K
Key Investors: Shell E4
TresMoto offers purpose-built, end-to-end solutions for microdelivery and bike rental services. These are high-powered, nimble electric scooters. The TresMoto Mule Share is a plug and play scooter for dockless rental service providers and comes with removable batteries and charging docks.
Ultraviolette Automotive
Launched In: 2016
Headquarters: Bengaluru
Total Funding: Undisclosed
Key Investors: TVS Motor Company
Ultraviolette Automotive aims to build an ecosystem that addresses the transportation needs of an urban environment. Founded in 2015, the company manufactures electric two-wheelers and energy infrastructure.