Over the last six years, India's startup ecosystem has come a long way. Having become the world's third-largest startup ecosystem with over 55,450 startups, India is at the centre of funding plans of the world's biggest investment funds. But as entrepreneurs chase the next billion users to make products and services for, there has been an increasing expectation that investments will come in the cities where these users live. We are talking about Bharat, which resides in tier 2 and tier 3 cities of India.
With an internet user base of over 700 Mn, India is the market that every tech company needs. But, the question is whether investor money moves beyond the big cities of India?
The pandemic was harsh for the overall startup ecosystem, with a decline of 10% in total funding at $11.5 Bn in the country, it hit the smaller cities even harder with just $87 Mn worth of funding going to startups located there, in 2020 as compared to $234 Mn worth of funding in 2019, a 62% year on year decline.
According to Inc42 Plus data, between 2014 and 2020, only $1.07 Bn has been raised by startups in tier 2 and 3 cities. Even outside the top three cities, a bulk of the funding was cornered by cities like Pune, Hyderabad and Chennai, leaving little for the non-metros. What does the future hold for smaller towns?  Do startups based out of Bharat have a future?
Kitty Agarwal, Partner at Info Edge Ventures says that the market outside of Tier 1 Indian cities is becoming reasonably broad-based in terms of tech adoption, and money spent online is slowly but steadily catching up to time spent online. Info Edge Ventures has backed startups like Kota based healthcare platform MedCords, Indore based online grocery startup Shopkirana and Indore based agritech startup Gramophone (Agstack Technologies).
"We are seeing opportunities across agritech, social commerce, regional language media, digitisation of supply chains in various industries, healthcare, digitisation of SMBs, online courses for upskilling and reskilling graduates etc. Based on the data from our own portfolio companies, cities like Jaipur, Indore, Lucknow, Ahmedabad, Surat, Kanpur, Vadodara are some of the key cities outside of Tier-1 cities," said Agarwal.
Competition Among Top Cities
Between 2014 and 2020, tier 1 cities have cornered 98.5% of the total funding secured by Indian startups. Even out of the total funding for tier 1 cities, a major chunk i.e. $55 Bn has gone in the startups located in Bengaluru and Delhi NCR region. In 2020, while startups based out of Bengaluru and Delhi NCR received $8.8 Bn amount of the total funding, the other cities received funding worth $2.7 Bn.
Startup Metrics Beyond Tier 1
While the funding amount in 2020 beyond tier 1 cities came down to $87 Mn, it was spread across a higher number of deals. As compared to $350 Mn worth of funding across 39 deals in 2018 and $234 Mn funding across 31 deals in 2019, in 2020, 41 funding deals were reported. Overall, $1.07 Bn funding has been raised by mid-tier Indian startup hubs across 235 deals between 2014 and 2020.

Investor Landscape In Tier 2 & 3 Cities
While there has been a lot of noise around tier 2 and tier 3 towns of India in policy circles as well as investor talks, the wide gap between the opportunities available to startup founders based out of metros and those from 'Bharat' is very evident. While we have some names like Jabalpur Mart operating out of small cities like Jabalpur and Homevery from Odisha, Inc42 Plus data showcases that only a fourth of the total investors in India have made investments in cities outside the regular metro cities of the country.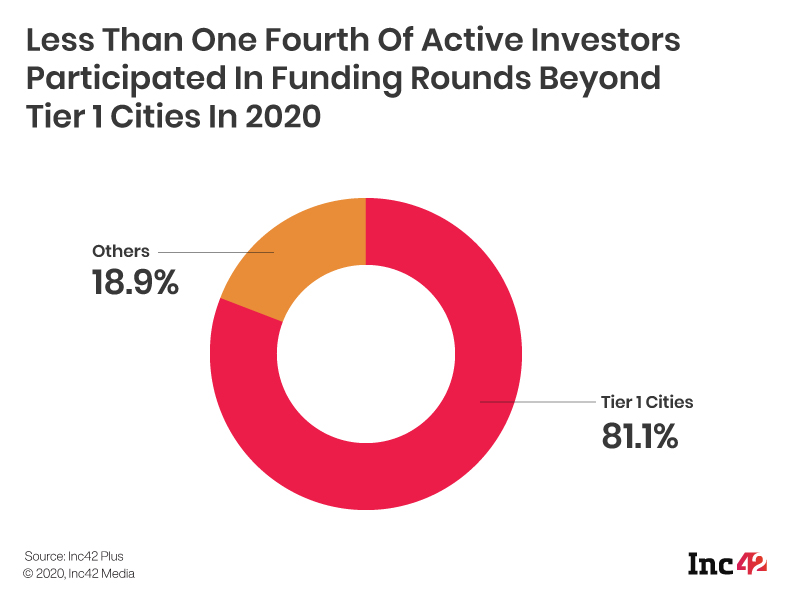 Factors like talent, a sizable market and affordable office rentals have failed to create a pull for investors to bet on companies that are trying to offer solutions to the problems of Bharat, by being present in the smaller cities. There are some exceptions, though. Startups like ShopKirana in Indore, DeHaat in Patna, and CarDekho in Jaipur have made a big impact in their cities, encouraging investors to leave their inhibitions about investing in small towns of India. In 2020, Jaipur reported $47 Mn worth of funding while Patna reported investments worth $14 Mn. However, this growth has been uneven and erratic when we compare them with the likes of Pune ($699 Mn) and Chennai ($279 Mn).
Abhishek Rungta, President, TiE Kolkata, notes that the overall investment sentiment in Eastern India region suffered during the year. "But with returns on risk free investment instruments hitting an all-time low, the intent to invest in startups has started picking up since November 2020," said Rungta.
He added, however, that the state government participation and engagement with the Startup India programs has been uneven. While the Eastern states offer a lot of technical talent, better engagement with startup programs can help to bring more entrepreneurs home, said Rungta.
Does The Future Belong To Bharat?
Indian and global startups are increasingly marketing their solutions towards Bharat from podcasts to online grocery as that market is fresh and untapped. But what will it take for investors to take note of the entrepreneurs based out of these cities?
Experts suggest that the cost of running a business as well as hiring skilled talent is much lower across non-metro startup hubs in the country. The pandemic allowed thousands of talented engineers and other white collar workers to go back to their hometowns, as they began working from home. But after knowing that all it takes to work on a project is a good internet connection, it would make sense for them to work in companies located in their cities.
State governments too will have to create an infrastructure to compete with cities like Delhi NCR and Bengaluru to provide their youth ample opportunities to succeed.
Vineet Khurana, VP, Chandigarh Angels Network suggests that democratisation of access to angel funding can be a huge boost to the ecosystem. The network has invested in startups like Fatehabad based edtech firm  Dhurina, Chandigarh based fintech company Paymart, Haryana based language app Language Curry and geo-analytics startup Heliware in 2020.
"Integration of financial support by the state with private bodies like angel networks, incubators and accelerators will help startups create and test their products faster. It will also be helpful to launch schemes that integrate solutions offered by the startups with the public domain and create a conducive environment where (infrastructure) challenges can be openly discussed with the states," says Khurana.