As India has grown to be the second-biggest market for edtech giant Coursera, its revenue contribution to the US-based parent entity has also doubled to INR 20.25 Cr in the financial year ending in March 2020. In the financial year 2019, the company earned INR 9.65 Cr. The Indian unit's total revenue came solely from its educational operations.
Coursera India's expenses have also doubled to INR 1.76 Cr, leading to a 2x net profit growth to INR 1.9 Cr in FY2020. The company had spent INR 83 Lakh in the previous fiscal year, leading to a profit of INR 83.9 Lakh.
It has earned a profit before tax of INR 2.6 Cr in FY2020 compared to INR 1.2 Cr in FY2019. Its net profit for FY2020 increased to INR 3.2 Cr after adding the balance of INR 1.3 Cr. Meanwhile, net profit for FY2019 increased to INR 1.3 Cr after adding the balance of INR 41 Lakhs.
The company, which started its India operations in 2017, had recorded a revenue of INR 4.27 Cr with INR 41.38 Lakh as profit in FY2018.
Though the revenue of Coursera's parent entity has not been disclosed, the company's earnings were pegged at $140 Mn in 2018. The company has raised over $443.1 Mn from 18 marquee investors like G Squared, Kleiner Perkins, Learn Capital, Future Fund among others.
The company had last raised $130 Mn in a Series F round led by NEA at a reported valuation of $2.5 Bn.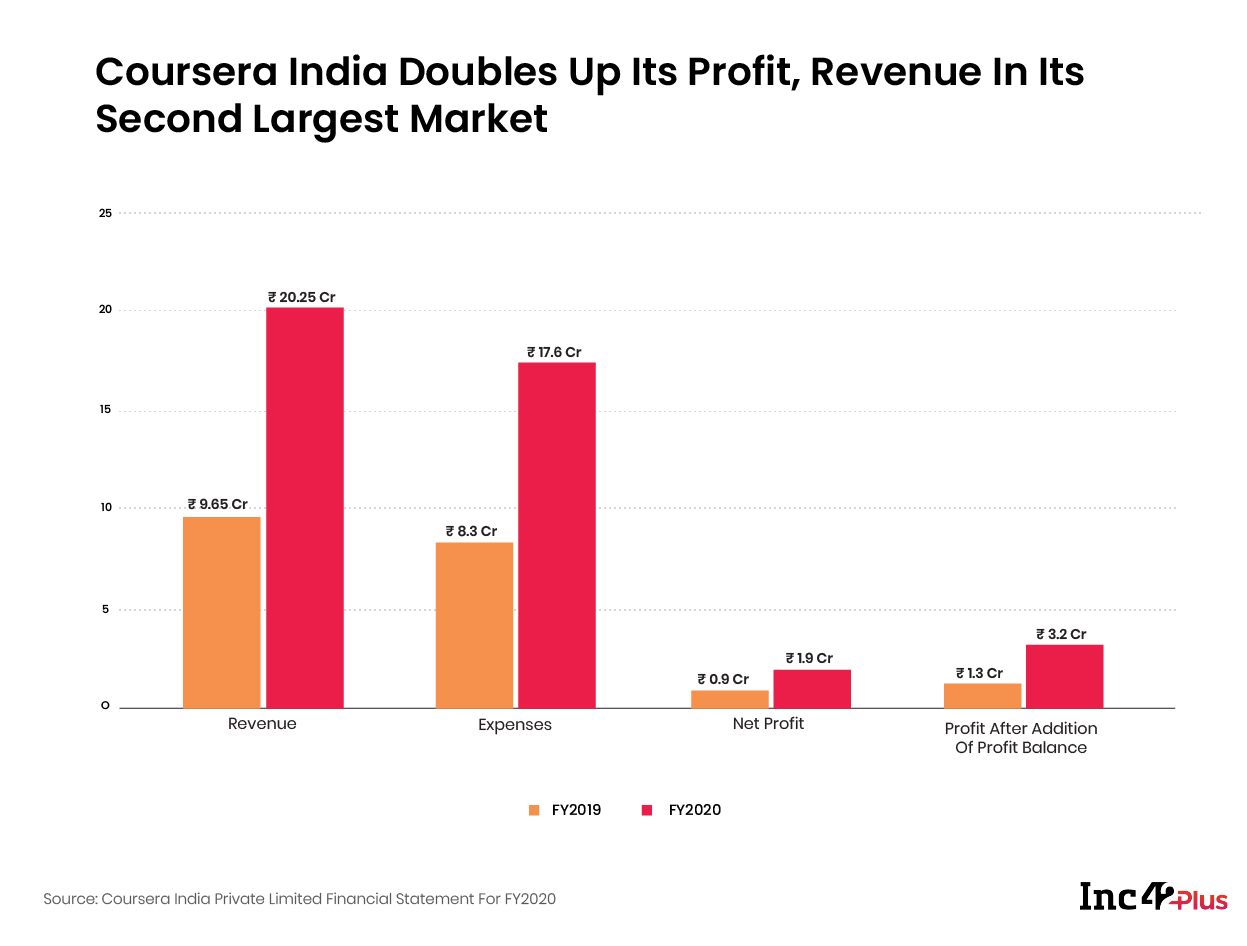 How Does Coursera Earn Money?
Founded in 2012 by Stanford computer science professors Andrew Ng and Daphne Koller, Coursera offers students access to massive open online courses (MOOCs), specialisations, and degrees. The company does not create its own educational content, but partners with reputed universities and organisations to take their courses online.
But how does the company earn money? The company charges the customers a subscription fee for each course it offers and pays anywhere between 6-15% of the gross revenue to the partners as an incentive. Coursera users must pay to engage with the material in a meaningful way and take courses for individualistic purposes.
Currently, Coursera has over 150 university partners, offering 3,800 courses and 385 specialisations. It also has over 2,300 enterprise clients with 5.50 Lakh enterprise learners served. Beyond this, the company has partnered with 325 government agencies, serving more than 7.25 Lakh learners.
The company currently has a user base of 7 Cr users, of which 98 Lakh are from India. Since March 2020, when the impact of Covid-19 started becoming more evident, Coursera has added over 2.1 Cr learners, noting a 353% annual hike. The company has also registered 5.9 Cr enrollments during the same time period.
Where Has Coursera Been Spending?
With a clear business model in place, Coursera India has been consistently spending a large portion of its expenses on employee benefits. For the year FY2020, it paid INR 11.3 Cr as salary and wages, INR 1.33 Lakh as a contribution to provident fund and labour welfare fund and INR 23 Lakh as staff welfare expense. Overall, the company spent nearly INR 11.6 Cr as employee benefit expense, translating to 66% of the total expense.
Besides this, traveling and conveyance were other major areas of spending. Coursera spent about INR 1.90 Cr in FY2020 and INR 1.27 Cr in FY2019. Besides this, the company spent INR 1.7 Cr as professional fees in FY2020, compared to INR 90 Lakh spent in FY2019. Interestingly, the company's marketing expense has grown by 5x from INR 21 Lakh to INR 1.08 Cr.
Besides this, the company had spent less than INR 20 Lakh each on insurance, communication expenses, repair and maintenance, payment to auditors and miscellaneous expenses. The company has also paid INR 35 Lakh as rent in FY2020 and FY2019.

Consumers, VC Ready To Take A Deep Dive In Indian Edtech

The fourth industrial revolution has put India on the digital map, with a striking growth in the health, finance and tech domain. Even the Indian edtech sector has been growing on the side track with BYJU'S turning out to be the world's most valued education company.
According to Inc42 Plus' The Future Of Edtech In India: Decoding The $10 Bn Market Opportunity Report, 2020 report, the Indian edtech market is set to grow 3.7x from $2.8 Bn (INR 20,792 Cr at current conversion rate) in 2020 to a whopping $10.4 Bn (INR 77,228 Cr at current conversion rate) by 2025, riding on the back of technology, innovation and the equal interest of customers and venture capital firms.
Paid edtech users are also expected to grow from 10 Mn in 2020 to 37 Mn by 2025. For online certification courses, a market where Coursera serves, the growth of users is anticipated from 3.2 Mn (32 Lakh) in 2020 to 12.14 Mn (1.2 Cr) in 2025. Overall, there are more than 4,450 edtech startups in the country, that have raised nearly $2.2 Bn (INR 16,336 Cr at current conversion rate) between 2014 to H1 of 2020 from more than 475 investors. The average ticket size of each of these investments has been $159K (INR 1.18 Cr).
In terms of revenue, BYJU'S is the biggest company in India with nearly $193 Mn (INR 14,331 Cr at the current conversion rate) revenue in FY2019. It is followed by Simplilearn, which recorded $18.2 Mn (INR 133 Cr) revenue in India.