Stay indoors, work from home — some of the advice that's going around on social media and other platforms as India strives to keep itself safe during the black swan event that is the coronavirus pandemic. But staying indoor might not solve all the problems. What about the 290 Mn students (excluding India) who have been forced out of school?
Last week, UNESCO confirmed that almost 22 countries across three continents have closed schools due to the coronavirus outbreak, affecting over 290 Mn students. The UNESCO director-general, Audrey Azoulay added that this might threaten the right to education if the situation is prolonged.
The halt on education is not limited to countries outside India, with 75 confirmed cases and one death as of March 13, 2020. Delhi, Karnataka, Kerala, Bihar, and Jammu and Kashmir have shut schools for the foreseeable future. With no vaccine in sight, can students really afford to miss out on education, especially in an undereducated country like India?
But if work from home is an option during the coronavirus outbreak, then why not study from home for students?
Amidst the coronavirus pandemic, several schools in Bengaluru have decided to give technology a try by taking classes online. With this, schools are not only ensuring that the right to education does not get hampered, but are also preparing themselves for the future of edtech. For this, the schools have decided to live stream lessons using video conferencing applications such as WebEx, Google, Zoom and others
Several schools in Bengaluru have designed special timetables to enhance the efficiency of the new digital system that has not really been tried before, not at least in India. Indus International, which has over 1200 students, has decided to conduct classes for two hours every day for primary students.
However, the school has requested that parents be present along with the student for lessons. Principal Sarojni Rao highlighted that the school has bought extra licenses for WebEx to ensure undisrupted service, and will also be using curriculum software called Cognity.
Meanwhile, Inventure Academy will start online classes from March 16, 2020 through Google Hangouts. The school has trained teachers on sharing and conducting live classes. Besides this, it is also working on a mechanism to administer online exams and assess students.
The developments in this regard are not just limited to Bengaluru but have spread out to several other parts of the country. For instance, Delhi University (DU) has also decided to continue its "teaching-learning" process for all undergraduate and postgraduate programmes by providing study material on the DU website weekly. With this move, DU became the first Indian university to go online during this crisis.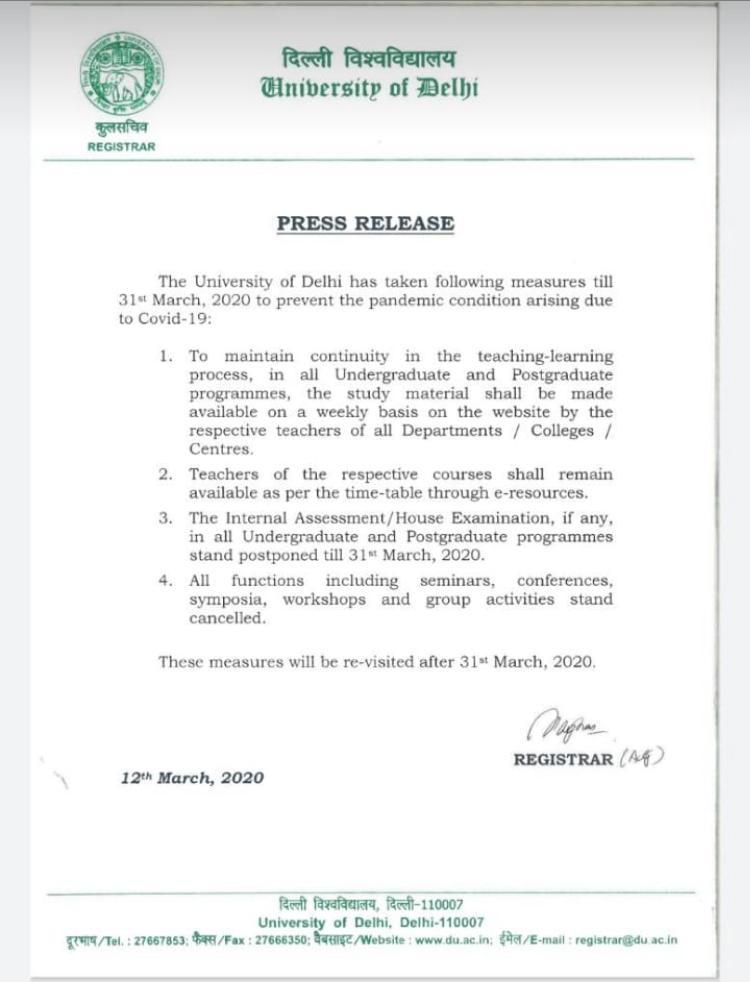 Even though Delhi schools have not really come up with any such proposal for the coronavirus outbreak, the Delhi government has been working on a long term plan to digitise government schools in the capital. From April 1, all government schools in the national capital will mark attendance digitally. Besides this, even examination results will be released online to do away with paperwork altogether.
Edtech Startups Back Schools
Although innovation has to start somewhere, with over 1.5 Mn schools and 335 Mn enrolled students in India, the initiatives by schools is barely scratching the surface of the massive education market.
This is where startups in the edtech domain are filling the gap and helping kids move forward from chalkboards to a digital, mobile-first approach.
Vedantu CEO and cofounder Vamsi Krishna told Inc42 that startups have triggered the traditional Indian educational institutions to take up an online approach. He believes that startups and schools investing in technology has brought about this change.
"It is because of edtech companies that we are able to tackle such a situation. If this would have happened 10 years back, we would not even be in a position. That is the beauty of the technology that today, we have options wherein we can allow the students to study without any disruption even in this situation. The Indian edtech startups are trying their best to help the community."
According to The Future Of India's $2 Bn Edtech Opportunity Report 2020 by DataLabs by Inc42, the first wave of technology adoption in the education sector started off 20-25 years back with the introduction of smart boards and ERP software. Currently, the Indian education system is going through the third wave with the artificial intelligence (AI), deeptech and gamification coming into play. Today, edtech is not about teaching from one textbook, but about making students learn better and grasp concepts through personalised lessons.
The report estimates that the Indian online education market is expected to become a $1.96 Mn opportunity, rising from $247 Mn in 2017. In the financial year 2018, the gross merchandise value (GMV) of edtech startups was above $120 Mn, a surge of 48% compared to FY17.
Edtech's Defence Against Coronavirus
Several startups like Byjus, Vedantu, Unacademy, Toppr, Educational Initiatives, UpGrad and Lido Learning have decided to offer free online courses for the time being. Besides this, several schools across Delhi, Bengaluru, Hyderabad and Kerala have also approached Vedantu to conduct online classes for their students.
"The learning routine of close to 300 million children globally has been affected due to the current situation. Daily access to quality education is extremely important for the wholesome development of children. Given the preventive measures taken to safeguard the health and safety of students, as a learning company, we are committed to supporting the education system and ensuring that access to quality learning remains uninterrupted," Divya Gokulnath, cofounder and director of BYJU'S, said.
With edtech startups coming forward to offer free online courses, there's another thought coming into play — has the coronavirus outbreak given Indian edtech a new boost?
On March 12, Sanuj Shah, VC at Matrix Partners, said in a now-deleted LinkedIn post that major edtech startups are using the coronavirus outbreak for lead generation by conducting free classes. He believed that this could lead to the next wave of the edtech companies in India. However, Shah was called out for the post being irresponsible at a time when people are still dealing with the crisis.
But edtech startups are not too sure about the implications of the current situation on online education. Zishaan Hayath (CEO and cofounder of Toppr) told Inc42  that it is too early to comment on this as there it has only been one week since schools have been shut. Besides this, March is also usually a slow month for the Indian education sector as it's the end of the academic year.
He added, "This might bring in more trials and could enable students to try out online learning as a serious alternative, however, to find out if this kicks off a trend; we don't know that yet."
Edtech startups have maintained that the free live classes initiative is strictly for the benefit of students, and there is no business angle to it.
But it cannot be ignored. AI-powered maths problem-solving platform DoubtNut highlighted that it recorded a 46% hike or over 7 Lakh new questions posted by the students on its platform on a daily basis in the past week. The company also noted a 36% increase in viewership of online tutorial videos.