Tech giant Google has revealed that it sent more than 12K warnings to users in 149 countries, who were allegedly targetted by government-backed attackers.
In a blog post, Google said that over 90% of these users were targetted using "credential phishing emails," where the hacker tries to obtain the target's passwords, account details and more.
Furthermore, Google recommended that high-risk users such as journalists, human rights activists and political campaigners apply to its Advanced Protection Program (APP), which it claims provides the strongest protections against such phishing and hacking.
While Google didn't reveal the exact number of Indian users impacted by government-backed attackers, but the heat map indicates that India had at least 500 users who fell victim to such attacks.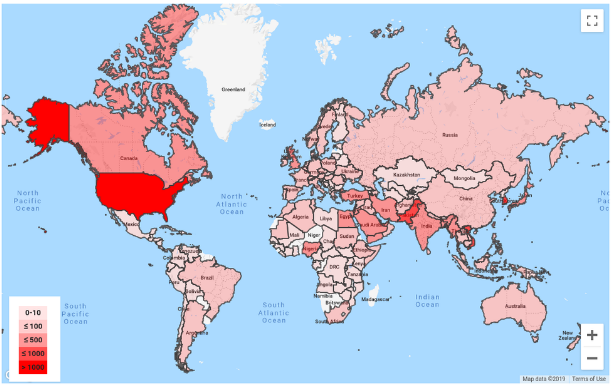 Google's Threat Analysis Group (TAG), which has been active for over a decade now, detects and mitigates such global threats, warning targetted users and Google customers about any attacks that may have been attempted through Google products, including Gmail, Google Drive and YouTube among others.
TAG claims to track more than 270 government-backed groups from more than 50 countries. It says it tracks all activities involving intelligence collection, theft of intellectual property, cyber attacks and more.
The minister of state for home affairs, G Kishan Reddy recently said that the government has the authority to monitor digital communication and also intercept it in cases and decrypt any encrypted communication if required. The government claims that it is doing this in the interest of national security and to maintain a friendly relationship with other countries, while citing the example of the Telegraph Act, 1885.
Google's report comes at a time when there's a lot of scrutiny on government-backed hacking and surveillance through cyber attacks and spyware. The WhatsApp Pegasus spyware which was run by NSO Group was supposedly only available to government entities. WhatsApp claimed more than 1400 users — including 121 from India — were targetted. The surveillance reportedly took place during the 2019 General Election.
In another report published by Facebook, the company said that in the first half of 2019, the Indian government had sent 22,684 requests for accessing 33,324 user accounts.