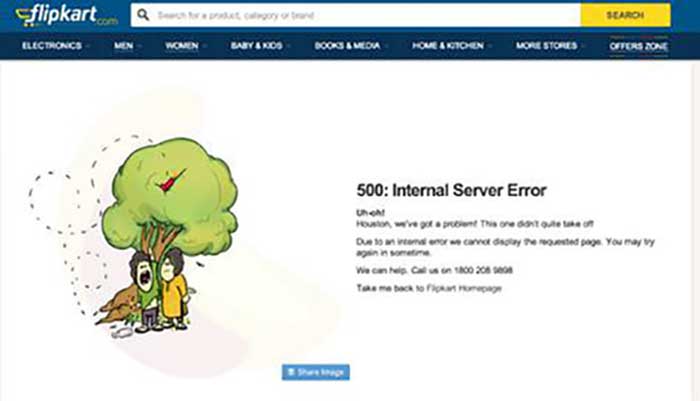 Looks like Flipkart wasn't able to meet the expectations of Xiaomi, as within just a few minutes of Xiaomi's Mi 3 smartphone going on sale on Flipkart, the website crashed. And this situation unfolded terribly for the ecommerce retailer as fans took to social media to vent out their anger.
#flipkart Are people really buying Mi3 or Its just a Kidding game :\

— Sanket Telang (@BMclarenz) July 22, 2014
Looks like #Flipkart is having a button to crash its own site, everytime new product launched it crashes. marketing gimmicks. — Shivaराम Kriष्णं (@krishnanblr) July 22, 2014
@manukumarjain @_sachinbansal @Flipkart @MiIndiaOfficial #Mi3 Failed as #Flipkart site crashed wsted my tm n wsnt able 2 buy!wil buy samsun — Rakesh Dwivedi (@iLoveMyntra) July 22, 2014
@vermaekansh did you manage to buy #mi3 today? I couldn't as #Flipkart did a IRCTC today #fail #xiaomi — Abhishek  (@iabhishekk) July 22, 2014
The sale began earlier today at 12 noon, and the website started showing a number of errors (500, 503) within just a few minutes. Though the crazy fans kept on trying but just an hour later the website displayed an out-of-stock message, disappointing a lot of fans. As per the official release from Xiomi, it's entire Mi 3 stock sold out in 38 minutes and 50 seconds on Flipkart. 
Still a few users were able to get confirmation after a number of attempts but if we are to go by the social media outrage, the overall shopping experience was disappointing for the shoppers and Flipkart was seen apologizing for the problem on Twitter.
Apologies for the issues our customers are facing… the Mi 3 launch is keeping our site very busy. Working on getting this fixed ASAP. — Flipkart (@Flipkart) July 22, 2014
Well this is not something new from the leading Indian e-retailer. Earlier this year the website went through a similar situation during the launch of Moto G and Moto E.
"Based on the phenomenal response we saw during the registration phase, we had anticipated a traffic spike and had scaled up our web services accordingly. But the number of customers who logged in immediately after the phone went live on our site caused the process to slow down for a while. We are expanding our capacity in order to provide a smoother shopping experience the next time," says Flipkart on the issue.
Xiaomi, had forayed into the Indian market earlier this month on July 15 and has got more than 100,000 registrations from people seeking to purchase the Mi 3 as of July 21.
Priced at just Rs.13,999, Xiaomi comes with a 5-inch 1080p LCD units and has a 3050mAh battery. The handset packs a Snapdragon 800. It is powered by the Qualcomm Snapdragon 800 chip, have 2GB RAM, 16GB internal memory with no support for microSD card slots. It has a 13 megapixel camera unit with dual LED flash. The company has released a new India theme in the MiUI themes store. It competes with Nexus 5, Galaxy S4, Xperia Z.
Related: LG Google Nexus 5 16GB Vs Xiaomi Mi 3 [Compared]
"We are responding immediately to the commitment shown to us by our customers by focussing on the following – we are working with Flipkart to ensure the experience of purchase is improved further and technical issues are resolved. We know some of our fans must be disappointed. We want to make it up to them. Hence for the next sale on July 29th only, we will ensure that customers who missed out on today's sale are automatically registered to buy a Mi 3 on 29, said Manu Jain, India Operations Head, Xiaomi. 
The situation wasn't something new for Xiomi, as the brand usually follows a Guerrilla Marketing strategy – it offers products on a flash sale format and thus puts limited stock for sale each time. In case of Xiomi Mi 3 in the sets went out of stock within two minutes and even Redmi Note's 5000 units went out of stock within 42 seconds in Singapore.
Michael Adnani, VP-Retail and Head- Brand Alliances, Flipkart said, "It is very encouraging to see the scale of response towards Xiaomi Mi3 that is exclusively available on Flipkart. We were confident of the success of Mi3 in India. It has done extremely well internationally and we naturally wanted to be able to bring this world-class device to our customers in India. We are working with Xiaomi to ensure that the purchase experience lives up to our Flipkart promise of excellence."
"We underestimated the demand we would receive and we are taking steps to ramp up the supply as soon as possible. That being said we are committed that over the next few  months, every fan in India will get to own a Mi device," said Manu Jain.
Though Flipkart and Xiomi are going gaga over the sales today, but the frustrated users and failed transactions still shows that the Indian ecommerce is till far behind in providing the ultimate shopping experience.