PokerBaazi from the house of Baazi Games was launched in October 2014 by five poker players
It has onboarded more than 2 Mn users and clocked INR 249 Cr in FY22
Baazi Games told Inc42 that PokerBaazi has consistently ranked first among India's online poker platforms by PokerScout
"Poker is a sport and similar to other sports such as cricket, football and hockey, one can excel in it with their skills," said Navkiran Singh, founder and CEO of Baazi Games, the parent company of online gaming platform PokerBaazi.
While naysayers may still believe that the luck factor is too high in poker, the rise in popularity of the game and research-backed conclusions on the skill factor involved in it, prove a shift in this mindset. 
Consider this: An MIT report says that poker requires an ability to read situations and act accordingly. The prestigious institution has even launched a course on 'poker theory', arguing that the application of poker analytics helps in investment management and trading.
Weighing in on this, Navkiran added, "There is no doubt that poker is a game of skill. From a mathematical standpoint, it involves concepts like probability and teaches a great deal about decision making and financial management". 
Determined to eliminate the social stigma around poker and share his love for the game, Navkiran along with his brother Puneet Singh and friends — Anirudh Chaudhry, Avneet Rana, and Varun Ganjoo, set up Baazi Games in 2014. The gaming startup began its journey with the flagship platform PokerBaazi in October that year. 
Since then, the company has diversified into several real-money games (RMG) like multi-card gaming app, CardBaazi and fantasy sports app BalleBaazi. 
Today, the startup competes with India's three online gaming unicorns — Dream11, MPL (Mobile Premier League) and Games24x7. But Singh is confident about its growth prospects due to the growing popularity of RMGs in India. According to KPMG, the RMG sector's market opportunity is expected to reach INR 61.3 Bn by FY25, accounting for 21% of online gaming's INR 290 Bn market opportunity. 
Baazi Games' mantra for scaling lies in building a premium gaming experience. It claimed that this has helped it on board 11 Mn users, with PokerBaazi accounting for 2 Mn users and a 70% MoM retention rate. PokerBaazi recorded INR 249 Cr in revenue in FY22, clocking a 64% YoY growth in revenue from the previous year, Navkiran said. 
The startup told Inc42 that PokerBaazi has consistently ranked first among India's online poker platforms by PokerScout — a global poker listing platform which monitors real money online poker sites in real time.
Playing The Cards Right To Boost Customer Engagement
When PokerBaazi started in 2014, it immediately struck a chord with desi poker lovers, claimed Navkiran. However, the founders also noticed a sense of apprehension among users or users-to-be. "In those days, people were still hesitant about transacting digitally. And they were equally sceptical about putting their money on the line for a gaming platform," he added.
These factors hindered customer acquisition. Hence, the gaming startup has introduced many engagement and retention strategies over the years to increase its customer base.
The team at PokerBaazi kicked it off with awareness campaigns and hosted professional poker players across a series of webinars to educate people about poker and highlight how the game would require quick and rational decision-making to corner success. More importantly, it kept its processes transparent to foster a sense of trust and community. "Each process and task was planned keeping the customer at the centre," said Navkiran.  
In a bid to build a superior customer experience, the team took care of minute details and over the years enhanced it with a mix of functional and fun interactive features. Case in point: Navkiran said that PokerBaazi was one of the first to introduce a portrait-mode card table on its mobile app. 
"Earlier, people needed both their hands to play, and that was cumbersome. So, we introduced something new that caught people's attention and made things convenient. With the portrait mode on, players can easily play poker with one hand," he added.
External factors like rapid digitalisation and the rise of online gaming  further lifted the industry. And this gave the Baazi Games' promoters more confidence to venture into other online gaming categories. In 2018, the startup forayed into fantasy sports with BalleBaazi, and the next year, it launched CardBaazi (previously RummyBaazi).
How The Covid Impact Led To An Online Gaming Boom 
During the initial pandemic days, online gaming played a critical role, providing people with entertainment, relaxation and social connectivity. 
 Inc42's report on 'The State Of Consumer Internet' also reveals this growing consumer engagement. According to the report, India accounted for 433 Mn online gaming users in FY21. The user base rose to 481 Mn in FY22 — registering an 11% increase. By FY25, the user base is expected to cross 657 Mn. 
Navkiran said that PokerBaazi saw a 20-25% jump in user engagement during the initial lockdown.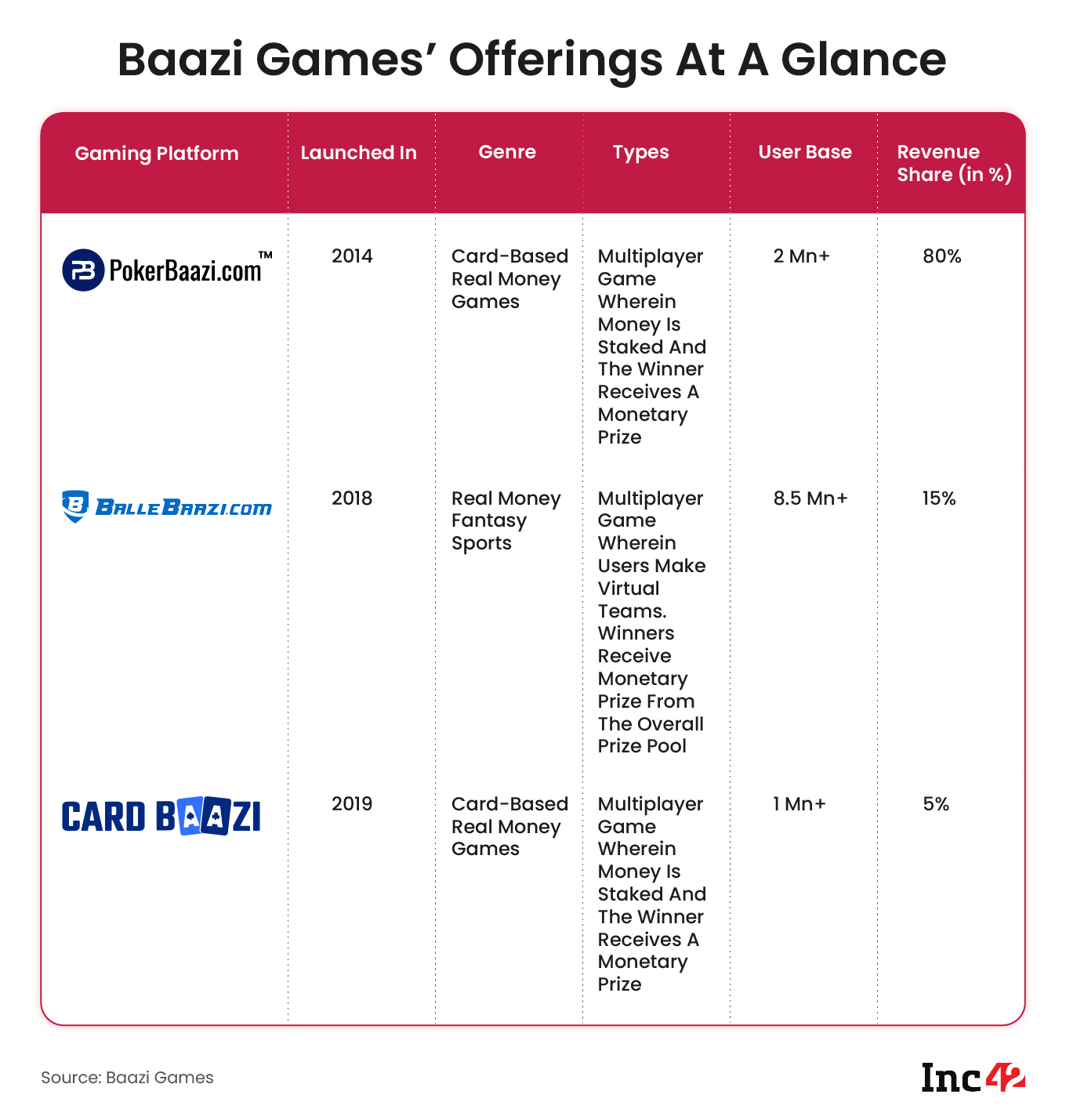 This was the perfect time for the gaming startup to move to its next phase of growth. In 2021, PokerBaazi launched the National Poker Series. Navkiran says that it is one of the largest poker tournament in the country.
Interestingly, most of Baazi Games' revenue (up to 80%) comes from PokerBaazi. This is primarily because the platform earns its revenue through gaming fee popularly known as rake, a prevalent revenue model in the RMG segment where each user pays a fee to take part in a contest/tournament and get monetary rewards if they win. The platform retains a part of the entry fee pool  which is the primary source of its income.
This month, PokerBaazi roped in Bollywood actor Shahid Kapoor as its brand ambassador and launched its new campaign 'You Hold The Cards'. Through this campaign, it aims to reinstate that poker is a game of skill and not a game of luck. "Poker is not just a game but a sport. Although, it's a lot of fun to play, it also requires players to use their skills to win, just like in any other sport," said Navkiran. With Shahid Kapoor as the face of the campaign, we have sent out this message loud and clear through our brand film," he added.
Is Poker A Game Of Skill Or Chance?
There is a lot of debate around the legality of real money games in India. Section 12 of the Public Gambling Act, 1867 exempts certain games of skill. Still, these games have not been defined in the Act, leaving a large grey area regarding what is legal and what is not. 
Many gaming platforms have developed their own code of conduct to ensure a safe environment for their users. One of the tools PokerBaazi has in place is its automated Responsible Gaming tool which has game stakes controls, and financial controls available to the users at a button's click.
According to Navkiran, state governments are bound to notice the gaming community's efforts to self-regulate and change their outlook. In fact, the recent judgements are going in favour of online gaming companies.
In 2021, the Madras High Court lifted Tamil Nadu's ban on online gaming with stakes involved. In February this year, the Karnataka High Court also struck down certain amendments to the Karnataka Police Act, 1963, which banned all forms of real money games in the state, including online poker and other card and fantasy games.
He welcomed the verdicts that allowed skill-based games like poker, rummy and fantasy sports to be run and hoped for a brighter future for India's gaming industry. "We envision making poker a recognised sport in India. I think it is a vast category with much potential, and we are working towards that direction now," he said.
A lot is left to explore, build and play for Baazi Games and its ilk.
Update | 21 July 2022, 5:00 PM
Data concerning India's gaming sector, previously denoted in '$' has been corrected to 'INR'.