D'Moksha is a Mumbai-based startup that sells handcrafted and eco-friendly products in the US, Canada and Mexico via the Amazon global selling programme
The brand claims that 20% of the shoppers are repeat customers
It raised $575K in seed funding in October 2021 from a clutch of investors, including Apoorva Sharma of Venture Catalysts, The Chennai Angels, Aman Gupta of boAT, Varun Alagh of MamaEarth, Bala Sarda of Vahdam among others
The year was 2017. During his research, Manav Dhanda stumbled upon an astonishing fact about the nature of cotton fabric processing that would soon steer his career in a completely different direction.
"Like many others, I believed cotton to be eco-friendly. But I learnt that around 10,000 litres of water is used to make just one cotton bedsheet. Surprisingly, 50% of all chemical pesticides are used solely for cotton farming in India," he said.
There is much truth in his claim. According to data research company The World Counts, cotton production worldwide requires more than 250 Bn tonnes of water annually. Additionally, the wastewater contains toxic dyes and other harmful chemicals that pollute the soil and water bodies. 
The environmental concern lingered in his mind. 
When Manav and his wife Nimisha, eco-conscious shoppers at heart, were furnishing their new home in 2018, they were frustrated by the lack of green décor items and homeware. 
"There weren't too many options in the sustainable home décor space as very few Indian brands were seriously exploring that market. We did more research and found that globally, the market was simply enormous," said Manav. 
According to Allied Market Research, the sustainable home décor market was valued at $330 Bn in 2021 and is estimated to reach $556.3 Bn by 2031, growing at a CAGR of 5.5%. 
The couple quit their cushy jobs in media and banking, respectively, and set up D'Moksha (named after their son Moksh), an eco-friendly, home décor brand. 
From handmade curtains to exquisite cushion and pillow covers, from finest table and kitchen linens to luxurious baby beddings, eco-friendly rugs, its collection showcases pleasing patterns, tempered tones and varied colour stories. The brand offers as many as 1,000 categories, and all its products are ethically crafted from eco-friendly materials like hemp, linen and lyocell and recycled polyester made from discarded pet bottles. 
More importantly, D'Moksha is self-manufacturing the entire product range in India but selling it overseas and scaling up fast – a business model rarely adopted by homegrown product startups. The brand started its global journey in 2020 (right before the nationwide lockdown) and tied up with Amazon Global Selling, an ecommerce export programme designed for Indian MSMEs (more on that later), and entered several lucrative markets, including the US, Canada and Western Europe. 
Its products are also listed on Amazon Mexico.        
The startup claims to have catered to more than 100K customers worldwide and says that 20% of its shoppers are repeat customers. 
Manav told Inc42 that the brand clocked 5x revenue growth in FY22 and hopes to maintain this momentum in the current financial year. Its gross profit margin is 76%, and it is PBT (profit before tax) positive since the first year of launch, according to the cofounder.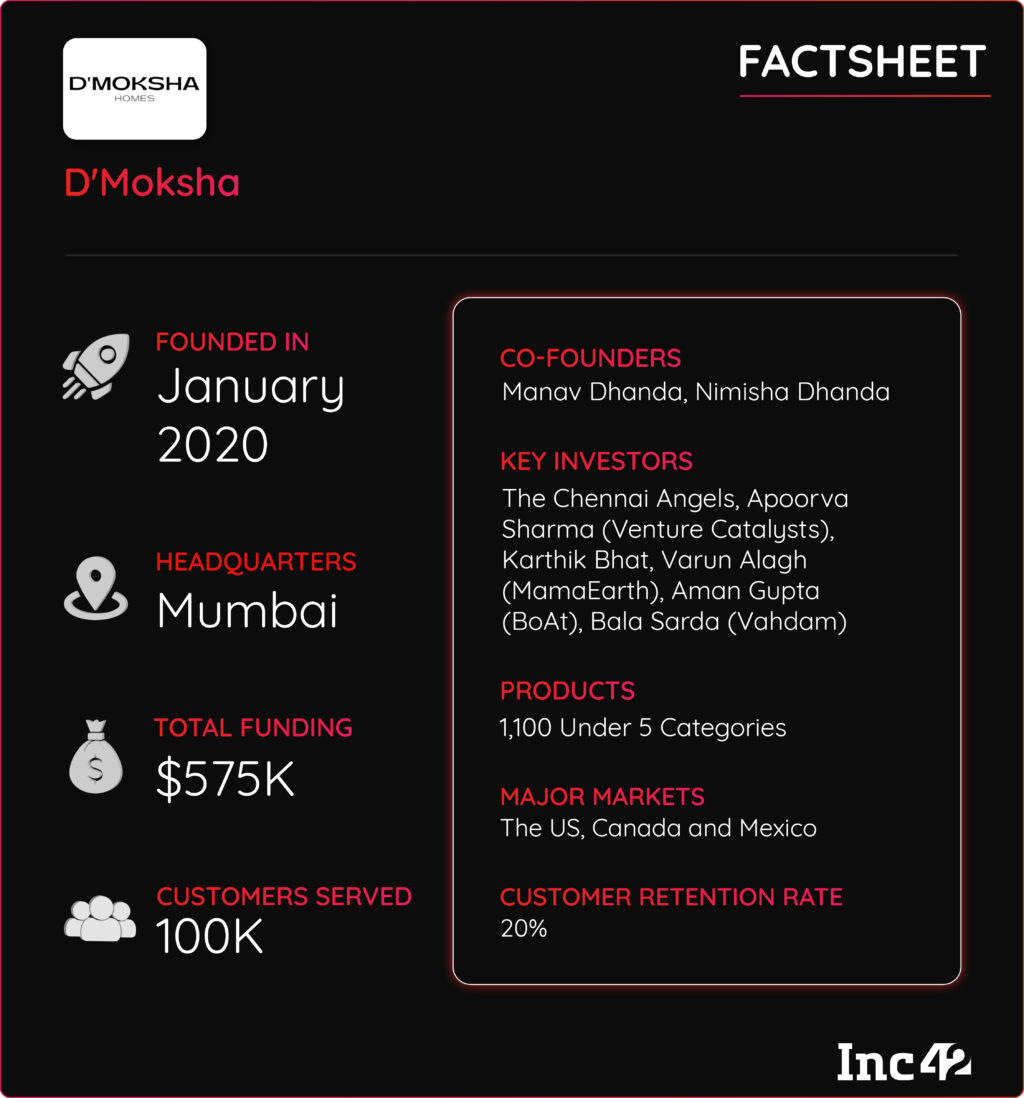 A Turbulent Tryst And A Turnaround 
"We started our journey during the peak months of the pandemic and haven't seen normal times yet. Plus, we were rank outsiders as we had no experience in manufacturing, ecommerce or export," said Nimisha.
When the venture started its operations in January 2020, few could have guessed how the world would come to a standstill. "We shipped our first batch to the US  in early March, and a few days later, the nationwide lockdown was announced," recalled Nimisha. 
Due to Covid distress, most artisans from Uttar Pradesh and Bihar went home, and the brand had to shut down its manufacturing unit in Bhiwandi, on the outskirts of Mumbai.
In June, it restarted manufacturing from a single room of a makeshift factory in Powai with a single artisan to keep the business running. 
"Manav and I used to work with the artisan during the day, and at night, we carried out our business operations," said Nimisha.
Things improved a little in September as many artisans returned to Mumbai, and work resumed with a fresh professional factory set up near Powai itself. 
But the turning point came in February 2021 when the startup got shortlisted by the Amazon Global Selling Propel Accelerator programme. It is a rigorous eight-week initiative that brings together Amazon leaders, industry experts and investors to help early-stage startups grow globally.
"We were only a year old at the time, while others in the cohort were operational for at least three to twenty years. But being part of the programme was a big boost for us and gave us validation of being on the right path," said Manav. 
Crafting A New Playbook To Push A Global Indian Brand
 "We were very clear from the beginning that we wanted to build a sustainable global brand that would showcase India's artisanship and cater to the environment-conscious demands of the world," said Nimisha.
Sensing a lucrative opportunity across developed countries where growing public awareness is pushing the 'green' goods market, the cofounders were keen to get listed on Amazon Global Selling to get access to dozens of countries in North America, the EU, the Middle East and the Asia-Pacific. 
Of course, they could have reached out to global customers via the brand's website. But the Dhandas felt that in a pandemic-struck, high-risk, volatile period, it would be prudent to take that route.
So they started selling on the global marketplace for quick growth.
"We also researched the overseas expansion playbook of many Indian brands and found that most list themselves on marketplaces before doubling down on their websites. Marketplaces give you insights into what works and what does not. This ultimately helps you map out your long-term business strategy," said Manav.
D'Moksha also leverages Fulfilment by Amazon (FBA) for international shipping and warehousing, last-mile delivery and returns. 
Although the brand intends to start selling in India through its website in 2023, fast-expanding global markets remain its crucial business focus. 
Therefore, it has not followed desi peers like Vintage Vistara, Mianzi and Priti International and worked on a global playbook first instead of the other way around. 
Its business practices vary accordingly and receive plaudits from many. Unlike other players where artisan groups work from contract to contract, hop between various brands and rarely feel connected to the purpose and value of the business, D'Moksha artisans are employed full-time and are involved throughout the creative process. 
They constantly remain in the communication loop to cater successfully to a cross-cultural consumer base.
"From stitching to crafting, our artisans and weavers at the Powai factory do everything themselves. Even our custom orders respect this artisanal culture and the value it brings," said Nimisha. 
"We are not a handicraft brand for a few, we are a home décor brand for the world. We are chasing a global business opportunity with an aim to mainstream earth-friendly home decor," said Manav.
The brand has grown to a team of  50+ artisans, employed full time, all year round and from a single artisan working in the pandemic months. Better still, women account for more than 50% of the workforce, which is crucial for a global playbook that stresses inclusivity.
The cofounders also note that they typically pay their artisans about 50-60% more than industry standards as creativity and quality should go hand in hand with fair pay. 
Besides, selling directly to customers on an ecommerce marketplace has helped it reduce a lot of unnecessary middleman markups and work on better wages. 
The made-in-India global brand is reinventing home décor as style statements for global citizens who love to invest in creativity, quality and sustainability to elevate the spaces where they live and work, relax and entertain. These are the hallmarks of D'Moksha, and given this playbook, the cofounders are confident of engaging with customers in the long term and getting good prices.
Again, D'Moksha products are made from Bureau Veritas linen (that specialises in consumer goods testing and inspection) or certified by the Global Recycled Standard (GRS), which benchmarks global standards for social and environmental practices in the textile industry.
'Early Funding Lifted Our Game'
Targeting international markets is not the only bold step that makes the brand stand out from the rest. Contrary to the startup rule book and despite the uncertainties hovering over businesses due to Covid-19, the cofounders decided to raise early funding to take the business to the next level.
"We had reached a stage where we could envision building a profitable MSME and reaping its gains in a comfortable cocoon. But we were clear of our objective of building a global Indian brand, and for that it will take more than just a few. We were looking for investment from those who were willing to lend us their time for sharing feedback and learnings" added Manav.
In October 2021, D'Moksha raised $575K in a seed round from a clutch of investors. Among them were The Chennai Angels, Apoorva Sharma (Venture Catalysts), Karthik Bhat, Varun Alagh (MamaEarth), Aman Gupta (BoAt), Bala Sarda (Vahdam), Sanjay Bhel (Greaves Mobility), Badri Pillapakkam (Omidyar Network India) Virendra Gupta (DailyHunt) and Vivekananda Hallekere (Bounce).
D'Moksha utilised the funding to expand manufacturing and distribution that would fulfil its global ambitions. 
The outcome? Manav revealed that the startup surpassed its committed monthly revenue rate (MRR) of March 2023 target by 40% by November 2021 itself, but did not disclose the amount.  
Commenting on the funding, Satish Kumar Anavangot, former managing director of Henkel India and member of TCA, said, "The Dhandas quit their well-paying jobs to start this venture. This shows they are willing to take risks when they see an opportunity. They also have a high level of integrity, honesty and hunger for success."
Manav appreciated the proactive gesture even when the overall scenario was not conducive to business or growth. 
"TCA's commitment and passion to have their startup succeed are second to none. The investors guide us, brainstorm new ideas and concepts with us and share their experiences regularly," he added. 
Interestingly, Anavangot has always been against too much intervention, saying investors should only mentor and guide the founders. 
"While we regularly hold review meetings with founders, it is our credo not to interfere in their operations. Our role is to give suggestions. It is up to the founders to accept or reject it," he said.
What's Next For D'Moksha
D'Moksha now has its sights on 2023 and plans to grow its team size, expand its collection, scale its sales in the US and expand to new geographies. 
It will further increase its product stack by adding more home décor options like rugs, carpets, towels and bed sheets.
The startup revamped its website in early October 2022 to pump up sales via the D2C channel, acquire new customers on its own website and create a strong brand recall. This will be of critical importance as the brand aims to enter the Middle East, the UK and Germany by the end of 2022. 
While Indian startups get ready to explore overseas markets, the Amazon Global Selling programme has already helped more than 1 Lakh Indian sellers expand globally and manage exports. According to Amazon, Indian exporters showcase more than 140 Mn homegrown products on the marketplace across 200 countries. 
According to Piyush Goyal, the Union Minister of Commerce and Industry, exports of Indian goods surpassed the government's target of $400 Bn in FY22. In fact, exports are likely to drive the next wave of growth if 'make in India' culminates into 'sell to the world' as cross-border ecommerce grows and opens a world of opportunities for Indian businesses. 
For the likes of D'Moksha, this can be a transformative experience. 
The world handicraft industry is estimated to reach $1,2521 Bn by 2027 as per IMARC group. As India is home to more than 3K craft forms and 7 Mn+ regional craftsmen, new-age startups can help them cater to a burgeoning global market and thus build a sustainable artisan economy across rural India. 
The artisan economy is the second largest global employer behind agriculture, says the Aspen Institute. Simply put, the scope in this space can be phenomenal, given the right use of Indian resources. Powered by investors and business facilitators and supported by the government, can D'Moksha and its ilk script a global growth story where the good old home calls the shots?