Low productivity, failure of crops is a norm in the lives of Indian farmers. Government data tabled in the parliament suggests India's rice yield was 2191 kg/hectare as compared to the global average of 3026 kg/hectare. For wheat, it is 2750 kg/hectare against the world average of 3289 kg/hectare.
For other crops, the difference in yields is even higher.  There's a burgeoning demand from the government as well as retail customers for products and services to improve Indian farm yields.
Bengaluru-based agri inputs marketplace BigHaat, is capturing this market by providing quality inputs and advisory services to farmers that help them increase their per-acre crop yield. 
The startup connects quality input manufactures with the farmers directly and provides stage-wise technical crop advisory services, thereby, enabling the former to choose relevant inputs at every stage of the crop-cycle in a convenient manner. 
Founded in 2015 by Sateesh Nukala and Sachin Nandwana, BigHaat has so far raised a total of $3 Mn from investors such as Ankur Capital, Rockstud Capital and Beyond Next Ventures. Till date, the company claimed to have provided its agri inputs and advisory services to 4 Mn farmers in the country. 
The $800 Bn Agri-Inputs Opportunity 
At present, nearly 80% of India's small and marginal farmers' effort and money goes into the pre-harvest stage, managing crops to earn higher yields, productivity and quality crop. But, in the unorganised market, they often end up purchasing low-quality inputs at a higher cost, leading to losses in yields. 
Industry experts told Inc42 that the Indian agri inputs market comprises close to 145 Mn farmers, spending roughly about $52 Bn on-farm inputs a year to grow crops. This is expected to grow at a compound annual growth rate (CAGR) of 10% with farmers moving towards high-value crops, spending higher on inputs to earn higher income — this is a whopping $800 Bn opportunity cumulatively over the next 10 years. 
And BigHaat is not alone in this space. Besides local retailers, it competes with a slew of agritech startups including AgroStar, Gramaphone, DeHaat among others. In this tussle of ecommerce versus offline models that exist in the agri- inputs space, BigHaat claims to have carved a niche by tapping into the digital penetration that is happening across the country. 
Conversely, farmers and rural populations in India are increasingly adapting to digital platforms for information and various online services. According to the IAMAI report, in 2020, rural India constituted 30 Mn new users, who access the internet daily compared to March 2019. 
BigHaat claimed to leverage this ongoing digital revolution that is happening across the country to reach out to the farmers. The company uses advisory as a mode of engagement tool to onboard farmers, and ultimately leads them to make product purchases/transactions, including seeds, pesticides, fertilizers, nutrients and farm implements and others.
"I am sure farmers in India have been cultivating crops for a long period of time, practising certain traditional methods. But, there is definitely a scope for innovation and new cultivation practices. There is a lot of research happening in the agri inputs industry, and unless the retailers bring the visibility of these products, advising farmers with latest technologies, innovations and practices, there is no point," said Sateesh Nukala, cofounder of BigHaat. 
How BigHaat Onboards Farmers
BigHaat claimed that it chooses a unique model of digital and feet-on-street to reach the target farmer community. It has to be noted that its feet-on-street model is a small component and is usually carried out by the BigHaat marketing team, typically involving campaigns like below the line (BTL) marketing, which are pertaining to the target segment (farmers) it caters to.
In addition to this, the company also said that it offers a support channel for farmers, where they can access the platform by just giving a missed call on the designated number, and engage with an agri-expert in their local language. 
The company is also connecting the farmer community with Kisan Vedika, a Facebook-styled social media facility, in collaboration with Microsoft, where farmers can ask their queries in regional languages and expect end-to-end guidance by their team of agri experts. 
Further, it said that it is one of the first players in the space to have embraced a pan-India digital media marketing strategy to acquire and engage farmers. The company uses WhatsApp, Facebook and Instagram to target customers as compared to its competitors who still rely on offline channels to onboard farmers.
For instance, DeHaat, a competitor of BigHaat follows an offline or a micro-entrepreneurs model, where it hires local representatives who would essentially bridge the gap between the platform and the farmers through a hub-and-spoke-model.  
"We believe that the offline or feet-on-street model is not scalable as it needs a lot of resources and effort," said Nukala.
So, the way BigHaat works is that once a farmer contacts BigHaat via the website, phone call or registers via mobile app, the platform gathers several data points around him and starts building his profile, thereby ensuring the solutions and products offered to the concerned person are more relevant.
According to BigHaat's claim, 80% of customer acquisition on the platform happens digitally, while 20% comes from word of mouth, or from employees. The company said that the customer acquisition cost per user is negligible. Demographically, large numbers of farmers come from south India, particularly Andhra Pradesh, Telangana and others. 
Interestingly, a deeper look into the app further reveals that based on the stage of the crop (say, tomato), BigHaat sends various advisory messages and the user can choose and discover various products (specific to tomatoes) seamlessly, and the user can contact agriculture specialists/experts for suggestions or advisory services on how to apply the same on the crop, and what results can they expect.
BigHaat's Revenue Model 
The agri-specialists that BigHaat connects farmers with also come directly from the partnered manufacturers and fertiliser companies. These advisory services across the crop cycle are offered to farmers, free of cost. 
But, the question is, can the company monetise its farm advisory services? 
To understand this, first, we need to dive into various revenue streams that the company has created.
BigHaat earns revenue from the suppliers who are listed on its marketplace model, where it earns a 20-30% commission from each transaction. For manufacturers, the company provides pan-India reach, resulting in reduced marketing and distribution costs, while the farmers get free advice on new products and technologies in the market from the comfort of their homes. 
"Agri manufacturers spend a huge amount of marketing budget to reach farmers and provide visibility to their brand and products. With our direct to farmer, data-led platform, they are able to reach out to farmers at the right time with the right offering," said Nandwana. 
This model suits the manufacturers who launch their new products on the platform, without worrying about discoverability. Some of the manufacturers leveraging BigHaat's platform include Bayer, Corteva, UPL, along with 200+ brands (offering close to 4000+ SKUs). 
A Step Towards Monetising Farm Advisory Services
In a bid to deliver autonomous surveillance and real-time crop care services to farmers, BigHaat recently launched a comprehensive agri input stack backed by the network of satellites, agronomists and farmers. 
With its new service offering, BigHaat will now be competing with the likes of CropData, CropIn, and Fasal among others, who also leverages data analytics and satellite imagery tools to offer real-time farm advisory services to farmers. 
Some of these companies have successfully managed to monetise their services, particularly targeted towards farmers willing to adopt technology to improve productivity. 
In the case of BigHaat, to use the advisory service, farmers need to upload pictures of their crops via the 'Crop Doctor' feature available on the app. Once uploaded, the image is run through a machine learning algorithm which then provides advice to farmers on the best practices, most suitable inputs and offers real-time dynamic assistance and much more. 
Under this service, BigHaat will provide satellite images, ground images, weather forecast, to help farmers plan their cultivation cycle better. "The solution is expected to provide targeted solutions to farmers, enabling them to use 20-40% lesser chemicals and 30% to 60% lesser water," claimed Nakula. 
The new feature is being offered for free at the moment, gathering insights into how these farmers are using the service. 
On the monetisation front, the company did not reveal more details, but said that it is currently experimenting with various payment modes and revenue models, which can be expected to launch in the next three to four months (May-June this year). "We might start rolling out a freemium model, where we might charge farmers a small fee to help them minimize the losses in real-time," said Nukala. 
For instance, if a farmer grows multiple crops, the advisory service for the first crop would be offered for free, while it will be charging a small fee for the second and the third crop, said the cofounder. 
But Rema Subramanian, cofounder and managing partner of Ankur Capital told Inc42 that advisory services can never be standalone. If that is the case, it might take a long way to scale. The only way to monetise here would be to bundle it with other services. 
"Obviously, when you are onboarding farmers for the first time, you literally have to give the AI advisory services for free so that they get to experience the technology. If you ask them to pay at that point in time, nobody is going to pay for it. Therefore, as the farmers start using the service and develop trust, the company also needs to start partnering with farmers from a different aspect and start providing full-stack solutions to farmers" shared Subramanian.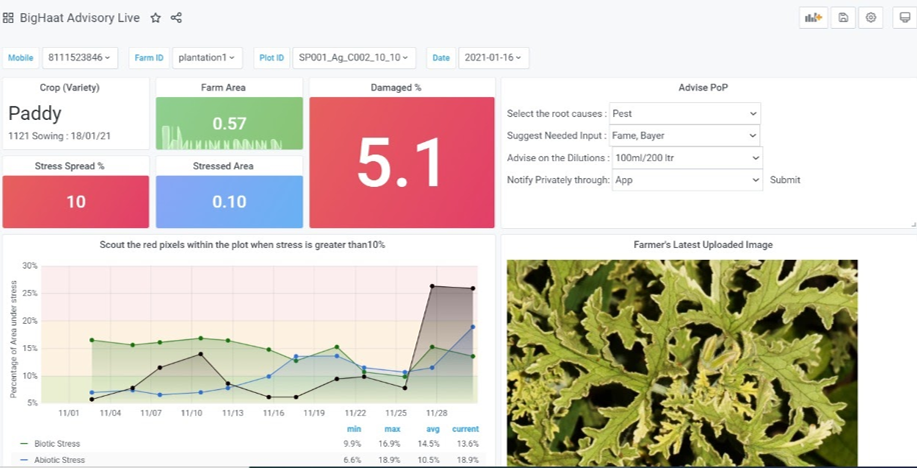 Towards Positive EBITDA 
According to the company's corporate filings, BigHaat grew its revenue to INR 80 Lakh in FY19, compared to INR 47 in FY18. At the same time, its losses also increased from INR 1.6 Cr to INR 1.9 Cr. When asked about the FY20, the company did not reveal the numbers, but said that its revenue grew 3x times. 
Enjoying the Covid-19 tailwind, BigHaat has been growing extensively in the last ten months, where the company claims to have witnessed 250K monthly active users (MAU), alongside 3x growth in customers (manufacturers and fertiliser companies) and transactions. 
The company claims to be serving 50% of India's pin codes, covering every state and union territory in the country. 
In terms of unit economics the company claims that it is almost profitable at the unit (operations) level and is planning aggressive growth in the coming years. "Today, our variable costs have a very healthy margin contribution per transaction. We believe that we have built the right business model, and we are looking to touch positive EBITDA in the next three years," concluded Nakula. 
In the crowded market of agritech, where every startup is trying to create a niche in a sector that has struggled with low productivity and even lower margins, creating a sustainable and scalable business will take more than just selling inputs to farmers with free advice on how to use them. BigHaat has a long way to go, and its success would depend on the value add it offers to the community that it claims to be serving.