Google's office spaces have time and again grabbed eyeballs for their unique designs and fantastic creativity. Be it the fancy interiors, stunning cafeterias or the fun recreational areas, each office of the tech giant has been designed to keep the employees happy and engaged, so much so that over the years, Google's office spaces have become a symbol for the brand. 
For its latest office also Google has not disappointed. The tech giant has revamped a 1940s-era aircraft hangar into a 450K-square-foot office and event space in Playa Vista, Los Angeles by skillfully blending the existing architecture with modern interiors.

This new office is being seen as an attempt by Google to compete with startups coming up with coworking spaces for their employees. The coworking spaces having changed the traditional way of working. With beanbags and casual seating, open green spaces, hip cafeterias and recreational areas, these office spaces are making more and more startups opt for them, keeping in mind the young generation of workers.

To be precise the coworking space has witnessed a skyrocketing growth recently. According to The State of the Startup Ecosystem Report by Inc42, India has over 300 coworking spaces with over 720 centres and a total area of 15 Mn sq ft. The industry has also become popular because of high real estate costs. Working at one of these spaces helps startups curb their expenditure. 
History Behind Google's New Office
The aircraft hangar, called Spruce Goose, was established in Playa Vista, Los Angeles during World War 2. The 1940-era hangar was home to the infamous Hughes H-4 Hercules, a World War 2 aircraft, which only flew once.
According to a report by the Los Angeles Times, in order to get more space to the then newest bomber in 1940, hundreds of acres of wetlands were bought, Centinela Creek was diverted to keep the runway dry and Hughes Culver City Plant was established. The plant was shut down in 1986 and the historic hangars were abandoned.
Interestingly, the World War 2 heritage was used as a soundstage for blockbuster movies such as James Cameron's Titanic, Avatar and Marvel Studios' Iron Man. The aircraft hangar was converted into a Hollywood film facility during the 1990s, before being leased out to Google in 2016 for its reconstruction.
Here's How Google Restructured The Massive Hanger
In 2018, Google renovated the hangar into a lavish office space retaining the existing architecture. However, the tech giant tactfully accompanied it with modern interiors.
The company has modernised the four-storied tall roof by adding multiple levels as part of the renovation, fixtures to improve the natural light inside, plants and wood panels to give it an earthy look. The entire setup is based on "building within a building" architecture. With the unique interior design, Google employees can not only have meetings next to potted plants and in a cool niches, but also across multiple staircases to reach from point A to Point B.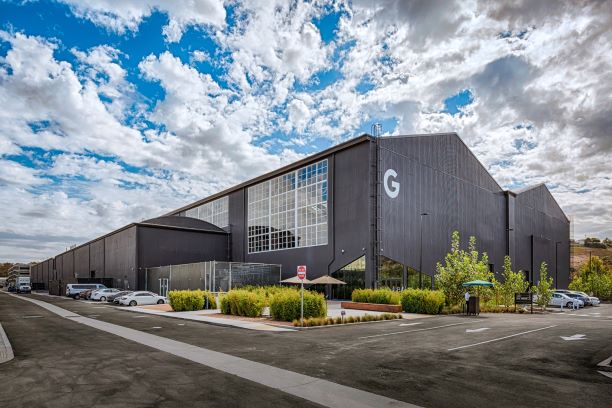 With this restoration, Google has clearly upheld its culture of grand office spaces and gave a tough competition to the modern coworking spaces.