What Is A Startup Accelerator?
A startup accelerator is a business programme for startups with developed business models, and India has 400-plus accelerators. It provides mentorship, resources and financial support to the participating cohort of startups. The programme lasts for a specific period of time and helps startups grow and scale.
The learning programme ends with a demo day, or pitch day, wherein the cohort is given a platform to pitch their ideas in the presence of investors to raise funding.
What Is The Difference Between An Accelerator And An Incubator?
According to the founder of Huddle, Sanil Sachar, accelerators are fast-paced and intense and infuse years of knowledge into founders in just a few months, while incubators are more open-ended and can run anywhere from six months to five years.
Besides this, incubators support startups with only a business idea and accelerators support startups that already have a minimal viable product (MVP). 
How Does A Startup Accelerator Work?
To start off, startups need to determine the most suitable accelerator that aligns with their growth and scaling goals. In India, there are various types of accelerators categorised based on the sectors and industries they focus on, the specific criteria for participation, the type of support they offer, and the frequency or duration of their cohort programmes.
Usually, accelerator programmes bet on startups with an MVP or a solid business model that has the potential to disrupt a market. 
Once the cohort is selected, their learning programme starts. The duration of the programme may vary from three to six months. Typically, the accelerator invites key industry leaders or subject experts to provide actionable insights that the cohort can apply to their business model to grow and scale. The startups learn the ins and outs of their industries. 
The accelerator curates curricula and founders are imparted knowledge through seminars, workshops, fireside sessions and panel discussions. 
The participating cohort also gets an opportunity to have one-on-one interactions with potential investors, peers and other important stakeholders. This is important because these startups can raise their chance to partner with invitees to expand, grow and potentially raise funds. 
Finally, the programme concludes with a demo day, or a pitching event, where the cohort is given a platform to pitch their business models to potential investors to raise funds.  Typically, startups raise seed funding from an accelerator programme.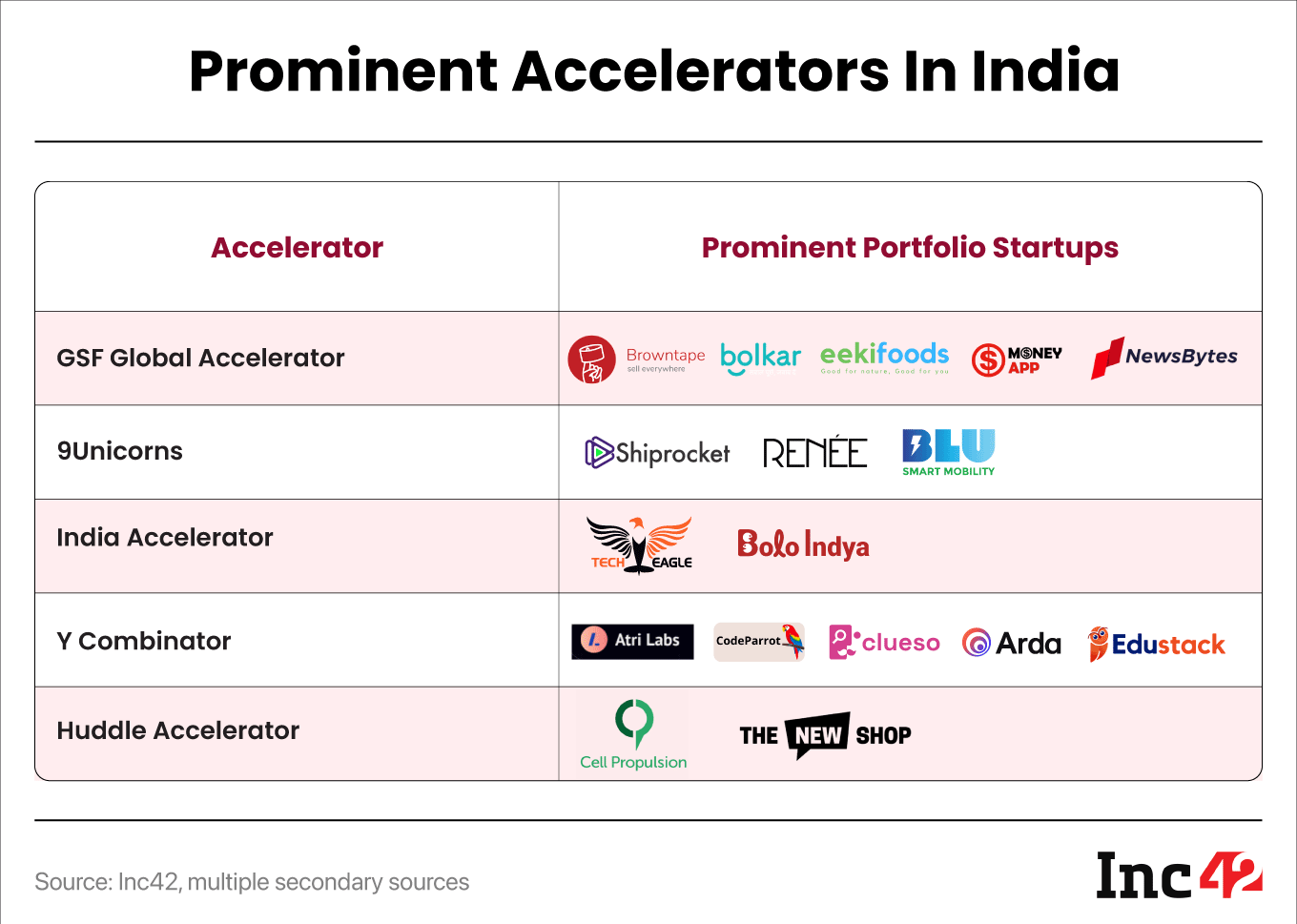 What Are The Benefits Of Joining A Startup Accelerator?
Startups apply for accelerators majorly for the following reasons:
Funding

: Early stage startups can accelerate their growth by receiving funding if they manage to grab investor attention through their product or idea.

Financial Assistance

: In addition to funding, some accelerator programmes, like Mondelez's CoLab, provide a grant to all the startups within their cohort. 

Pitching Opportunities

: Accelerator programmes provide early stage startups a platform to present their business ideas/products/models to potential investors and other key stakeholders, which otherwise are hard to find.

Networking

: Every cohort member gets an exclusive opportunity to network with fellow founders, and exchange ideas and knowledge. Additionally, they get a chance to interact with industry experts. 

Skill Development:

Speakers and mentors who are usually industry veterans and experts who provide actionable insights based on their experiences to help the cohort enhance their skills. 

Investor Access:

Startups get to meet and connect with potential investors. 
According to Inc42 data, India has 184-plus active accelerators and incubators that have backed over 590 Indian startups since 2014.
How Can A Founder Join A Startup Accelerator Programme?
Every startup accelerator programme has its own pre-requisite to select a startup, however, the common requirements are:
Startups must have a minimally viable product (MVP) or a viable business model that has the potential to scale

The startups must have found their market fit and target audience

Startups must be able to commit their time to the programme

They must have an established team 

They must have the technology to offer effective solutions
How To Find The Right Startup Accelerator For Your Business?
The following points must be considered before choosing a startup accelerator programme:
Startup accelerator programmes last between three to six months, therefore the entrepreneurs must have that much time to commit to the programme.

Some programmes are held physically and some are held virtually. While virtual programmes provide convenience, physically held programmes may require the entrepreneur to travel to different locations.

Entrepreneurs must research and find accelerators that are focussed on their respective industries and stages of growth. A snacking brand should look for an accelerator that supports startups from the food industry or look for sector-agnostic accelerator programmes.

Entrepreneurs must research well on the chosen accelerator. They must assess their offerings like mentorship, resources and mentors. 

Every startup/entrepreneur must consider the equity stake and other conditions that come with raising funding.
Do Startup Accelerators Take Equity?
Most of the startup accelerators take startup equity. However, there are certain accelerators such as Google For Startups, which doesn't take any equity.
What Kind Of Resources Do Startup Accelerators Provide?
Accelerator programmes create structured curricula that offer exclusive sector-based insights that can be implemented by startups to drive growth in areas such as business strategy, marketing, sales, finance and product development
Mentorship is another key offering of an accelerator programme that invites industry veterans from multiple sectors to mentor the cohort of startups. These include investors, founders, top executives and CEOs who share a page from their experience playbook. 
Selected startups get an opportunity to connect and network with peers who are founders, mentors and investors, opening doors for potential partnerships and future funding opportunities.
Investor access is crucial for early stage startups and accelerator programmes bring angel investors and venture capitalists as investors and mentors. 
Accelerator programmes usually conclude with a demo day wherein cohort members get an opportunity to present their product/service to potential investors and other key stakeholders to get a chance to raise funding. Once chosen, the startup raises funding in exchange for an equity stake.
What Are The Types Of Startup Accelerators?
According to a Dubai-based incubator, Faster Capital, there are eight types of startup accelerators.
Early stage startup programmes

Pre seed and seed stage programmes

Pre Series A and Series A programmes

Growth stage programmes

Late stage programmes

Corporate startup programmes

University startup programmes

Government startup programmes

Nonprofit startup programmes
How Do Startup Accelerators Make Money?
Owning an equity stake in its portfolio startups is one of its revenue-generating modes.

Accelerators also hold events wherein invitees may have to pay for the event.

Some accelerators conduct research for which companies pay large sums of money.

Accelerators also receive grants from big corporations and the government.
What Are The Common Mistakes Made By Startups In Accelerator Programmes?
Insufficient research on the programmes can result in a squandering of time and energy

A lack of clarity in business ideas or products

Entering a programme without adequate preparation, a clear business plan, market research or clarity of their target audience

A lack of communication can lead to a loss of networking and learning opportunities

Not implementing or taking mentors' feedback seriously
How To Prepare For A Pitch/Demo Day?
Fellows should start preparation by getting to know their intended audience to whom they will be pitching. It is crucial to make sure that their pitch resonates with the audience.

The pitch should effectively highlight the unique selling point of the product, business model, value proposition and the solutions their product has to offer.

The pitch deck should be concise and easy to comprehend. It should follow a structured flow emphasising problem, solution, market opportunity of the product, business model, traction, team and financials.

Emphasis should be placed on the delivery of the pitch. Entrepreneurs can practice in front of a mock audience and should keep in mind the body language, tone and timing to ensure an engaging delivery.

To create a lasting impression, entrepreneurs can also give a live demo of their product prototype.

Entrepreneurs should anticipate questions from the audience and be prepared to answer them.
What Are The Challenges Faced By Startups At An Accelerator Programme?
Accelerator programmes can add pressure to achieve learning milestones within a particular time frame.

There is competition among the fellows of a cohort to stand out and receive funding.

There could be chances that the startups' business models do not align with the expertise or the curricula of the accelerator programme. This may not foster a mentor-mentee connection or add value to their learning.  

Startups could find allocating resources a challenge that could maximise their growth potential.

The challenge may continue post-programme in stepping into the next phase, in implementing learning, raising additional funding and establishing a market presence.