In the Indian context, the education infrastructure and quality of learning has always come under scrutiny, especially due to concerns of outdated syllabi and teaching methods at the primary level in public schools.
Most edtech startups in India are looking to solve this by bringing learning to the mobile phone or PC, but that's not always possible at schools in smaller towns and villages, which do not have the wherewithal to implement such high-tech solutions. That's what TagHive is looking to overcome with its affordable edtech platform (device and software) for the Indian public and primary school market.
Suwon, South Korea-based TagHive has launched its flagship product Class Saathi in two districts of Madhya Pradesh. Tying up with the state government, TagHive's Class Saathi mobile clicker solution and the companion app will be available across 13 schools in its two districts.
Founded in 2017 by IIT and Harvard alumni, Pankaj Agarwal, the startup for his innovation in the education segment has received funds from Samsung Ventures and Enlight Ventures. The startup was also incubated by Samsung's internal C-Lab programme after the South Korean chaebol discovered Agarwal's idea during his stint at the company.
Speaking to Inc42, the founder said that Samsung C-Lab supported TagHive with the necessary resources such as funding, workspace, technical support and culture-building through the incubation programme. "After 15 months of working on my idea at Samsung, it was chosen to be spun off as an independent company, TagHive. Samsung Ventures has put in seed capital of over INR 2.5 Cr," Agarwal said.
The AI-powered classroom engagement solution Class Saathi aims to make tech-based learning accessible and affordable for schools in rural India with little or no infrastructural investments. The startup also aims to increase student participation and learning outcomes, while at the same time supporting and motivating teachers to improve their teaching methodology.
TagHive doesn't just limit itself to teachers and students but also involves another key stakeholder in the education chain — the child's parents. Agarwal said that this helps keep everyone in the loop about the student's progress.
How Does TagHive's Class Saathi Work?
According to the TagHive founder, Class Saathi uses a two-way interactive system that makes learning personalised using minimal technology. It is also said to complement the existing classroom infrastructure, which is not always possible in the online learning space. This allows teachers to get a real-time understanding of the learning level of each student in the classroom.
The way teachers get this information is through a Clicker — similar to how polls are conducted in live events. This lets students answer questions by choosing the right button and is also a solution to mark attendance quickly. While the Class Saathi software platform serves up questions that teachers can ask through topic-wise quizzes of varying difficulty levels, students can answer them and gauge their performance in real-time. This also helps teachers monitor learning outcomes.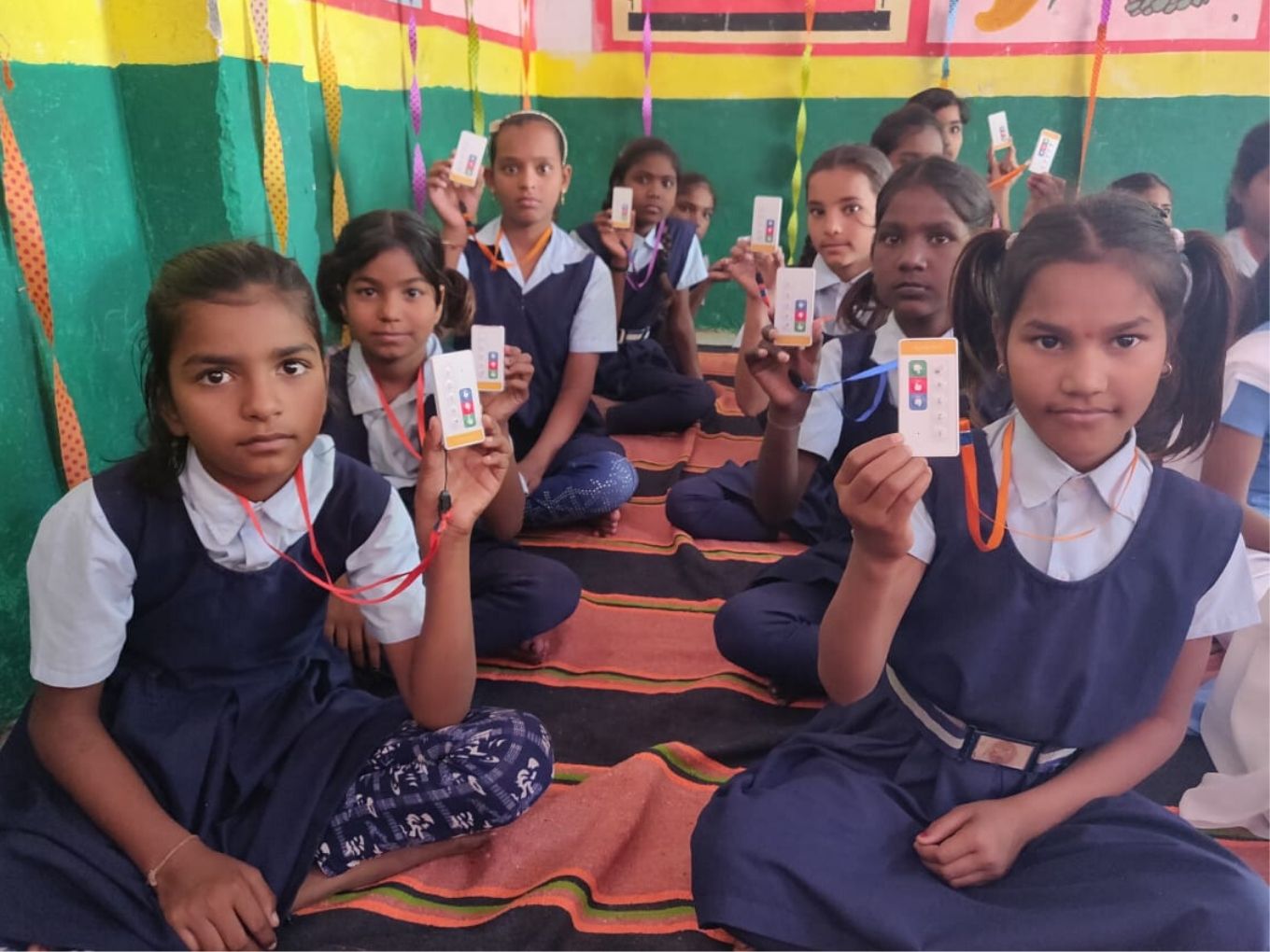 Moreover, to make it a perfect fit for Indian students, the quiz questions on the app are based on the NCERT curriculum and are framed by IIT students.
Additionally, parents and school administration officials can also use the Class Saathi administrator app which updates them of the student and teacher progress in real-time.
Class Saathi app has a separate app for parents as well which helps them to get a daily report of their child's everyday performance at school in quizzes for each subject.
Additionally, the app also suggests supporting learning material and practice tools for students to work on, thus making learning more personalised for each child. "When coming up with these features, we met with admins, principals, teachers, parents and students multiple times to make observations and draw insights before creating this product," Aggarwal told us.
The startup has also filed 21 patent and trademark applications for edtech programme, out of which, 10 have already got approvals.
In addition to Class Saathi, TagHive has created two other products — TagPlus and Happ, which primarily cater to young children or kids. TagPlus is aimed to motivate kids to stay away from mobile or computer screens by helping them learn to use real or interactive toys and learning kits from each other. Happ provides a bridge between using learning kits or toys to playing with virtual characters on the screen.
TagHive's Tech Boosts Learning Outcomes
Before launching in Madhya Pradesh, TagHive conducted a pilot project in the Chiraigaon Block of Varanasi in UP with over 1500 students of 34 schools. While 20 schools were selected as the experimental group, 14 schools were selected as a control group.
Under the programme, 1K Grade VI students were chosen to take mathematics and science tests. For the quantitative evaluation of the Class Saathi program, baseline and end-line assessment tests were conducted for both experimental and control group schools.
The study resulted in a 4.9% increase in learning outcomes for mathematics and a 9.5% increase in learning outcomes for science. Interestingly, the interactive platform also helped the schools to improve attendance levels as well.
Agarwal said that the attendance of students was carefully observed for a period of six months, from September 2018 to February 2019, for both experimental and control group of students.
"Careful inspection of data revealed that there was a 10% increase in attendance in the month of February, after the intervention of Class Saathi program in experimental group schools," he told Inc42.
Earlier, the startup has also partnered with HCL Foundation and conducted a pilot project in collaboration with Uttar Pradesh's Basic Education Department in government schools in Hardoi district to measure learning outcomes through technological interventions.
Targetting 2K Schools By 2020
With over 200 schools on board in South Korea, TagHive is making inroads into the Indian market. It has partnered with state governments, non-governmental organisations, among others in the country. By 2020, it plans to provide its learning solutions in over 2000 schools in India.
"We want to bring the benefits of Class Saathi to all 150 Mn kids studying in government schools in India. Also, with our partners in Korea and elsewhere, we are also planning to international," Agarwal told us.