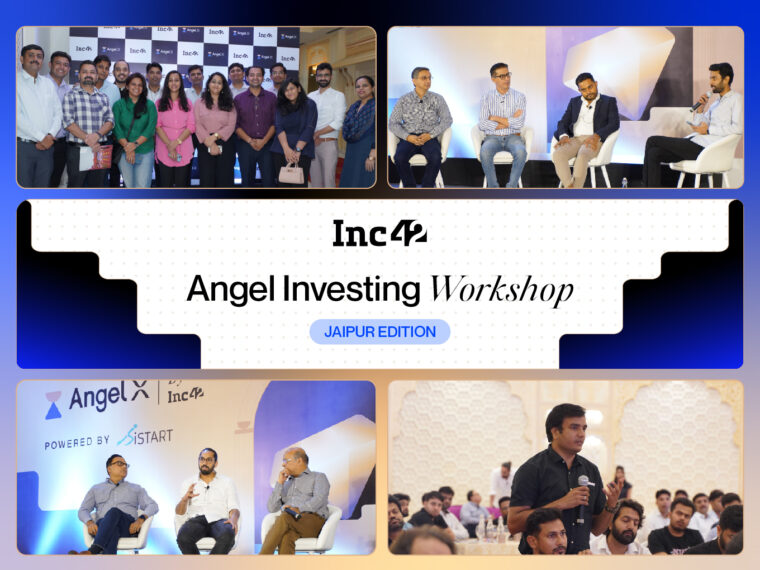 Held on September 20, Inc42's angel investing workshop brought together a select gathering of HNIs, visionary founders, seasoned angel investors and prominent VCs
Investors Unicorn India Ventures' Anil Joshi; ex-managing partner at Orios Venture Partners, Anup Jain; 100X.VC's Shashank Randev among others, took sessions to decode angel investing journey for upcoming investors
The event also showcased three startup pitches from the state of Rajasthan
Over the last few years, Rajasthan has emerged as a burgeoning hub for startups. However, to further scale the existing landscape and amplify opportunities, there is a significant need for initiatives, including the creation of avenues for capital.  To help aspiring investors navigate through the potentials of the startup realm and to furnish them with the tactical knowledge required for investing, Inc42 hosted an Angel Investing Workshop in Jaipur last week. 
This workshop, part of Inc42's AngelX initiative, was a half-day event designed to enlighten and engage the participants in the multifaceted world of angel investing. This exclusive, invite-only event, conducted in association with the state-driven iStart initiative, brought together over 100 High Net Worth Individuals (HNIs), founders and angel investors. 
The primary objective of the event was to equip both experienced and aspiring investors with the essential skills required to excel in angel investing, while simultaneously fostering the investor community within Rajasthan. 
The workshop saw investors such as Anil Joshi of Unicorn India Ventures, Anup Jain, formerly with Orios Venture Partners, Aditya Singh of All In Capital, Ashis Nayak of Veda VC, Dhruv Kapoor of Anicut Capital and Shashank Randev of 100X.VC, sharing their experiences, and vast knowledge with the attendees to guide them in their angel investing journey. 
They delved deep into the intricacies of angel investing, drawing from their own personal experiences as venture capitalists. They shared hard-earned lessons and engaged in insightful discussions on the art of constructing a winning investment thesis.
During the event, three Rajasthan-based startups also got an opportunity to present their ideas to the audience. These include — edtech platforms ViCheck and SunoKitaab from Jaipur, and healthtech startup Sarathi Healthcare from Jodhpur.
Angel Investing Workshop: Key Highlights 
The workshop commenced with a masterclass by Anil Joshi, focusing on creating a 'smart' angel investment thesis. Joshi highlighted the importance of aligning one's investment strategy with the dynamic tech startup landscape and discussed key considerations such as investment size, common pitfalls,and strategic exit planning.
Subsequently, a series of engaging panel discussions explored themes like anticipated returns on investments, the qualities founders seek in investors, the value investors can add besides capital, and the mechanics of determining valuations. Speakers shared firsthand accounts of their successful exits and lessons learned from their mistakes.
During the discussions, attendees received an opportunity to interact with the speakers and ask their burning questions.
"Rajasthan has a lot of HNIs with deep pockets. The only challenge for them is learning about the startup ecosystem. Events like these will help them find the right connections and gain the right kind of knowledge. We need more such activities in Rajasthan," said Sushil Sharma, founder of Marwari Catalysts Ventures and an attendee at the event.
Speaking about how Anicut Capital views the state's investment landscape, Kapoor said, "As a fund, we are very much focused on new opportunities that emerge in India. Once an ecosystem starts growing, money starts pouring in. We have some portfolio companies here (in Rajasthan), and we are ready to expand in terms of startups and investors who could be from the state.
How Angels Can Boost Rajasthan's Startup Ecosystem
Rajasthan has witnessed substantial development in startup activity in recent years, hosting approximately 3.7K+ DPIIT-registred startups, according to Inc42's latest report on 'The State Of Rajasthan Startup Ecosystem'. This notable growth presents a valuable opportunity for HNIs in Rajasthan to engage in angel investing.
Jaipur being a key hub, has also seen a substantial rise in startups over the past few years. The remarkable surge in startups presents a golden opportunity for HNIs residing in Rajasthan to consider angel investing. 
Expressing his optimism regarding the potential of Jaipur in fuelling Rajasthan's VC ecosystem, Anup Jain said, "The HNIs in the city are quite evolved. Historically, many of them are exporters and there's plenty of networth in the city. They are willing and eager to explore new opportunities in terms of investing and are ready to tap the startup ecosystem as a new asset class."
All In Capital's Singh believes that angel investors should also keep an eye on the potential of startups beyond Jaipur. He remarked that angel investors can provide a chance for startups to grow at a local level and help regional entrepreneurship thrive in the state.
According to Inc42's report, Rajasthan's ecommerce sector has the highest number of funded startups, indicating a promising future given the increasing inclination towards online shopping.
"I see a lot of development here in Rajasthan. In India's consumer story, the next big thing will be built or sourced in India for the global market. Rajasthan is loved for its home decor and designs. All you need is tech enablement and logistics to sell it globally." said Veda VC's Nayak on the growing ecommerce sector in Rajasthan. 
Currently, there are 250 active startup investors and 45 accelerators and incubators within the state, poised to play a pivotal role in nurturing the startup ecosystem and influencing the trajectory of India's tech startups.