Hubilo's rose marginally to INR 55.95 Cr in FY23 from INR 55.06 Cr in FY22 as the number of online events declined following the pandemic
Total expenses shot up 1.46X to INR 108.70 Cr in FY23 from INR 74.54 Cr
Employee costs grew over 86% to INR 93.62 Cr despite the startup laying off around 160 employees
Bengaluru and San Francisco-based event management startup Hubilo's net loss jumped 2.75X in the year ended March 31, 2023, as expenses shot up. The startup's loss rose to INR 52.02 Cr in the financial year 2022-23 (FY23) from INR 18.93 Cr in the previous fiscal year.
Hubilo, founded in 2015 by Vaibhav Jain, Mayank Agarwal and John Peter, started as a virtual networking platform for attendees. However, gauging the preference for physical events, it started developing tools and executing and managing mid to large-sized events for enterprises.
The rise in virtual events during the COVID-19 restrictions saw the startup pivoting to online event management and offering a streaming platform for enterprises to cater to the needs of the industry at the time.
However, with daily life returning to normalcy after the pandemic, online events have gone down steadily and this seems to have affected Hubilo's business.
Its revenue from operations rose marginally to INR 55.95 Cr in FY23 from INR 55.06 Cr in FY22. Including other income, total revenue stood at INR 56.68 Cr in FY23 as against INR 55.59 Cr in the previous fiscal year.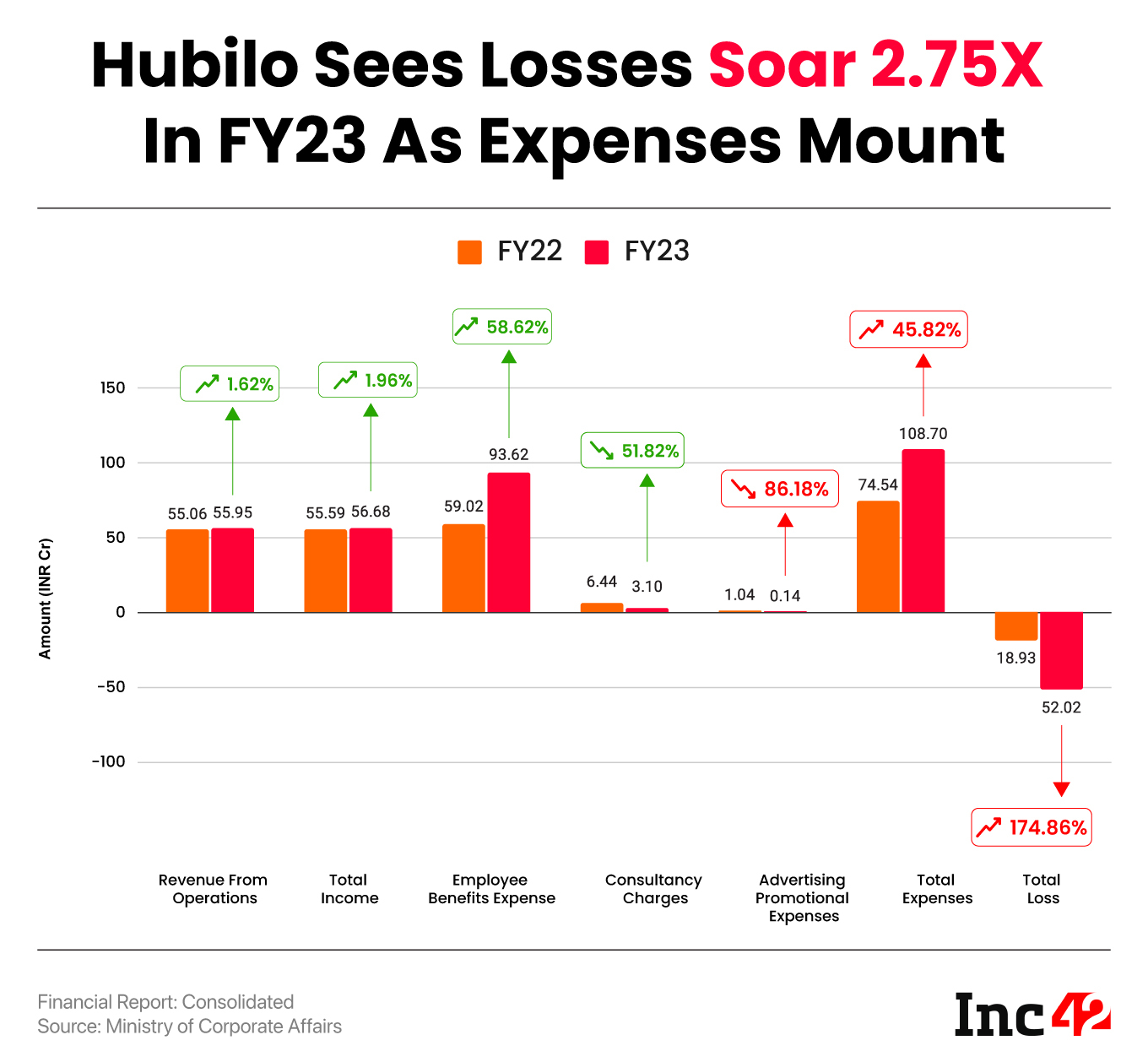 Zooming Into Hubilo's Expenses
The startup's total expenditure surged 1.46X to INR 108.70 Cr in FY23 from INR 74.54 Cr in FY22.
Employee Costs Surge: At INR 93.62 Cr, employee benefit expenses accounted for 86% of the total expenditure in FY23. Employee costs grew over 86% from INR 59.02 Cr in the previous fiscal year. The increase came despite the startup laying off around 160 employees across two rounds during the year.
Other Expenses: The startup categorised INR 14.07 Cr worth of expenditure under 'Other Expenses' in its filings, down slightly from the INR 14.77 Cr reported in FY22. Of this, consultancy charges stood at INR 3.10 Cr in FY23 as against INR 6.44 Cr in FY22. 
Advertising Costs Slide: Hubilo managed to drastically bring down its advertising spending, bringing to INR 14.30 Lakh in FY23 from INR 1.04 Cr in FY22.
On a unit economics level, Hubilo spent INR 1.94 to earn INR 1 from operations during FY23.
Hubilo has raised a funding of $153 Mn to date and counts the likes of Alkeon Capital, Lightspeed Venture Partners and Balderton Capital among its investors.