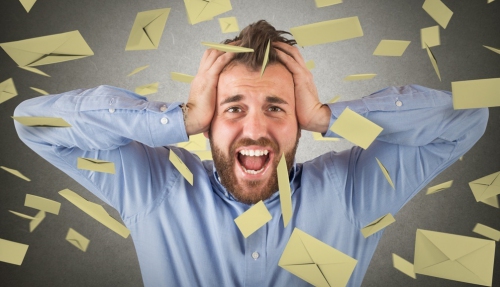 Always remember that the formula for writing an onboarding email is simple: it must be interesting, relevant and focus on the benefits (not features) of a product.
Do you ever read back a copy of your onboarding email and wonder what happened?
Excited, you thought your email was compelling. You felt positive… The time frame of getting recipients from first touch to first value was going to be short. Probably your best catalyst to get people onboard. Terrific!
But, after a week… You felt disappointed. Customers didn't progress through your funnel from the initial exploration to the actual action (sign up/purchase).
You took a look at the copy. The call-to-action sounded bland. Not only that, the entire email looked unpleasant and nagging. All the things that annoy and frustrate customers were there.
Then it dawned upon you…your onboarding email was terrible.
But you're not alone in this situation. Several startups fail to make email onboarding effective. They miss out on the cues that motivate readers to move to the next stage of the funnel.
Also, they're among the "look at me" bunch that regular customers try to avoid at all costs.
Here's an example: Startups are somewhat obliged to send welcome emails after a customer signs up for a free trial. It is the stage where they set the tone and tell people who they are. But there's too much to say, and so much to offer.
So it's easy to give people information overload: lots of words and nothing of value – a wasted opportunity as welcome emails have the highest open rate (up to 60 percent).
I'd consider bad welcome emails as "bad handshakes". Like this old welcome email from Kohl's:
Image source: The Email Zoo
Yikes. Too much information, right? Not only do they pack way too much details, at a glance you're not sure who sent it, what it's saying, and what it's trying to accomplish (Giving a discount? Asking customers to shop?).
4 Startups That Do Email Onboarding Right
Fortunately, optimizing the email onboarding experience needn't be overwhelming. Take inspiration from these 4 startups that avoid intermediate onboarding mistakes and provide interaction when it makes sense, rather than enforcing their teachings onto subscribers.
Slack
You'd expect a company like Slack to offer lots of information about its app in its welcome email to people who've signed up, but the opposite is true. Their copy and design depict an increased push for transparency, and they're in total control of what they're talking about.
Image source: Really Good Emails
The copy is concise and clear, and tells subscribers what they need to do. Downloading the app is important (they have two buttons for the same call-to-action) because prospects can't utilize any feature without taking this action.
The email's job is not to sell. It needs to grab the recipient's attention, excite them about the product and provide enough value (short description and product tour) to entice them to take action.
The email link redirects people to the login page, and then the dashboard, which removes the need for explanation of these steps. Also, the email onboarding experience is the same as on the website.
Also, Slack informs users about a function that can be used to import chat history from other group messaging services like HipChat and Campfire.
The key takeaway is to keep the copy short and simple and lead users into one direction rather than multiple ones. You can use tools like Unbounce and SparkPage to A/B test different call-to-actions, landing pages and designs to see what works best for your onboarding.
Asana
After you've signed up to use Asana, you'd receive a welcome email, like you do usually from any SaaS company when you sign up for their product/service. The triggered emails that follow are sent to help users understand features and feel the need for the product.
Because onboarding is about momentum, you want to move people to the next step as soon as possible. Asana realizes this and sends interactive newsletters to help people use their offering and evaluate what features are important to them.
Image source: Pinterest
The company realizes that getting accustomed to all product features is a tall order to fill for users, and they may feel overwhelmed while juggling up the little pieces that enable the experience.
Encouraging action adds value, making it possible for Asana to avoid user inactivity. It also combats churn by educating customers. This is critical considering that 40-60 percent of users who sign up for a free trial of a SaaS offering use it once and never come back.
The key takeaway from Asana's approach is that you should maintain a channel of communication with subscribers by providing contextualized help. Whatfix and other similar tools can be used to create free interactive how-to content in the form of videos, PDF, slides, etc.
The interactive content can then be used in onboarding emails to keep consumers interested at different stages of the product acquisition life-cycle.
Help Scout
What would an ideal customer do the day after signing up? The week after? Help Scout sets goals for their users before sending onboarding emails, which saves them time, enables them to provide value, and increase the likelihood of delivering a great experience.
Their onboarding email series initially tells subscribers to try the product for free. Once people have done that, they offer another free trial, but with a longer time-frame. This enables people to experience the product again.
Image source: Get Vero
Why another free trial, you wonder? According to Gregory Ciotti of Help Scout, one shouldn't assume that a closing email in a welcome email series will have an effect like "one and done" i.e. Take one free trial > sign-up. In the world of SaaS, it takes time.
Even if people don't sign up after the first trial, Help Scout sends them a message (after a few months) that clearly explains it's about setting up a help desk and that they can have another go.
Another thing that stands out in this email is the social proof. When customers see other companies using the product, they give it a greater thought than they would otherwise.
The key takeaway is not to jump on the subscriber's head after the first trial has expired, but to give more value before asking them to buy the product. This approach makes for a strong connection with prospects so that when it comes to buying, they're hooked already.
Social proof is also important as it can inspire action from most types of customers. You can A/B test different types of social proof (video testimonials, text reviews, etc.) with Experiment Engine.
Knowtify
Knowtify's email onboarding flow is one of the best I've seen. Apart from addressing common objections and questions, they address the underlying reason which stops users from progressing through the funnel.
The copy of this email is effective because the personalization is framed in a way that makes the user feel they're being rewarded for taking some action.
Image source: Knowtify
By offering personal help to visitors, Knowtify improves retention, and even encourages add-ons. The company wants to personally help the user get past the roadblocks they've hit along the way.
This approach should be applied when:
People sign up to the free trial but don't experiment with the basic features
People pay to use your product but analytics show they haven't started using the major features
People leave within a couple of months after using the paid version of the product
By offering real-time, personal assistance, you can help customers get past many roadblocks and keep them engaged strategically. There are different ways to do that, such as adding a chat button in the email body when sending personal help emails.
Note: Don't force users into personal assistance. Knowtify also provides them an option to explore the product themselves. Forcing your help upon them can make them feel you don't consider them intellectual enough.
Final thoughts
A startup may gain new subscribers at first, but people won't stick around if they don't optimize their onboarding process. While it takes extra work to craft great onboarding emails, it makes these startups look like they're not actually onboarding when they're onboarding. Smart, right?
What is your experience with email onboarding? Do you have interesting examples or insights to share? We'd love to hear from you.
[Contributed by Whatfix, a community & enterprise platform that allows users and businesses to create interactive guides on their and third party websites.]