Time and again, women product leaders have shown that their unique perspectives can help create great products and product practices
The 'tech bro' culture of Silicon Valley has percolated down to startups all around the world. This has meant that fewer women take the plunge into building tech products
That's why on this International Women's Day, as part of The Makers Summit, we are shining the spotlight on the coolest women making the most relevant products for Bharat
YouTube CEO Susan Wojcicki was the first marketing manager at Google. Marissa Mayer started an immensely successful associate product manager (APM) programme at Google prior to her stint as Yahoo's CEO. When Wolfe Herd quit as the vice-president of marketing at the dating app Tinder, she was sure that making a product by keeping women at the centre could reap rich dividends. And the recent IPO of Bumble at a valuation of $8 Bn is a testimony to that conviction.
Time and again, women product leaders have shown that their unique perspectives can help create great products and product practices. Yet, the 'tech bro' culture that dominates Silicon Valley has percolated down to startups all around the world. This has meant that not only fewer women take the plunge into building tech products, but they also don't get all the recognition they deserve.
For instance, Manisha Raisinghani, founder and CTO of logistics tech startup LogiNext, told Inc42 last week: "Whenever my cofounder, Dhruvil Sanghvi (CEO of LogiNext), and I enter a large client meeting or a board room, any tech-related question goes to Dhruvil. And when he points towards me, all eyebrows go up!"
That's why on this International Women's Day (March 8), as part of The Makers Summit 2021, we are shining the spotlight on the coolest women making the most relevant products for India. We had thrown open the nominations last week and received a lot of great entries.
Don't worry if you didn't nominate someone on time — using the form below, you can still nominate the women in the product community who deserve to be recognised among the coolest product folks in the country.
Here are the 40 women who we believe deserve to be counted among the most influential product makers in India (in alphabetical order). We will update the list with more women in product as we receive nominations:
Aakarshna Anand
As someone who has been "building Zomato" for the past six years, Anand has a lot to offer to budding product makers in India. Her journey is particularly unique as it was without any technical design background and simply due to her unending passion to build products that are user-first. She designed Zomato's internal UIkit which streamlined the company's design and development process, allowing it to iterate faster. It is even being used by a variety of design teams all over the world after having been made open source. Anand won Zomato's annual Founder's Award for propelling the company with her exceptional product and design approach. 
Anjali Kumari
Anjali Kumari is a senior director of product management at AI-driven analytics company ThoughtSpot.  At ThoughtSpot, she leads the India product, user experience and the product enablement team. She entered the product world in 2005 after an MBA from Indian School of Business and has worked with big names like Box, Myntra and Capillary Technologies. 
Deepali Naair
Deepali Naair is the chief marketing officer of IBM in India & South Asia. She is also a podcast host for a series called "Being CEO with Deepali Naair". Before her stint with IBM, she led marketing and digital at the IIFL Wealth group of companies. She headed products and marketing at HSBC Global Asset Management and was head of marketing, e-commerce and customer service at L&T Insurance. Nair has also worked with brands like Tata Motors, BPL Mobile, Draft FCB-Ulka. 
Divya Anand
Divya Anand, a senior product manager at Uber, wears many hats as a product manager, illustrator and author. This SP Jain and UC Berkeley alumnus has worked extensively in product management across organisations like recruitment platform Shine.com, global ecommerce giant Amazon and currently works with cab aggregator Uber. Beyond her stellar product management credentials, she has written two diverse books one of which is a global food guide and another being a wholesome book about self love for children. 
Karthi Subbaraman
Karthi Subbaraman is the chief product officer at Xperian, an ecosystem for makers that helps them upskill and connect with prospective employers. She likes to describe her career in a nutshell as: 7,0000+ hours of product making, 150+ products, 500+ master classes and 1,000+ failed experiments! 
An engineer who turned into a multidisciplinary product designer and product educator, Subbaraman is focused on human cognition and behaviours. Her work focuses on designing meaningful systems with an emphasis on experience design. 
Before starting out in the education world, Subbaraman designed products like printers for Hewlett Packard, payment systems for state farm insurance, dashboards for World Bank, pocket PC applications for Microsoft, among many more products. She also had a 7-year stint of entrepreneurship by running a premium design consulting agency called Oghma.
Lalitha Ramani
Lailtha Ramani is the chief product officer of ecommerce platform Myntra. She started her professional journey as a software engineer and went on to study management at the IIM Bangalore. Her product management career began with a stint at the India arm of American software company i2 Technologies in 2002. Ramani moved up the ladder quickly to assume product leadership roles at AT&T Group, Wipro, Intuit and Walmart, before joining her current role at Myntra in March 2020.
She has built high-performing product management and UX teams, and is passionate about delivering on customer benefits, great design and business results.
Mabel Chacko
Mabel Chacko is a veteran of the product world. A creator at heart, she has been instrumental in founding a multitude of startups revolutionising the fintech segment. Through her first project Touch2Pay, she tried to solve the issue of financial inclusion in the remote villages of Gujarat. Touch2Pay was also India's first biometric payment startup.  In her next project Cashnxt, she conceptualised and led the development of the mobile payment startup. Cashnxt was featured by Dare magazine in 2010 in the list of 'Top 75 startups in India to bet on'. Currently Chacko is working as the chief operating officer (COO) for her own neobank Open Financial Technologies Pvt ltd. Open is India's first neo-bank platform for SMEs and attempts to ease the banking experience for the small businesses in India.
"We women have the perfect mix in us to build great products. We're passionate dreamers and have a go-getter attitude that makes us natural leaders," she says. Chacko will be a speaker at The Makers Summit.
Madhuri Maram
Founder and product designer, Maram has created an ecosystem for product designers with her startup Xperian. The Hyderabad-based entrepreneur and maker has deep interest in history, health and design. In her time working with Xperian, Maran decided to innovate platform development and created an initiative called nocoloco, based on the concept of no-code platforms. With her passion for design and zeal for innovation, Maran continues to serve the product world with her dedication and spirit.
"A lens which changed my perspective on making products is to imbibe the value of accountability and ownership. Once you have these qualities, you will be able to climb any mountain and be focused on product success rather than just the task at hand." says Maram. 
Manisha Raisinghani
A techie at heart, Raisinghani is defined by her love for coding and her passion for the startup ecosystem. Mumbai based Raisinghani left India to pursue her masters from Carnegie Mellon University in Management Information Systems. After education, she continued living in the US working with corporates like Warner Bros. and IBM. However, at the age of 26, driven by her passion for the Indian startups , she decided to return to India and founded LogiNext, a software-as-a-service (SaaS) platform providing innovative logistics solutions. Working as the chief technical officer (CTO) for her own company, Raisinghani has pushed LogiNext as one of the fastest growing SaaS companies in India.
Raisinghani shared this message for all women in product: "2021 brought in good news with a woman led tech company going IPO. This success story was celebrated and ushers in a new age in the post-Covid world where we are all rooting for more women in leadership roles across the board."
Mona Gandhi
The first female engineer at Airbnb, Gandhi's product journey has been an inspirational path-breaking journey for all women in product. She completed her masters in computer science from Indiana University in Bloomington and began her career at Silicon Valley. While working for a company called socialmedia.com, she realised the value of revenue generation through advertising on various social media platforms. Then, she moved to Airbnb and was quickly promoted to the founding position of product growth.
After a decade at the hospitality giant, she founded Upraised, an upskilling and job preparation platform. A self-proclaimed startup junkie, Gandhi believes in serving the people of the startup ecosystem and helping them reaching their ambitions. She will be moderating a panel on 
Monica Jasuja
A fintech aficionado, Jasuja has experience of over 20 years working in the product world. Currently, she is the head of product management at Tech Mahindra-owned mobile solutions company Comviva. Completing her graduation from Delhi's Lady Shri Ram College in mathematics and her masters from University of Illinois in computer science, Jasuja entered the fintech world with her first major role at Paypal as a principal product manager after which she joined Mastercard as head of digital & emerging partnerships. She brings the experience of working and building products for global markets such as the US, Taiwan and Singapore. 
Namita Gupta
A tech enthusiast ever since she began understanding the nuances of this world, Gupta pursued her multiple degrees in technology from Indian Institute of Technology, Delhi. The cofounder of 'Airveda', a wellness brand that offers air quality monitors, began her product journey with Microsoft, Facebook and later Zomato, where she was the chief product officer, bagging 17 patents to her portfolio. 
Her struggles with asthma pushed her to launch Airveda to make everybody's lives cleaner and healthier. The company works with schools, NGOs as well as the Delhi health ministry and international bodies.
Neha Ahuja
As the head of marketing at Spotify India, Ahuja is responsible for driving the music streaming giant's presence in the country. Prior to this, she led marketing departments in Procter and Gamble as well Vodafone with over 16 years of experience. Apart from bringing Spotify to more users in India, she is also an experienced 'Segment Marketing' trainer, certified by the Oxford School of Marketing (OSM). She also trains people regarding the development of functional and behavioural skill sets.
Neha Modgil
An architect by training Neha Modgil diverged into the path of being a UX designer and accelerated her career into holding prominent positions at Naukri and Human Factors International. Founded by Modgil, UX solutions company Techved Consulting was honoured as the 'Brand of the Year' at Silicon India'16. 
She claims her ability to change her attitude towards work and removing the 'designer' label from her bio allowed her to explore an entrepreneur's way of thinking. Modgil was nominated by somebody whom she inspired, who said, "Everyone is a dreamer, but true Leaders are those who dare to pursue their dreams and accomplish them, and she did."
Nidhi Gurnani
"Whether it's a new feature or a full-fledged 0-to-1 product, seeing an idea through to reality and being actually used in the real world is equal times fascinating and challenging," says Gurnani, part of the founding team at personal network management hub Workomo. 
Gurnani has been the founding member of two different startups (besides Workomo where she has been since Feb 2020) and led product teams across six organisations including social networking startup SHEROES and social marketplace Hourvillage. Besides her own company she is also an active advisor to STEM students, women product managers and women in tech.
Her suggestion for aspiring product leaders is that," Two things significantly help in product building- a perpetual learner's mindset, and the humility to accept new challenges and find solutions for them.
Pooja Gupta Massand
You know a product person really loves their job when their social media engagement consists of a range of product discussions, with discussions on a daily basis. Staying through to her computer engineering roots, Massand, who has been with software giant Adobe for over 11 years now, has continued to work closely with development teams and upskill herself. While her management background has helped her lead launches for flagship Adobe products and create a strong social media engagement for their solutions. 
Radhika Dani
Radhika Dani heads the design and development of mobile and desktop based apps at BlueSemi, a deeptech IoT startup that makes smart wearable devices. She had taken up masters in graphic designing and human-computer interaction at the California College of Arts, but dropped-out midway. Her message to young women who aspire to get into product building is: "Keep an open mind and laptop to update yourself regarding the tech space. It is crucial to have a wider perspective of the world. Read books that have got everything to do with principles of things — physics, psychology, storytelling etc."
Ragini Das
Ragini Das is the co-founder at leap.club, a members-only professional network for women leaders. Leap connects like-minded folks to help build a strong professional network, while also focussing on their learning and development. Prior to leap, Ragini spent six years at Zomato across various sales and growth roles. In her last stint, she led the project of international expansion for Zomato Gold which is the company's  subscription business.
Her message for women in product who want to take the entrepreneurial plunge is: "You're not a female founder, you're a founder. Challenge the status quo, take big swings, rewrite the rules – your speed of execution coupled with your EQ is your biggest moat. Don't let anyone tell you otherwise!"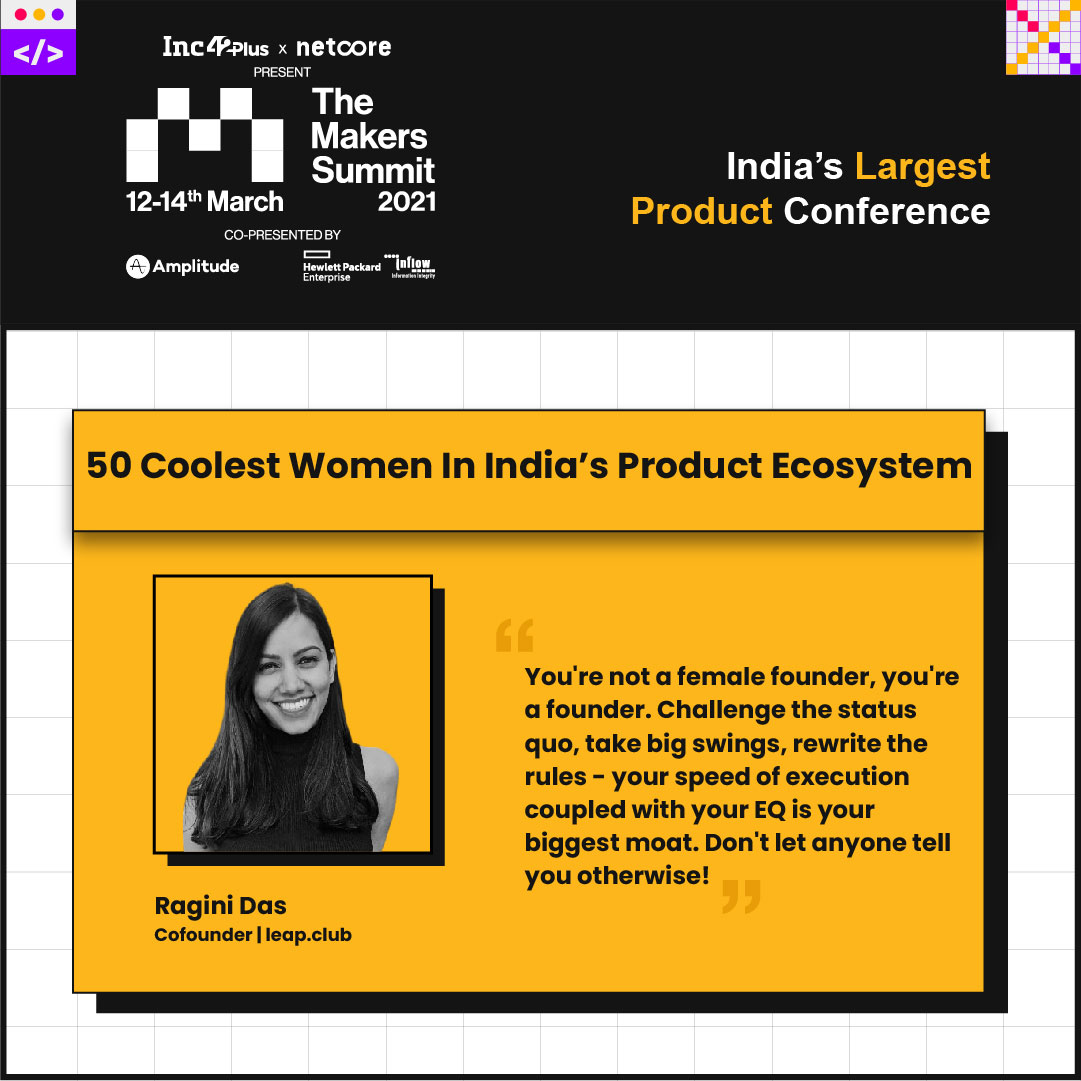 Ragini Varma
Currently the growth leader at  ecommerce startup Fynd, Ragini has scaled its app from a few million downloads to over 20M in less than 12 months. She completed her Bachelor's in technology from Narsee Monjee Institute of Management Studies, Mumbai. After having worked at startups such as Craftsvilla, Baby Chakra and fuelling her own styling blog, 'Style Tabloid', she joined Fynd and mobilised its success in a significant manner. 
Her prime learning from years of product-making? "We as women have heightened intuition power when it comes to our customers. Always listen to that! I have made a lot of unpopular decisions based on what I intuitively thought would be best for our customers at Fynd and it has worked 99% of the time!" 
Richa Verma
Working as a Partner and Product Strategist at Parallel, Richa has pioneered Design Sprints in India. She majored in Economics in her graduation at Lady Shri Ram College for Women and soon after joined IDinsight, which is a global advisory, data analytics, and research organisation, as an associate. Since then, she has worked with government organisations like NITI Aayog, and DigiLocker app through Parallel, redefining  the way companies look at product design and user experience. For Richa, "The more complex a problem, the more fun it is to solve!" This inspiring energy and her previous work experience as a resident entrepreneur at Atlan and SocialCops and as the founder of Restat, has boosted her solutions-driven strategies and has aided her to innovate better products.
Riti Malhotra
Riti Malhotra is a senior product manager at Zomato. An alumnus of Indian Institute of Technology, Kharagpur, and a management graduate from London Business School, Malhotra spent almost an entire decade in risk management, trading and business development roles. 
She turned her professional career 180-degrees after stints in the investment banks at companies like Barclays and Nomura. In September 2017, Riti began her product management career with an AI chatbot startup called iDelivr as its product head. 
Sairee Chahal
Founder of women-only social network, Sheroes, Chahal  areas of interest include product, internet, entrepreneurship, community development and women empowerment. As a woman of product, she has led her life bringing tech and community together to help alleviate gender disparity in the startup ecosystem. A teacher and writer by hobby, Chahal has brought her unique perspective of women centric issues towards the product world to focus on giving them more exposure in startup ecosystem, help them upskill and receive mentoring from other women in entrepreneurship. As a fellow of Aspen Institute, she dedicates her free time towards developing the next generation of community leaders. 
Saloni Malhotra
Saloni Malhotra is a vice president at Paytm where she looks after the fintech company's ad sales network. Prior to starting her current stint at Paytm in June 2019, she had founded two startups — a company called Reboot-Wellness that provides an integrated facility for health and wellness and DesiCrew, a rural knowledge process outsourcing company.  
Sarika Grover
The cofounder of Green Giraffes Consulting, Grover has worked with a variety of clients like Satya Paul, Genesis Luxury, WedMeGood and helped in streamlining their processes and scaling up the business. She saw the lack of digital presence for businesses in India as a challenge and launched Green Giraffes Consulting to transform companies digitally via impactful growth strategies. She also founded 'Mad Cow' in 2006 engaged in providing end to end design and strategy-led solutions to Fashion, Retail, and FMCG companies. An alumna of the Indian School of Business, Hyderabad, she has 18 years of experience in the fashion and lifestyle industry including companies like Benetton, Philips, Ninety Nine Labels and 9stacks which she is now using for her own business. 
Shaheena Attarwala
Microsoft India design head Shaheena Attarwala describes herself as a businesswoman with a designer's heart. Her unique career journey stands testament to her diversity of talent. She completed her graduation from University of Mumbai in B.Com with a major in Economics. In order to follow her heart, Attarwala pursued various online and offline courses to learn product design. 
She started her product design journey with BookMyShow, where she held the role of senior UI & creative designer. Her passion for human-centric designs has led her to Microsoft, where she leads the design efforts. Attarwala will deliver a masterclass on the jobs to be done framework at The Makers Summit.
Shilpi Agarwal
Shilpi Agarwal is a product manager at Indic language social media platform ShareChat. Before joining her current role in March 2019, Agarwal was a product analyst at VMock, a tech-based smart career startup. There she led a team of five to build a product from scratch for recruiters and reported directly to the co-founder and head of product of the US-based company.  
Shivangi Srivastava
A Bangalorean at heart, Shivangi Srivastava lives the product dream and is currently the head of new initiatives at foodtech giant Swiggy. The Indian Institute of Technology (IIT), Guwahati alumnus began her journey with US chip giant Qualcomm as a software engineer. Next, she joined Swiggy's product team and contributed to the high growth of the food delivery startup. After a brief time at Khatabook as VP of product, she returned to Swiggy to the company's 'new initiatives' vertical. 
Nominating her to our list, Srivastava's had this message for women in product, "Turn insecurity to thoroughness, make humility your weapon. Work so hard that there is no room for self-doubt. We are limited only by our thoughts. Back yourself and each other and the world will follow." Srivastava will be a speaker at The Makers Summit.
Shruti Choudhary
Choudhary, an IIT Bombay alumnus with a chemical engineering degree, started charting a path in the product and marketing space during her academic days itself. Currently the senior product manager at hospitality tech startup EasyDiner, she was a core member of the Bombay IIT Entrepreneurship Cell during her college days. 
Choudhary has since taken her strategy and product building skills to the next level having worked with organisations IT consultant Capgemini, D2C platform Bewakoof.com and now EasyDiner. Her expertise in analytics has been useful in strategising supply chain and efficiency management solutions, and improving customer conversions. 
Shubhi Saxena
The head of enterprise automation product & business at customer service solutions startup Yellow Messenger, Saxena describes herself as "a software developer by education, product manager by passion and a techie at heart". This young product professional has, in a very short time, built herself a reputation for sound product strategy. Saxena has previously worked with Arcesium, a financial technology firm as a software developer. This ISB alumnus also writes a blog about product management hacks and guides young makers in her free time. 
Smrithi Parameswar
The fact that Parameswar led products for SaaS unicorn Freshworks for seven years, right through its journey from an early stage startup to a successful unicorn is enough introduction to her expertise.  
She has always been deeply engaged with network outreach programmes through her engineering and management school days at Carnegie. Taking that learning forward, Parameswar has recently started a stint as an independent consultant to take her product management skills to the next level. She works with product startups across early and growth stages to guide them on processes ranging from hiring and scaling up to product strategy and management. 
Snehal Patel
Snehal Patel is a master of product engineering and currently the director of product management & marketing at BrowserStack. Passionate about tech and its impact, she pursued computer science from the State University of New York and decided to dedicate her intellect toward the product world. After working as a software developer in Cross Commerce Media and Apple, Patel found her first major role as assistant VP of product at beauty ecommerce platform Nykaa.
After guiding Nykaa to unicorn status, she joined BrowserStack, where too she led the company to the unicorn club. As a woman of product, she continues to use her intellect to impact the ecosystem with her innovation and passion. Patel will be a speaker at The Makers Summit.
Sruthi Sivakumar
Born in Mumbai, Bounce design head Sruthi Sivakumar has always had a sharp eye for details. After completing her masters in design for retail experience from National Institute of Design (NID), she set out on a journey to understand human behaviour for functional design along with visual aesthetics. 
Mapping her career in design roles across Procter & Gamble, Housing.com, Treebo Hotels and two-wheeler rental startup Bounce, Sivakumar has utilised the power of data and research in order to understand what the user needs and how design can fulfill this.
"Work on things that are out of your comfort zone & things that challenge you. Let's not worry about failure or making a wrong decision, let's worry about missing out on learning something great if we don't even try," says Sivakumar as her message to young women in product. She will be a speaker at The Makers Summit.
Sukhada Dhone
Sukhada Dhone is a deputy general manager at the ecommerce arm of Reliance Jio.  She spearheaded the launch of JioMart in December 2020 in 200 cities and for 1 Lakh kirana shops across the country. Before joining Mukesh Ambani's ecommerce play in October 2017, she worked as a product marketing professional at hotel aggregation startup OYO.
Supriya Paul
Supriya Paul is a cofounder and CEO of vernacular media startup Josh Talks. With over 50 Mn people watching its content across 10 languages and the accrual of 95,000+ paid users, the company has caught the attention of the ecosystem. Paul earlier told us that Josh Talks was never meant to be just a media company. The idea behind Josh was always to build an ecosystem that helps people to build careers and because the company was targeting users from Tier 3 and beyond cities, it was important for them to first introduce users to aspirational career paths that don't exist in their own surroundings. 
As for her experience as a young woman entrepreneur, Paul says: "During our early days, when we had a lot of sponsor meetings, there were instances when senior leaders would direct their questions at my cofounder instead of asking me even if I was the decision-maker there. Things like that play upon your self-esteem, but you have to condition your mind to counteract and keep moving forward".
Taruna Manchanda
Manchanda calls herself a self-taught product manager after teaching herself digital marketing skills prior to that. One of the few product persons in the list with no MBA on her CV, Manchanda, a product manager at LinkedIn, has worked her way up the list by sheer determination. She has worked across a range of sectors in some of the top companies  like Wingify, Zeta and Swiggy before her current stint at the Microsoft-owned professional networking platform. 
Manchanda also writes extensively about how product, UX and design elements come together to build successful companies to the extent that she refers to herself as an " armchair UX critic". Her message to aspiring women is simply what she has done so far: "Read a lot, dive into the data, sharpen your intuition, and talk to your users, every day."
Toshi Prakash
Toshi Prakash leads the product team as the VP at Locus, a logistics startup based in Bengaluru. An engineering graduate, Prakash was always interested in coding and has worked at big corporates like Tata Consultancy Services, Lehman Brothers, Goldman Sachs as well as a product manager NestAway Technologies, where she was responsible for the launch, and at cloud kitchen startup FreshMenu, where she played a key role in scaling up the product. She believes in building sustainable products and scaling an intuitive user experience which has helped her augment products over the years. Besides being a coding enthusiast, Prakash is also a yoga lover and an avid reader.
Udita Pal
A journalism graduate, Pal went from content creation and community engagement, working with over 30 startups as a consultant to founding neobanking startup SALT within a span of seven years — at roles ranging from digital marketing, social media engagement to growth hacking, analytics and brand strategy. The SALT cofounder believes her extensive marketing and product research knowledge holds her in good stead for building a neobanking platform catering to cross-border banking services. She is also a published author, having written her first book at the age of 17. 
Her message to young aspiring women in product management? "The most important ingredient behind building a great product is empathy. Women are naturally empathetic, Let's use it to our strength," says Pal.
Vaibhavi Bholane
From Mygate's first product manager to working at Walmart,  Bholane  has sewed in a variety of skills and experiences. She completed her post-graduation from IIM Calcutta and went on to work at redBus as a product manager and handled their customer feedback. Today, she is working at Walmart India Labs and managing their post transaction experiences. When asked what women in product management must ensure to make it big in the industry, she said, "As a woman, you have everything to be successful in the product space. But to do great, the most important skill that you should acquire is to empathise with your customer. 
Veronica K
Delhi-based Veronica, who has been spearheading product growth at IT infrastructure service provider Total IT Global for the past three years, has always been an enthusiast of extra-curricular activities right through her academic life. 
Although she describes herself as a product and business management professional only, her interest outside academics has helped her chart a successful product journey across a diverse range of businesses. From being a sportsperson and dancer at school level to working with academic networking societies and NGOs right during her engineering days, she utilised her time and presence to build life skills. This interest helped her develop a keen interest in different solutions helping her grow from an engineer in electronics and communications to a highly sought after product manager for companies such as wedding advisory platform WedWise, hospitality tech company Limetray as well as agritech company CroFarm.
Vindhya Chandrasekharan 
Vindhya Chandrasekharan is a senior product manager at Canva-owned Pexel. 
This award winning product manager and consultant has previously worked at companies like ITC Infotech, Directi, gaming platform Loco and marketing platform Clarisights. She writes extensively about product management and is a regular on product management panels, talk shows and podcasts. One of her key talents lies in helping apps increase their app store traction by improving product design and user experience across B2C and B2B products.