As Snapdeal Figures Out A New Office To Move Into, We Take A Look How Its Previous Offices Have Reflected The Crests And Troughs In Its Journey
Office spaces are not just places that companies operate out of. They are deeply reflective of a company's culture, its outlook, where it is in the growth curve, etc. Offices are also indelibly linked to its people.
An office with evenly spaced, uniform cubicles, solid-coloured carpeted flooring and ample conference rooms, with some 'break-out' zones thrown in for good measure, are typical of modern, big corporates. Fun, quirky decor; big, common tables; flowing workspaces; and the absence of private cabins usually mark the offices of startups. And fledgling startups often function out of living rooms or a spare room in someone's house, either from couches or from makeshift workstations.
So, when Snapdeal announced that it is moving to a new office this year, it was a moment that said something about the fortunes of the ecommerce company, which, at this point, is struggling to stay afloat.
There was a time when Snapdeal was second only to Flipkart in India. However, in the last few years, the company has been pushed into such obscurity that it didn't find mention even as competition in the hordes of news reports and stories published on the Flipkart-Walmart deal.
We take a look at Snapdeal's journey of crests and troughs through the lens of its office spaces, starting from when it was based in Okhla in Delhi. For this story, Inc42 spoke to three sources who are familiar with the matter but did not wish to be named. For ease of understanding, we will refer to them as Source 1, 2, and 3 in the story.
Snapdeal Office 2012-2015: Okhla, New Delhi
Source 1, who was part of one of the last batches to be hired at the company's Okhla headquarters, and worked closely on the transition project to the new office in Gurugram says:
"When we joined in 2015, we were a bunch of management trainees and we were about 220-230 of us who joined together. It was quite evident to me that they were hiring at a really high rate than what they (office) could accommodate."
This was the year in which Snapdeal was flying high. It had got $500 Mn in funding from the likes of Alibaba, Foxconn, and SoftBank, valuing it in the range of $4-$5 Bn, as it looked to drive sales and expand its offerings further. But the competition was intense, to say the least. Snapdeal's biggest competitor, Indian ecommerce company Flipkart, was going strong then, and in the previous year, Flipkart had done three rounds of funding with its latest round, a Series H at the time, valuing the company at $11 Bn.
In 2014, Flipkart crossed $1 Bn in GMV, launched same-day delivery, and acquired apparel and accessories website Myntra.
Snapdeal needed to match up to this and its hiring and acquisitions were a reflection of this need. The office, in particular, represented the success which Snapdeal, the brand, had built, and it played an important role in getting and retaining talent in a competitive environment.
"I have seen the employee count grow from 1,700 to 11,000 in just one year, in part through acquisitions (almost 25% were through acquisitions, exclusively.com, Vulcan, Freecharge)… I saw about 10k people being hired. It was a war between the two inbound Indian giants (Flipkart-Snapdeal) and the third (international ecommerce giant Amazon) making its way to Indian customers," said Source 2.
Source 2 told us that Snapdeal was paying close to $221,877 (INR 1.5 Cr) per month for the Okhla office.
According to Source 2, the basic facilities at the Okhla office, which came pre-furnished, were very poor, with issues in air conditioning, not enough meeting rooms, and lacked proper washrooms. Thus, towards the end of 2014, the Snapdeal top brass green-lighted the plan to move out of that office. The aim was to move to the "next level".
Snapdeal hasn't responded to questions sent by Inc42. 
Snapdeal's Gurugram Facility: The Next Level
Snapdeal's new office in Gurugram where it shifted in 2015 was truly the "next level" — it was dramatically different from its previous one in Okhla, both in terms of facilities and space.
The Gurugram facility consisted of four towers that were previously occupied by TCS. The rent over here jumped to between  $441,000 (INR 3 Cr) – $588,000 (INR 4 Cr) per month. In terms of area, this office was more than double the size of the previous one at 4,84,000 square feet.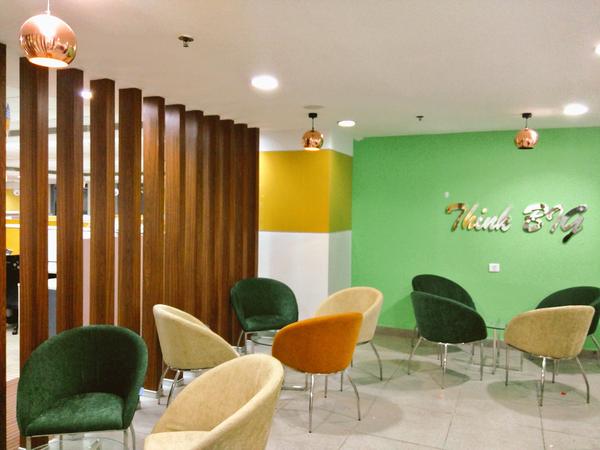 The transfer of operations took place in a phased manner and the logistics team was moved first. Employees were welcomed into the new office amid much fanfare with garlands and a band playing music.
Source 1 said that the Gurugram office was bare when they took possession. The basic brief given by the founders while setting up the office was that it should reflect the hustle of a startup. Even though the company was growing and was flush with money, Snapdeal wanted new joiners to seep into the startup culture.
Snapdeal spent close to $739,043-$1.03 Mn (INR 5-7 Cr) on renovations alone, a considerable sum that went into providing facilities like spa, gym, salon and a Subway sandwich outlet. The office also had indoor game areas and a basketball court. There were 27 breakout areas and each of them was designed in a different manner.
This was Snapdeal at its peak and in all its glory, but it came at a cost.
Snapdeal didn't just change its office. It also changed its logo, and with it came the TV campaigns. The company committed close to about $30 Mn (INR 200 Cr) in advertising and marketing, targeted at engaging the next 100 Mn online shoppers.
The result: Snapdeal's losses doubled in FY 2016 over the previous year to INR 3,316 Cr. What's more, the company lost its No. 2 position to Amazon amid sluggish sales. With funding drying up, it eventually never made its way back. And the rest, as they say, is history.
Time To Shift Again
Now, three years later, Snapdeal is ready to move into another office, which is yet to be finalised.
So, what does the next office represent, we ask our sources?
According to them, it is unlikely that the company will continue in the existing facility even in a smaller capacity. It might move back to Okhla or move deeper into Gurugram. Whatever the move, it will be representative of the company's efforts to get leaner and meaner to stay alive.
If its numbers and moves are anything to go by, Snapdeal is having a tough time staying afloat. In 2017, Snapdeal reported a 75% jump in losses but managed to ward off any merger with its rivals. Last month, Snapdeal sold its cloud-based inventory management subsidiary, Unicommerce, to Infibeam for $17.8 Mn (INR 120 Cr).
It has also got itself entangled in a legal case over alleged non-payment of dues to sellers. Besides, FIH Mobile, the investment subsidiary of Foxconn Technology Group, is writing off an additional $40 Mn of its $200 Mn bet on Snapdeal.
Meanwhile, the chief investment and strategy officer of Snapdeal, Jason Kothari, has called it quits just one-and-a-half-year after joining the troubled marketplace.
Given the series of blows it has weathered and is still weathering, the company has lost considerable ground and has a long distance to cover to come back in the reckoning. These are challenging days, but the company has shown resolve to fight the ecommerce game. This was evident when it chose to not go ahead with a merger with Flipkart despite being pushed to do so by its investor SoftBank and had to fire 600 personnel with the founders taking a 100% pay cut.
Meanwhile, it will be quite understandable if the company were to fall back upon memories of the promising past in hopes of living them again.