Till November 30 2019, the Indian ecosystem saw a total of 86 acquisition deals
Enterprise tech and fintech sectors saw the most M&A activity
Reliance stole the M&A spotlight with acquisition deals for 11 startups in 2019
In the context of mergers and acquisitions in India, the one development that's on top of everyone's mind is the Walmart-Flipkart acquisition in mid-2018. From the perspective of M&As in the country, that acquisition became a landmark moment and its effects are still rippling through the ecosystem.
Whether it was the hangover from that deal or the fact that the ecosystem has been more guarded in terms of M&As, this year the total mergers and acquisitions has gone down.
With the year 2019 coming to an end, Inc42 decided to take stock of the M&A landscape of 2019. Until November 30, 2019, India saw a total of 86 acquisition deals, according to data recorded by Datalabs by Inc42. Here, Reliance stole the limelight with 11 M&A deals this year followed by Nazara Technologies which acquired three startups — Paper Boat Apps, SportsUnity and Bakbuck.
Although many large players were part of the M&A landscape this year, however, the number of deals decline as compared to previous years. For instance, between 2015 and 2018, the number of acquisition deals of increased by 9% y-o-y. However, in 2019, the number of deals decreased by approximately 27% as compared to the previous year.
Notably, this year, enterprise tech (18 acquisition deals) and fintech startups (12 acquisition deals) dominated the startup M&A chart, followed by media and entertainment (11 acquisition deals), consumer services (9 acquisition deals), healthtech (8 acquisition deals), ecommerce (8 acquisition deals), and traveltech (4 acquisition deals) among others.
Furthermore, during H1 FY19, there has been a 41% drop in M&A for seed-stage startups compared to H2 FY18. For growth-stage startups such as OLX Group, Nasara, OYO, Radware, Reliance Industries and Pine Labs, 2019 has been promising.
Reliance Industries On A Startup Acquisition Spree 
It has been the busiest year for Mukesh Ambani-led Reliance's M&A team. While the company has evaluated more than 33 deals so far in the last 10 years, in 2019 alone it made 8 acquisitions.
Here's a brief overview of these acquisitions:
While Reliance may be the showstopper here, there were quite a few other deals that also got our attention in 2019.
Top 10 Mergers & Acquisitions Of 2019
Ebix Acquires Yatra
After acquiring ItzCash for $124 Mn in 2017,  Ebix made its mark again this year by acquiring Indian online travel booking company Yatra through a merger deal for a value of $337.8 Mn. Through this partnership, the company will be strengthening its position in the India hotel and flight ticketing market.
In a statement the company had disclosed a value of $4.90 per Yatra's share, and the transaction implies an enterprise value of $337.8 Mn at the Ebix collar price of $59 per share and post adjustment for indebtedness, working capital, warrants to be converted and minimum cash requirement, a net equity value of $239 Mn.
Cisco Acquires CloudCherry
In October 2019, US-based Cisco acquired CloudCherry. Post-acquisition, Cisco will leverage CloudCherry's customer retention management platform to offer speed-to-insight for companies to offer tangible outcomes that help them drive good RoI.
CloudCherry was founded in 2014, by Vinod Muthukrihnan. The US and Bengaluru-based company work with global enterprise clients offering SaaS tools to enhance customer interaction and experience on websites. It provides software solution includes customer journey mapping, predictive analytics and more.
Pine Labs Acquires Qwikcilver
In March 2019, the online retail payments platform Pine Labs acquired Bengaluru-based digital gift card firm Qwikcilver Solutions for $110 Mn. After the acquisition, Kumar Sudarsan, cofounder and CEO of Qwikcilver joined the leadership team of Pine Labs.
The amalgamation of both companies will bring together the strengths of Pine Labs' merchant-focused and Qwikcilver's brand-centric software-as-a-service (SaaS) technology platforms, and augment their Indian and international market reach.
OYO Acquires Innov8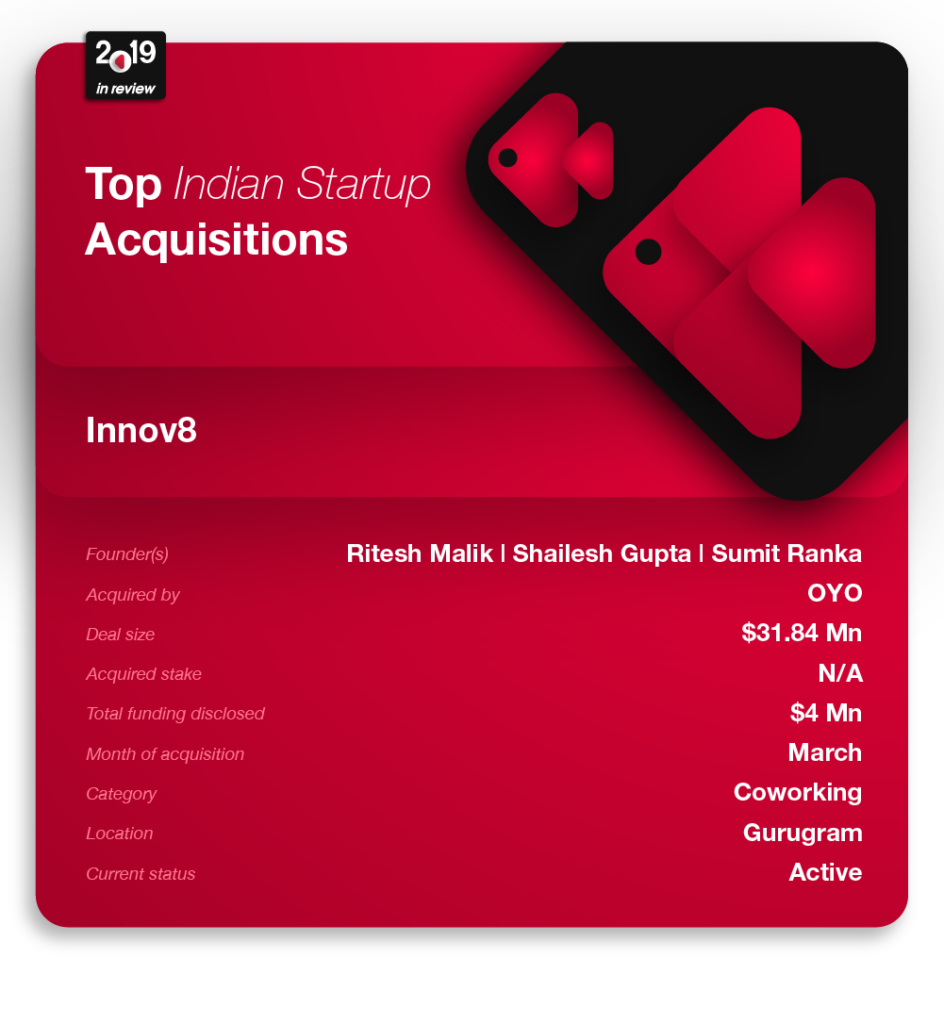 In March 2019, the hospitality chain OYO acquired Gurugram-based coworking startup Innov8 for INR 220 Cr ($31.84 Mn), in an all-cash deal. As per Inc42 sources, the founders and investors of Innov8 have taken an exit as part of the buyout.
The founder of Innov8 Ritesh Malik, post-acquisition, will drive the company's expansion under OYO. The team of Innov8 would continue to remain intact.
Graduated from Y Combinator in 2016, Innov8 which was founded in 2015 had raised over $4 Mn in funding from investors such as LetsVenture, Venture Catalysts, Credence Family Office, Rajan Anandan (VP India and Southeast Asia, Google), Vijay Shekhar Sharma (founder and CEO, Paytm), Girish Mathrubootham (founder and CEO, Freshdesk) among others.
Sachin Bansal Acquires CRIDS
Striking one of the biggest deals this year, former Flipkart CEO Sachin Bansal acquired Chaitanya Rural Intermediation Development Services Private Limited (CRIDS), a non-banking finance company (NBFC).
Bansal invested INR 739 Cr ($104 Mn) and took over as the CEO of CRIDS. In a media statement, Bansal said that this acquisition is his entry into the financial services world. He lauded the founders of the company to have built a great company that provides much needed financial access to underserved audience which is left out of the formal market.
Currently, it has a presence in Karnataka, Bihar, Jharkhand, Maharashtra and Uttar Pradesh. Post-acquisition, the cofounders will continue in their respective roles of growing the existing business segments.
Qoo10 Pte Ltd Acquires ShopClues 
Just like the Walmart-Flipkart acquisition deal shook the Indian startup ecosystem last year, the acquisition of ShopClues also came as a shock for many. One of the earliest unicorns in India, ShopClues was acquired in a stock deal by Singapore-based Qoo10 Pte Ltd.
Through this collaboration, ShopClues which has more than 700K small and micro-merchants will be able to reach customers in Qoo10's Southeast Asian markets. On the other hand, the company's statement added that Qoo10's merchants and cross border logistics business will get access to the Indian market.
PayU Acquires Wibmo For $70 Mn 
In April 2019, Nasper-owned fintech company PayU acquired Bengaluru and Cupertino-based startup Wibmo in a deal worth $70 Mn. Through this acquisition, Wibmo in a statement had said that it will build a robust digital payment ecosystem to deliver its customers and clients a seamless payment experience.
Wimbo was founded in 1999, and the Indian operation was led by Govind Setlur. The company offers digital payment technology solutions and payment security in various countries. It offers 3D secure process of digital payments, the one-time passwords (OTP) gateway to authenticate digital transactions. Interestingly, Wimbo's platform is certified by Mastercard, Visa, RuPay, Payment Card Industry Data Security Standard (PCI DSS).
Quikr Acquires Zefo 
With this acquisition deal, Quikr will be looking to scale its pre-owned goods and services verticle. Quikr founder and CEO Pranay Chulet said that the collaboration will further enable the company to offer a much broader selection of products at even more competitive prices. On the other hand, Zefo's offerings can now be offered to Quickr's large customer base.
Founded in 2015, Zefo was started by Arjit Gupta, Himesh Joshi, Karan Gupta, and Ramasubramanian. The company offers end-to-end operations, including product refurbishment and repairs of its sold products, where it ensures to provide a higher degree of standardisation.
Paytm Acquires NightStay 
In January 2019, Paytm acquired travel startup and a last-minute hotel booking app, NightStay for an undisclosed amount. However, before this acquisition reports surfaced that Paytm may acquire NightStay for $20 Mn (INR 142 Cr).
NightStay was started by Nasr Khan and Deepak Negi in 2014. The company offers hotels open and flexible options to provide flash accessibility on its app. Currently, Nightstay is present in Delhi, Mumbai, Bengaluru, Goa, Chennai and Hyderabad. Previously, the company has raised funding of $500K in August 2015 from BedRock Ventures and angel investors Rajesh Sawhney and Shailesh Vickram Singh, a partner at SeedFund.
OLX Group Acquires Aasaanjobs 
With the acquisition of Aasaanjobs, online classifieds marketplace OLX is making its bet on rapidly-growing recruitment industry in India. OLX company will utilise the acquired assets to strengthen its job verticals in the blue and grey collar jobs market
Since its launch in January 2008, OLX has expanded its vertical slowly with an acquisition-led strategy. Starting from 2015, the company has so far done three acquisitions with one acquisition in 2019. Previously, the company has acquired Sulit.com.ph and Torg.Uz.
Other Important Startup Acquisitions Of The Year
Radware Acquires ShieldSquare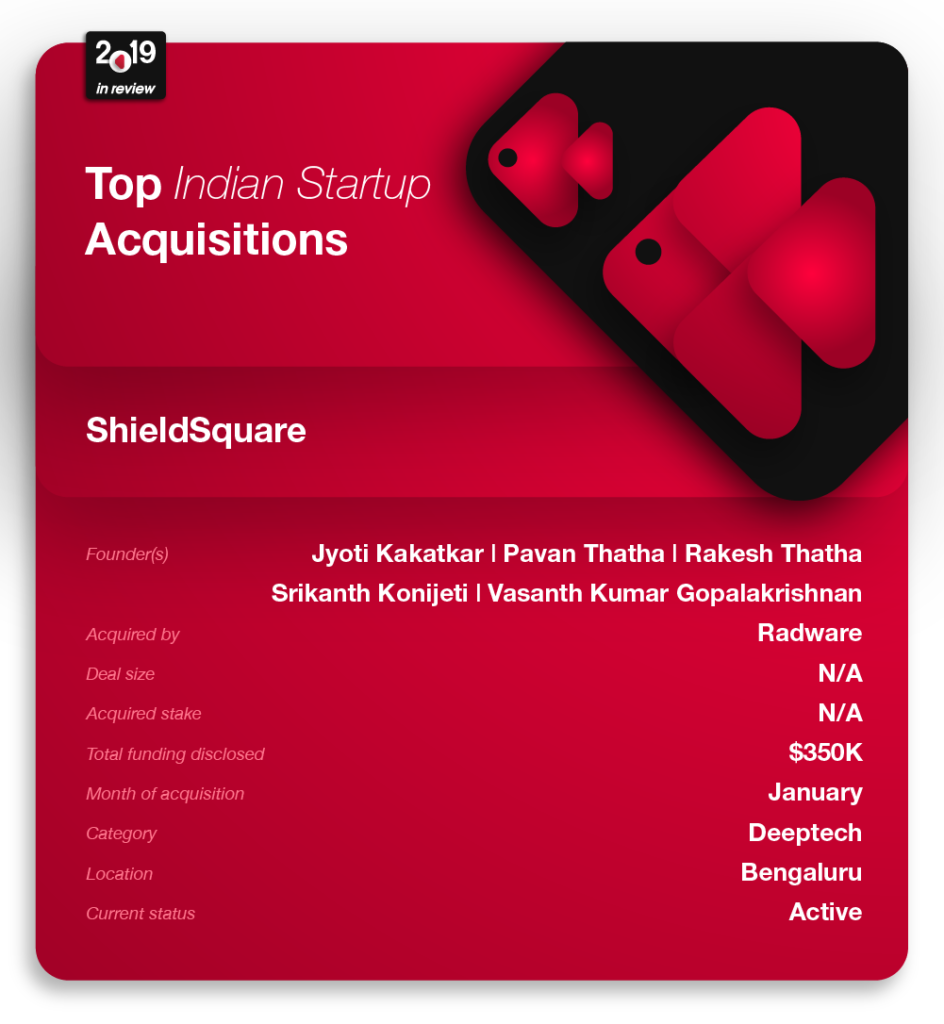 Through this collaboration, Radware will offer ShieldSquare's bot mitigation and management services under its new Radware Bot Manager product line. ShieldSquare will be integrated into Radware.
Elara Technologies Acquires FastFox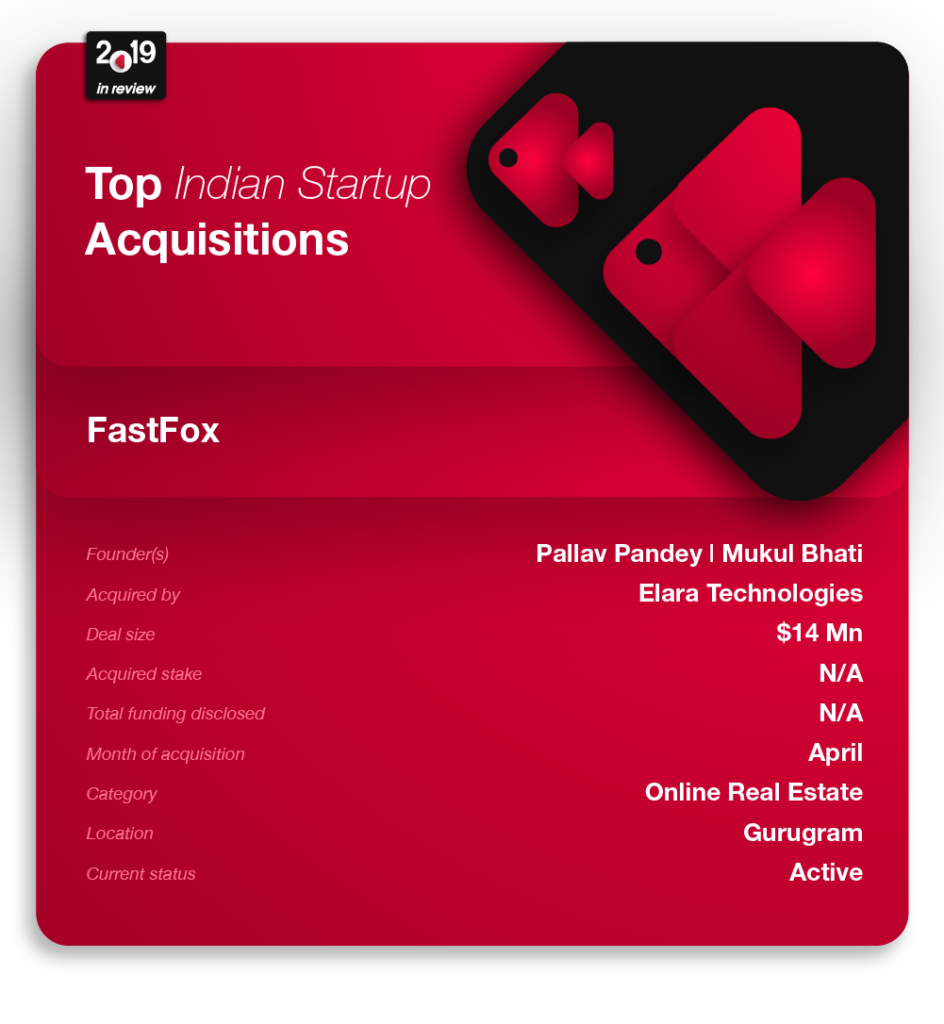 In April 2019, Singapore-based digital real estate marketing and transactions services company, Elara Technologies acquired Gurugram-based rental brokerage startup FastFox for INR 100 Cr ($14 Mn).
Scripbox Acquires Upwardly 
In August 2019, personal wealth management platform Scripbox acquired another wealth management startup Upwardly for an undisclosed amount.
ClearTax Acquires Dose FM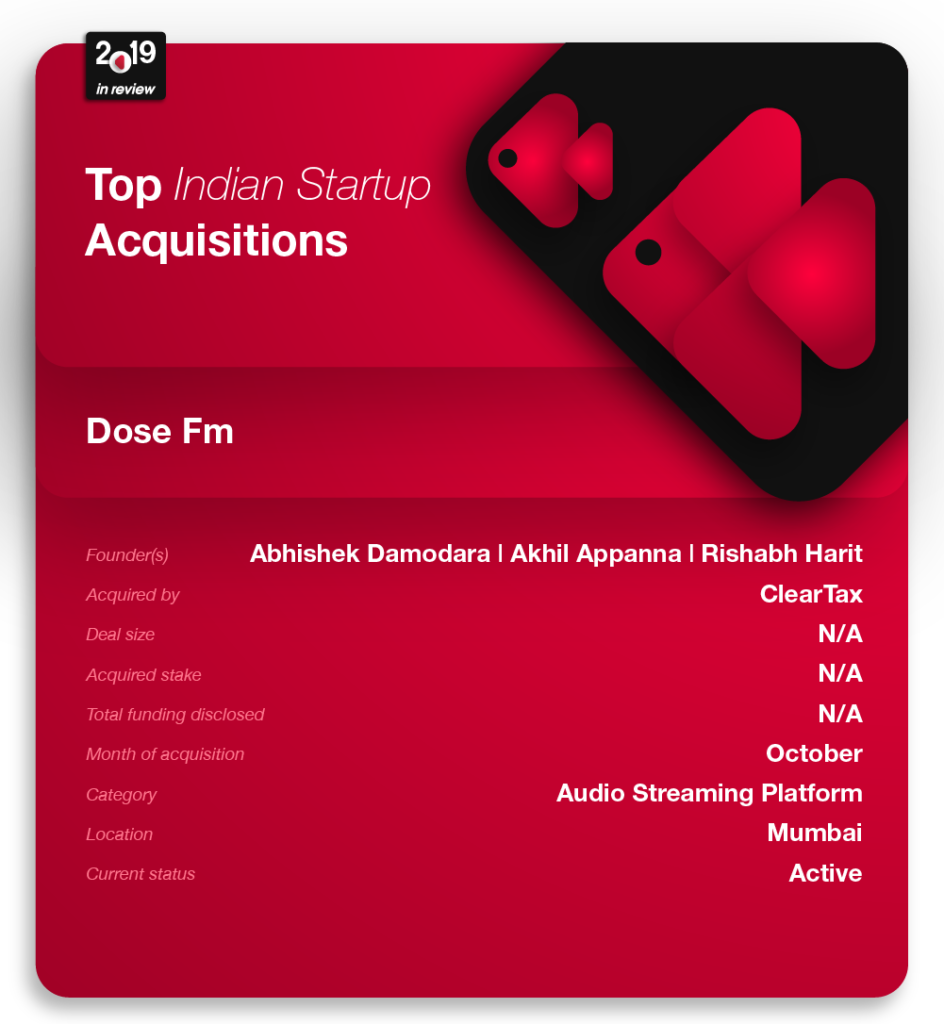 In October 2019, the fintech startup ClearTax acquired Mumbai-based audio streaming platform Dose FM for an undisclosed amount. Through this acquisition, the team will be building mobile focussed products for simplifying the financial lives of businesses and individuals
Printo Acquires Inkmonk
In May 2019, the Bengaluru-based printing retail startup Printo acquired custom online printing marketplace Inkmonk for an undisclosed amount. Through this partnership, the founders of Inkmonk will be joining Printo's leadership roles.
Medlife Acquires Myra 
In May 2019, Bengaluru-based epharmacy startup Medlife acquired medicine delivery startup Myra Medicines for an undisclosed amount. Through this acquisition, Medlife will be able to accrue profits and support its pharmacy business. Also, Medlife will consolidate and improve the delivery of medicines and extend the reach to more Indian cities.
As we move into the next year, more surprises await. The startup ecosystem poise limitless opportunities.