While the Indian startup ecosystem is no stranger to social media banter, this year's virtual battles took things to a new level.
Like most things online these days, social media has turned into the town square, where just about anyone can come forward and spew vitriol, angry posts and rant about just about anything. This includes startups and tech products that have caught the imagination of the public, and this means the world gets to see startups and brands get into battles out in the open.
While the Indian startup ecosystem is not new to the idea of competition and braving customer feedback, this year customers took to social media to air out their complaints with great effect.
Social media presence has become a primary touchpoint for brands to interact with users. This is a whole new opportunity but also a responsibility, which if used wrongly can create havoc (Zomato's food vs religion, anyone?) and often results in social media battles. While puns and witty comebacks are always welcome and bring a smile to our face, 2019 also brought up some issues around startup services on social media. And as usual, there was some memorable banter for us to recall at the end of the year.
The Cost Of Food And Religion For Brand Zomato
What began with a stance against an Islamophobic customer turned into a days-long social media slugfest about religion and its connection with food. As the discussions spilled outside Twitter, Zomato bounced from negative tweets to bad reviews and ratings. In late July, #ZomatoUninstalled and #Boycottzomato trended on social media for almost a week and the company faced customer ire across many online platforms.
While it may have started as a customer complaint — whether it merited a response or not — Zomato's stance made it a public enemy number one across social media platforms. And things were about to get much worse for the startup as it battled out with restaurants in the months since then
Zomato Gold And Double Standards?
Moving on from the religion controvery, Zomato was soon hit by partner restaurants and their #logout campaign, questioning the company's deep discounting policies such as Zomato Gold and Infinity Dining. Amid a lot of to and fro between Zomato, restaurants and restaurant bodies, cofounder and CEO Deepinder Goyal hit the ball out of the park with one tweet.
Goyal called out NRAI president Rahul Singh for embracing Gold standard for his own restaurant — The Beer Cafe — even as the NRAI targetted Zomato Gold with #logout campaign. Claiming that aggregator platforms were being "painted as bullies," Goyal said Zomato will stand by the changes made to its own 'Gold' programme as they are in the supreme interest of its restaurant partners and members.
Swiggy And Dunzo Take Competition To Wholesome Levels
As a first-mover, startups gain all the advantage if they have the right model. Just ask Dunzo. Bbut what if this monopoly is threatened by a heavily-funded unicorn? Apparently, you give them a warm welcome! At least this is what Dunzo did this year.
Dunzo, a hyperlocal app fulfilling user's request, saw the entry of Swiggy, a foodtech unicorn in February this year. In February, Swiggy launched Stores, which enables the delivery of on-demand hyperlocal products, from flowers and vegetables to health supplements, grocery items and more. Interestingly, this was a page out of Dunzo's book, so it demanded some banter on social media.
But of course, Dunzo tweeted. "Welcome to our space!"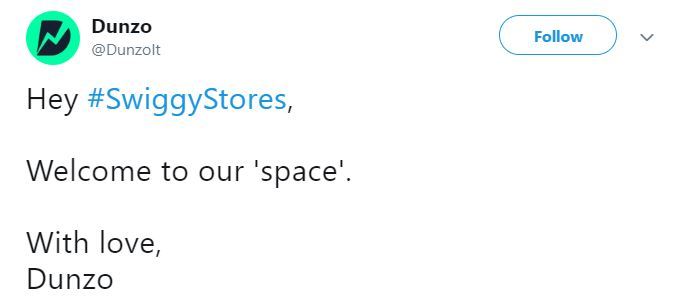 Sachin Bansal's Baffling Twitter Recommendation 
The most impactful tweets often come from those who don't tweet that much. Especially, when that person is credited with being an ecommerce revolutionary in the country.
So when Flipkart cofounder Sachin Bansal recommended that "All men on Twitter" follow the account LifeMathMoney, there were a few eyebrows raised. Not least because the account had a track record of posting somewhat sexist tweets in the past.
It might have even been fine had Bansal stopped at just recommending the account. For good measure, he added, "Women can follow if too, if they want."  That definitely drew a lot of ire.
"The Enemy Of My Enemy Is My Friend"
Since 2016, one thing has brought telecom rivals together is their common foe — Reliance Jio. While telecom players have bared their fangs in front of regulators, this year, Airtel, Jio and Vodafone took the opportunity to battle it out on social media, just like many of the startups in India.
As Reliance Jio announced that it would charge users calling fees when calling other networks, Airtel and Vodafone swooped in to capitalise on any disgruntled users. Considering the massive tax bill staring these telecom giants, Jio might just have the last laugh in this battle.
Two-Timing Netflix And Hotstar
Who doesn't like being cheeky and competitive on social media? That's what bragging rights are all about. So a confession by a Netflix user two-timing with Hotstar brought out a gaggle of laughs on an otherwise boring Thursday this May.
It began with Netflix tweeting, "We hang out every weekend. We eat all our meals together. Your parents know about us. Hate to break it to you, but we may be in a serious relationship."
Soon, a Twitter user @marathimanu commented on the thread saying, "We need to talk. I have been cheating on you with @HotstarPremium."
Apparently, Hotstar was "Sorry, not sorry!"
Jack Dorsey On FACEBOOK!
A brand revamp is not uncommon — especially when tech companies change logos or update their identity. But when Facebook changed its logo earlier this year, many had a hard time seeing what had changed or liking it!
Facebook rebranded itself to "FACEBOOK", as if shouting out its own name. This got some witty reactions from Twitterati. But Twitter cofounder and CEO Jack Dorsey had only one comment to offer!
Since then Facebook has added "by Facebook" to its other products WhatsApp and Instagram. Twitteratti had a field day with that too!
Not Just Fun But Accountability Too
While social media has seen a lot of casual banter and brand battles, one of the things it has been entrusted with is accountability. One such incident this year was when fashion influencers on Instagram raised issues with their payments from fashion retailer StalkBuyLove. The influencers alleged that the company hasn't paid them for their work, and this brought to light several other vendors and customers, who alleged unpaid dues and undelivered orders, respectively.
StalkBuyLove founder Shikha Ahluwalia later issued a video statement on Instagram saying founders haven't absconded but are facing issues with one of their key investors. She assured the vendors that the dues will be paid soon. But there hasn't been an update on this since.
So which of these social media controversy caught your eye this year? Did we miss any social media clashes? Let us know below.