Brand India was strong this year and that meant there was a lot of enthusiasm for new ventures — cricketer Rohit Sharma created new world records; PV Sindhu became the first Indian shuttler to win a gold at World Badminton Championship; Sundar Pichai was made the CEO of Google parent company Alphabet, Jaipur became the second Indian city to feature on UNESCO Heritage list and Indian origin economist Abhijeet Banerjee won the 2019 Nobel Prize.
A look back at India's startup ecosystem also shows potential success stories being born. Indian startups continued to grow exponentially and global marquee investors pumped in investments. While around seven startups joined the unicorn club, government also kept startups at the helm while looking into strengthening international collaborations and many global tech startups embarked on India journey.
2019 also continued to see the launch of many startups, products and some making an entry with seed funding from leading investors.
Reliance Jio Fiber: Another Game Changer?
Mukesh Ambani-led Reliance launched the much-awaited Jio Fiber broadband service this year. The fibre-to-the-home internet offering was launched across 1600 cities in India at low prices that forced competitors to also drop rates, just like in the 4G launch.
The buzz around the launch was mainly due to the expectations built after Reliance Jio revolutionised the smartphone industry in India. With cheaper data, India became the second largest country in terms of internet penetration.
Reliance JioFiber offerings, including a speed starting from 100 Mbps to 1 Gbps, JioFiber monthly plan rentals starting at INR 699, access to free domestic voice calling, conferencing and international calling; TV video calling and conferencing, entertainment OTT apps, gaming, home networking, device security, VR experience etc, is also looked at a potential game-changer.
Recently, Reliance officially added new OTT app subscription to its users in India along with a 10 percent cashback on availing the latest JioFiber broadband plans.
Jio's customer base has crossed 340 Mn users and is growing at the rate of 10 Mn new customers every month. "The potential for growth is immense, and 500 Mn mark is soon to be achieved," said Ambani.
Amica: Neo-Banking Startup Bags Seed Funding Before Launch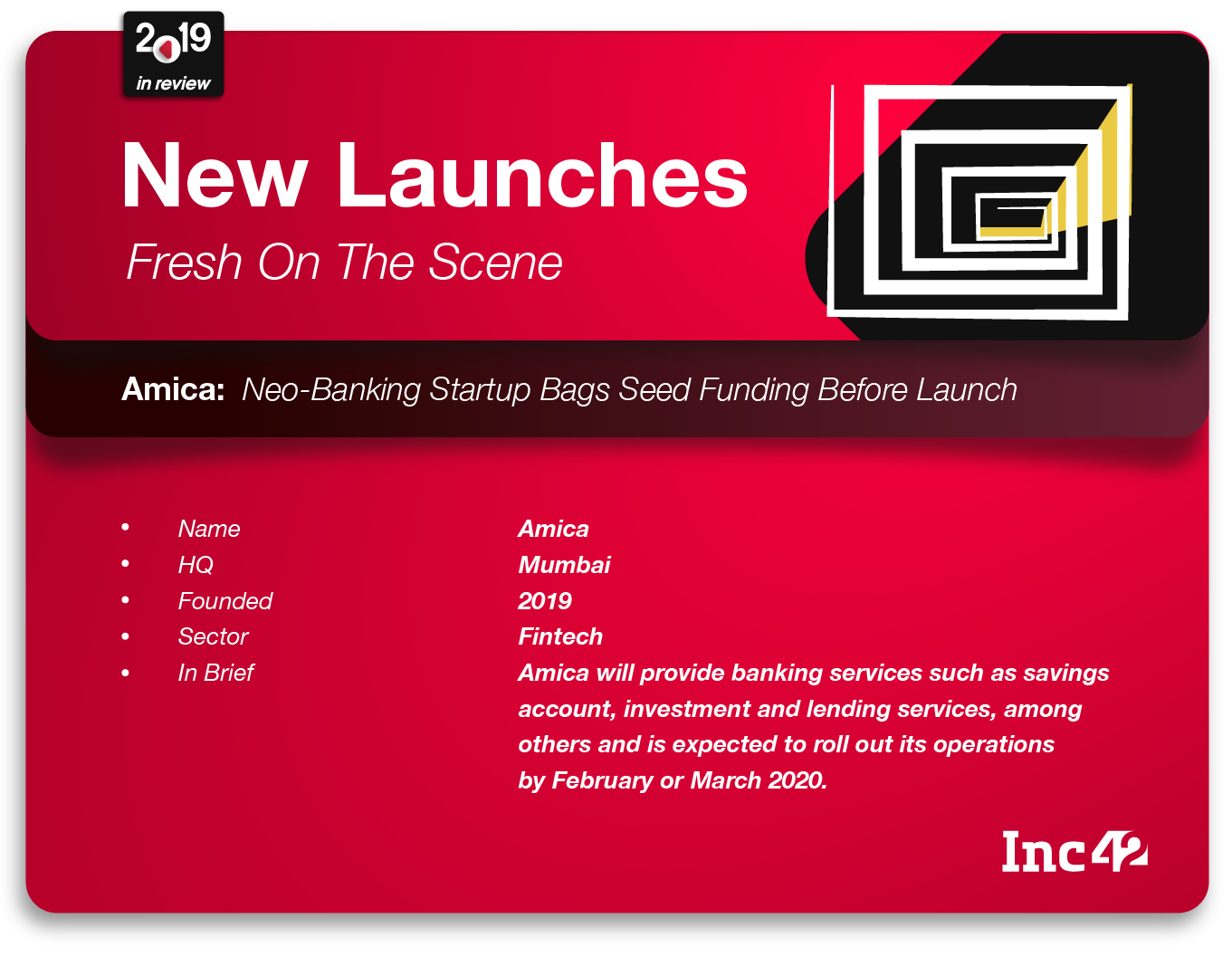 The digital banking platform has reportedly grabbed 24 Mn in its first round of funding before even launching its services yet. Through the round, the Mumbai-based Amica Financial Technologies was also able to bring on board a host of angel investors such as Falcon Edge Capital's cofounder Navroz Udwadia, Snapdeal cofounders Kunal Bahl and Rohit Bansal, Cred cofounder and CEO Kunal Shah, BookMyShow founder and CEO Ashish Hemrajani, and Nubank's founder David Velez.
Serial entrepreneur Jitendra Gupta in 2016, along with other cofounders Amrish Rau and Satyen Kothari had sold Citrus Pay to Naspers-owned payment giant PayU for an estimated sum of $130 Mn. He further worked with PayU and helped the company set up its credit business LazyPay as managing director
Amica is today valued at a whopping $70 Mn with the current round witnessing investment from big investors such as BeeNext and Tanglin Venture Partners and angel investors like Nitin Kamath, cofounder and CEO of Zerodha, Freecharge founder Sandeep Tandon, People Group CEO Anupam Mittal, and Smile Group cofounder Manish Vij.
Mosaic Wellness: Cashing In On Health Conscious India
The startup made its debut by raising a whopping $10 Mn in its maiden funding round led by SAIF Partners, Sequoia Capital and Matrix Partners.
Backed by prominent venture capitalists Revant Bhate of Kalaari Capital and Dhyanesh Shah of Eight Road Ventures, Mosaic Wellness is a beauty and wellness company that focuses on cruelty-free and natural products. The startup also gives users the option to customise and personalise the products.
During the announcement of funding, Mukul Arora, Managing Director, SAIF Partners, said, "Over the next 8-10 years, there is an opportunity to build large Indian consumer brands across verticals. One of the spaces that we are really excited about is solution-oriented brands in the personal care space."
Mosaic Wellness, which is planning to launch its products in 2020, will use the funding to hire talent and focus on research and development of new products.
Kaarva: Startup Catering To The 'Broke'
The startup tries to capture millennials market by solving their unique finance problem, which is scarcity of funds in the middle of the month. Khushboo Maheshwari and Agam Goyal launched Kaarva in October 2018 for Generation Z workers "broke" in the middle of the month and not being able to deal with emergency spending,. The Bengaluru-based company allows customers to access a part of their salary on any day of the month, based on their requirement.
Customers can borrow against the unearned income till the point in the month when they decide to borrow and Kaarva gets the repayment through a deduction or funds transfer from the customer. In some ways, Kaarva is using the B2B concept of invoice forwarding and applying it to consumer loans.
According to the lending startup, Kaarva is time shifting salaries, letting its user get access to what they have earned, on demand with no fees, interest, or hidden costs. To access funds, users can register on the company's app or website.
The user account includes details of salary schedule, the number of hours worked in the month, which leads to the income earned but unpaid. To begin with, the company is focussing on individuals earning INR 10K-INR 30K per month. It claims that 90% of its users are earning between INR 15K and INR 25K. Any customer of Kaarva can withdraw (or cashout) up to INR 1500 per day and when the user gets paid at the end of the month, Kaarva is repaid.
Sunstone: India's First Pay-After-Placement Educational startup
Sunstone Eduversity, with unique pay-after-placement model, grabbed a seed funding of INR 11.35 Cr (approximately $1.5 Mn) led by Prime Venture Partners this year.
Talking about the startup, Prime Venture Partners told Inc42 earlier that it has been looking to invest in edtech space for more than a year now and Sunstone Eduversity fit every bit with its unique offerings.
The startup allows students to focus on completing the course rather than worry about financing their higher education. At the time of enrollment, a registration fee of INR 65K is charged for the two-year full-time programme. On completion of the course and only after getting a job, the student is required to pay the fee, which is 10x the monthly salary they bag in the placement round. This can be paid in instalments and the startup will also help placed students get financing help for the fee.
Founded by Ashish Munjal and Piyush Nangru in 2015, Sunstone Eduversity primarily focuses on equipping students with expertise to tackle everyday business problems across verticals.
Seekify: The Moneyball-Inspired Startup
The customer experience automation platform looks to solve problems like value for money, fulfilling customer demand under organisation structure, strategic investment, managing customer-centric operations etc.
Seekify easily integrates into many business CX software to aggregate all the data that drives their customer experience. The startup gives actionable insights from this data with the help of our AI and ML engine.
The startup found inspiration for Seekify from Brad Pitt-starrer Moneyball.
"Moneyball was right — you need wins, and for the wins you need runs. For runs, you need people who can get you runs. Sports and business are similar — you don't need top performers; you need the right set of people moving all the little indicators that come together to drive results," cofounder Jain told Inc42 in an earlier interview.
Seekify takes customer interaction data from fragmented points (for a physical help desk, customer service chat, telephone calls, NPS tools and more) and generates actionable insights to automate processes to enable individuals, teams and organisation to implement the right CX strategy. The company can also set its CX goals like NPS (Net Promoter Score) or CSAT (Customer Satisfaction) at company level.
SuperGaming: Game For Indian Market
Gaming is still in a nascent stage in India. This startup is aiming to cater to the unique demands of Indian users. "What we are building is a party hub around casual games to be played by a much broader audience," SuperGaming cofounder and CEO Roby John said.
The startup also looks at tapping the female users market. "Most gaming platforms are built male users, and as a result, they might not be the friendliest places for women and girls. By having a wide genre of games and being very conscious about how we build SuperGaming, we want to make a fun place for girls to hang out as well," John added.
The social gaming startup is yet to launch the product, and is planning to soon launch its gaming platform. The Singapore and Pune-based startup announced a $1.3 Mn funding round from Japanese investors Dream Incubator and Akatsuki Entertainment Technology (AET) Fund, and Better Capital, an early-stage investor.
The startup allows individuals to compete with their friends or team up for various casual, social and party games. The startup is also looking to add tournaments where users can play or watch. Like Mobile Premier League, SuperGaming is going for a platform approach by bringing multiple games across genres.
Revolt EVs: Driving The EV Revolution
Design language, performance and long distance range – these are the major aspects that the startup aims to focus. While EV is envisioned as the best solution for pollution woes and many startups trying to tap into the growing market, very few are trying to address the issue of charging infrastructure. This is exactly is the USP of the startup.
Revolt would be setting up its own charging infrastructure as it starts rolling out its products. Sharma set up the company in April this year with a personal investment of about INR 400-500 Cr. " My vision is to see every household in India have access to sustainable mobility," he said.
"We are working on the premise of making intelligent vehicles that don't compromise on the form factor and performance of ICE vehicles. To this we added our tech prowess and our ambition is to replace them completely," Sharma added.
With a team of automobile industry veterans, Sharma is eyeing double-digit market share in the automobile industry and just not the electric vehicles segment. Sharma also shared that the company has a slew of products lined up for a launch to disrupt the segment.