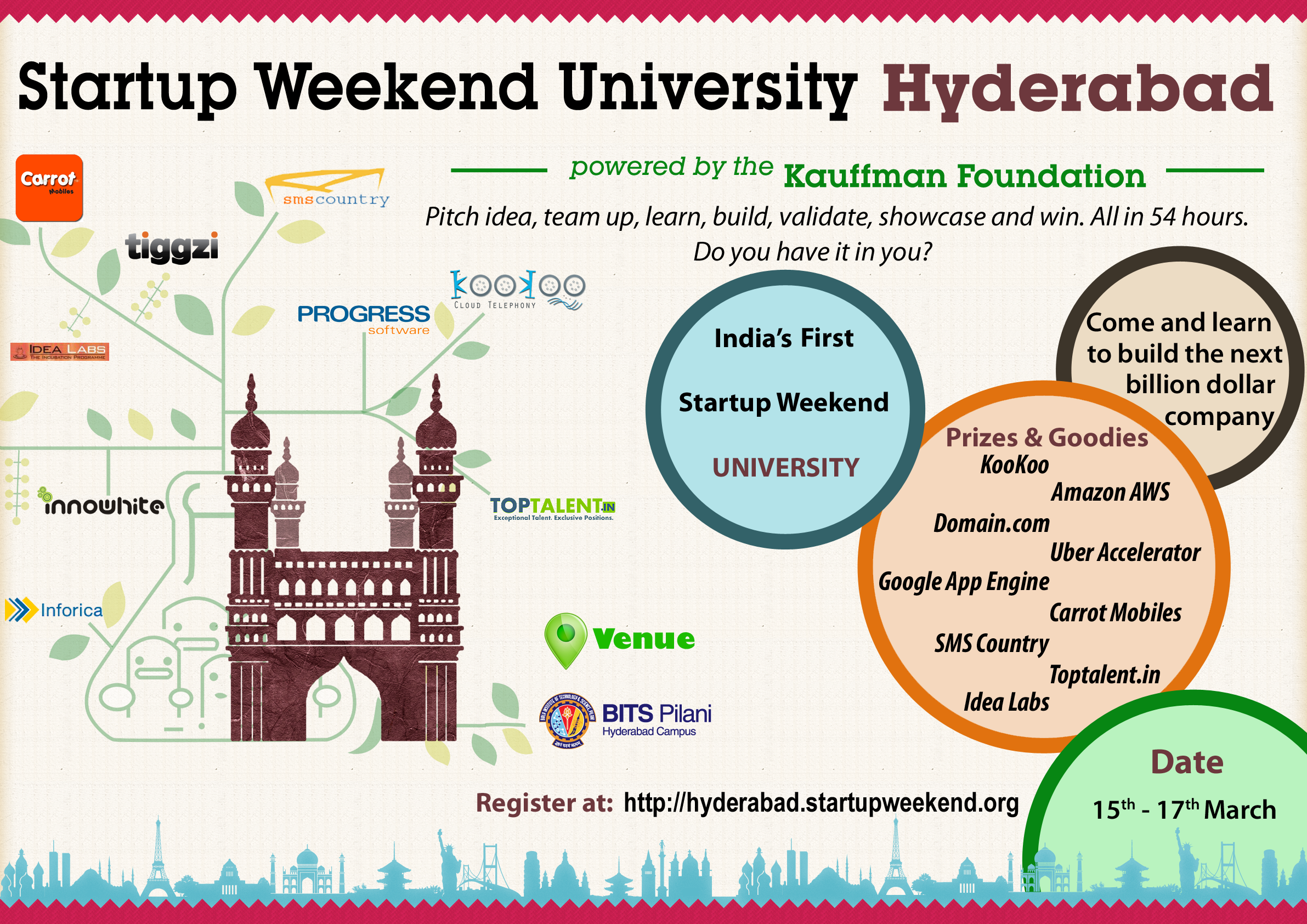 Ever wondered what it takes to build a successful startup?
The sleepless nights of working through challenges, gradual success or the overnight failure?
Well, then Startup Weekend "University" Event, Hyderabad gives you the best platform to test your ideas, experience a startup or simply enjoy a productive break from your routine lives. The event is primarily aimed to cater the needs of student-entrepreneurs with hope to cultivate their entrepreneurial mindset.
Startup Weekend is a global initiative by active and empowered entrepreneurs to learn the basics of founding startups and launching successful ventures. This non-profit organization is based in Seattle, Washington but the Startup Weekend organizers are spread across 200 cities conducting weekend-long workshops to pitch ideas, form teams, and start companies.
Here's a quick promo video on the previous StartUp Weekend Hyderabad that was held in November, 2012 (PS. We did cover this event earlier here as well):
The event is going to be held at BITS Pilani-Hyderabad Campus from 15th March to 17th March 2013. Around 100 entrepreneurs (70 students and 30 Non-students) are expected to attend this 52 hour long startup delirium.
The basic model of event is:
Anyone is welcome to pitch their startup idea and receive feedback from their peers.
Teams organically form around the top ideas (as determined by vote of the attendees).
After deciding on the top ideas, it is a ceaseless frenzy of business model creation, coding, designing, and market validation.
The weekend culminates with presentations in front of local entrepreneurial leaders with another opportunity for critical feedback.
The following highlights about the event will be worthy-enough to confirm your presence:
This is the first time, an event of this kind and scale is going to be held in India.
This event arises as a testing ground for new ideas, a refreshing change or perhaps the opportunity to create an all-new startup as well as an opportunity to find co-founders and paying customers for your startup.
You will be mentored by a diverse set of industry experts like Ramesh Loganathan (VP Products and Center Head, Progress Software), Ripul Kumar (Founder Director at Kern, CTO at LionSher Tests), Satya Kalyan Yerramsetti (CEO of SMS Country), and Pankaj Diwan (Founder CEO of Renaissance Softlabs (P) Ltd).
The opportunity to meet people from different fields like Mobile apps, Web Apps, Healthcare reforms or even a social network.
Exciting prizes and job offers from Uber Accelerator, Carrot Mobiles, Top Talent.in, Idea Labs, Amazon AWS, Google App Engine, .CO Domain, SMS Country and Kookoo.
So, if u are an aspiring entrepreneur who wants to connect with companies, angel investors, or learn a skill far outside your usual 9-to-5, everyone is guaranteed to leave the event better prepared to navigate the chaotic but fun world of startups.
Register here for the best startup weekend of your life!