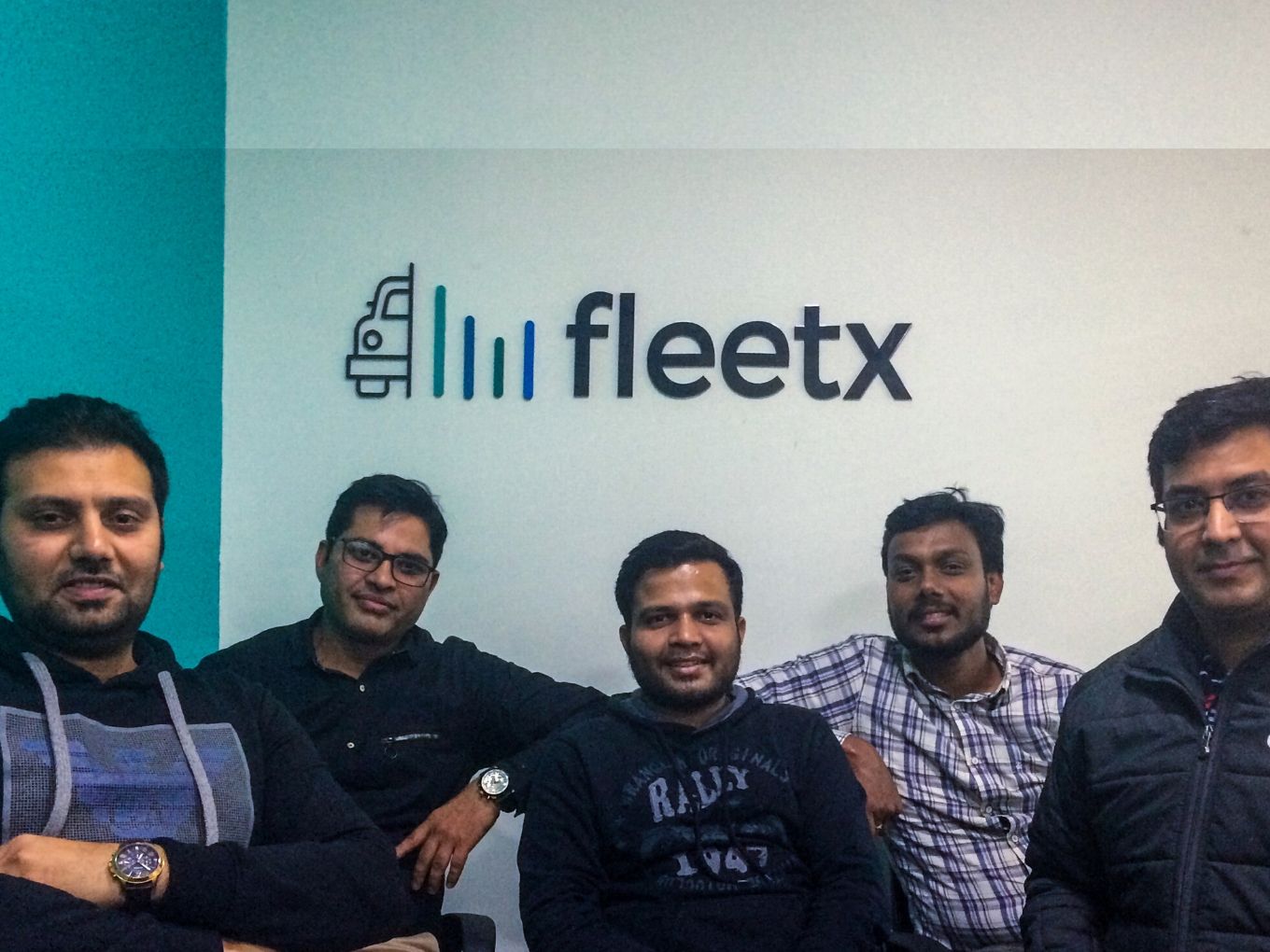 Fleetx cofounder and CEO Vineet Sharma tells us that funds will be used for expansion
Snapdeal founders Kunal Bahl and Rohit Bansal also participated in the round
Fleetx.io claims to be growing at 20% M-o-M
Gurugram-headquartered artificial intelligence (AI)-driven logistics platform, fleetx.io, has begun the new year with a fresh round of funding from new and existing investors. Contrary to unconfirmed reports today about FleetX raising INR 10 Cr, the company told us the funding amount is $2.8 Mn with participation from VCs and angel investors.
Talking to Inc42, Fleetx cofounder and CEO Vineet Sharma said that the company has raised $2.8 Mn in its Series A round of funding. The investment has been led by Beenext with participation from existing investor India Quotient. Further, Snapdeal founders Kunal Bahl and Rohit Bansal, Rajesh Ranavat (MD, LiFung Capital) and Rohan Ranavat (Investor, Temasek Holdings) also participated in the round. Earlier, a report in Entrackr had speculated that the funding amount was INR 10 Cr.
Prior to this round, the company has raised over $1 Mn from investors such as India Quotient and LetsVenture's Angel Fund, with participation from angel investors — Ajay Prabhu, Prashanth Susarla, Sajid Rahman and Aditya Pratap Singh.
Sharma said that the fresh funds will be used for expansion in India and other markets as well as towards bulking up its product, technology and sales teams.
Founded in 2017 by Sharma, Abhay Jeet Gupta, Udbhav Rai, Parveen Kataria and Vishal Misra, Fleetx.io offers a suite of software-based products to help fleets of all sizes monitor and optimise their daily logistics operations. It uses AI and predictive analytics to help businesses improve efficiencies and reduce cost on logistics.
Fleetx Eyes SEA Market With 6X Y-o-Y Growth
Sharma told us that the company caters to over 1000 customers with its AI-driven fleet management software. The company claims to also provide real-time actionable insights in logistics operations to large enterprise shippers and companies.
The client base includes both mid to large fleet owners and enterprise shippers. Fleetx.io claims to be growing at 20% M-o-M. Sharma said that the company grew 6X between 2018 and 2019.
In terms of revenue, as of March 31, 2019, the company had generated a net revenue from operations of INR 1.31 Cr with expenses of INR 1.64 Cr and posted a net loss at INR 22.17 Lakh.
Even though the company hasn't achieved breakeven yet, Sharma tells us that EBITDA has been improving every month. The company is eyeing 6x growth in FY20. With plans to expand into South-East Asia, Sharma tells us the market has similar geographies like India and is a large market with a lot of untapped market in fleet management space.
"Our focus is mostly on mid to large enterprise market targetting large fleet owners and shippers and we are still in the exploration phase. We are still doing market research, problem and gaps identification and evaluating the existing solutions," Sharma told us.
Dirk van Quaquebeke, managing director at Beenext said, "We were impressed by the team's relentless focus on solving very concrete problems in fleet management one industry at a time. This increases relevancy, reduces the risk of being displaced and creates several industry-specific micro brands/personas for FleetX."
Streamlining Logistics For India
The logistics market in India has been fragmented for the longest time, even though in the last few years, several tech startups have identified the need to organise this sector. In the context of the funding amount, the recorded growth rate between 2014 and 2018 for startups in the logistics sector is 226%, according to DataLabs By Inc42.
The market size of the Indian logistics sector shall hit $215 Bn by 2020, logging 10.5% CAGR, said IBEF. Logistics also generates millions of employment in the country. To be precise, the sector currently employs 22 million people and the count is expected to surge to 40 million by 2020. At present, draft national logistics policy is under works and is expected to bring down India's expenditure on logistics to 9% of GDP from the existing 14%.
Fleetx told us that one of the major challenges in the logistics industry is that the fleet owners don't have advanced technology infrastructure and the logistics industry ultimately rely on the fleet owner for moving the goods between locations.
"Another challenge was that lack of skilled manpower in the logistics industry which can't work on complex/legacy solutions," Sharma added.
DataLabs by Inc42's Annual Indian Tech Startup Funding report 2019 noted that logistics is the next emerging sector as the fastest growth rate for capital inflow (2014-19) was seen at logistics at 24% Further, the sector had the highest median funding amount with $942.73 Mn funding in 2019.