Taking into stock country's access to the internet and its usage, a report by Nielsen and Internet and Mobile Association of India (IAMAI) has noted that India had 451 Mn monthly active users as on March 31, 2019.
The report titled, "Internet in India 2019", said that of the 451 Mn monthly active users, 385 Mn are over 12 years of age and 66 Mn are in the age bracket of 5 to 11 years, who access the Internet on the devices of family members.
It said that even though internet penetration is higher in urban areas with 192 Mn users, there is an equal split of urban and rural internet users. However, in terms of percentages or penetration, given the disparity of population distribution in urban and rural India, urban India has a considerably higher penetration level.
In rural India, a sizeable portion does not have access to the internet, and provides a huge opportunity for growth which will contribute to an increase in the overall Internet population over the next few years.
Internet Users In India – Male vs Female
The report also finds that 72% of urban internet users or approximately 139 Mn use internet daily. On the other hand, approximately 109 Mn or 57% of the rural internet users' access the internet daily.
The report also indicates that there is a clear gender disparity when it comes to internet usage in India. The analysis notes that the female internet user is half of the 258 Mn male internet users, and the bias is more evident in rural India. The split of male and female is 60:40 in Metro 50L+ as well.
Here are other interesting notes from the report:
2/3rd of internet users in India are in the age group of 12-29 years.
 Interestingly, a higher proportion of this age group is seen in rural India. This is indicative of the fact that there is potential for growth in this segment.
Internet consumption at home is still prevalent across urban and rural
1/3rd of the urban population is accessing Internet while travelling
At a state level, Delhi NCR has registered the highest Internet penetration followed by Kerala, Haryana, Himachal Pradesh, and Punjab
States in the East, except Assam and North East, have low Internet penetration.
Among the cities, Mumbai and Delhi top the list with 11.7 Mn and 11.2 Mn internet users' respectively
Bengaluru and Kolkata with 6.1 Mn users are third, followed by Chennai with 5.4 Mn internet users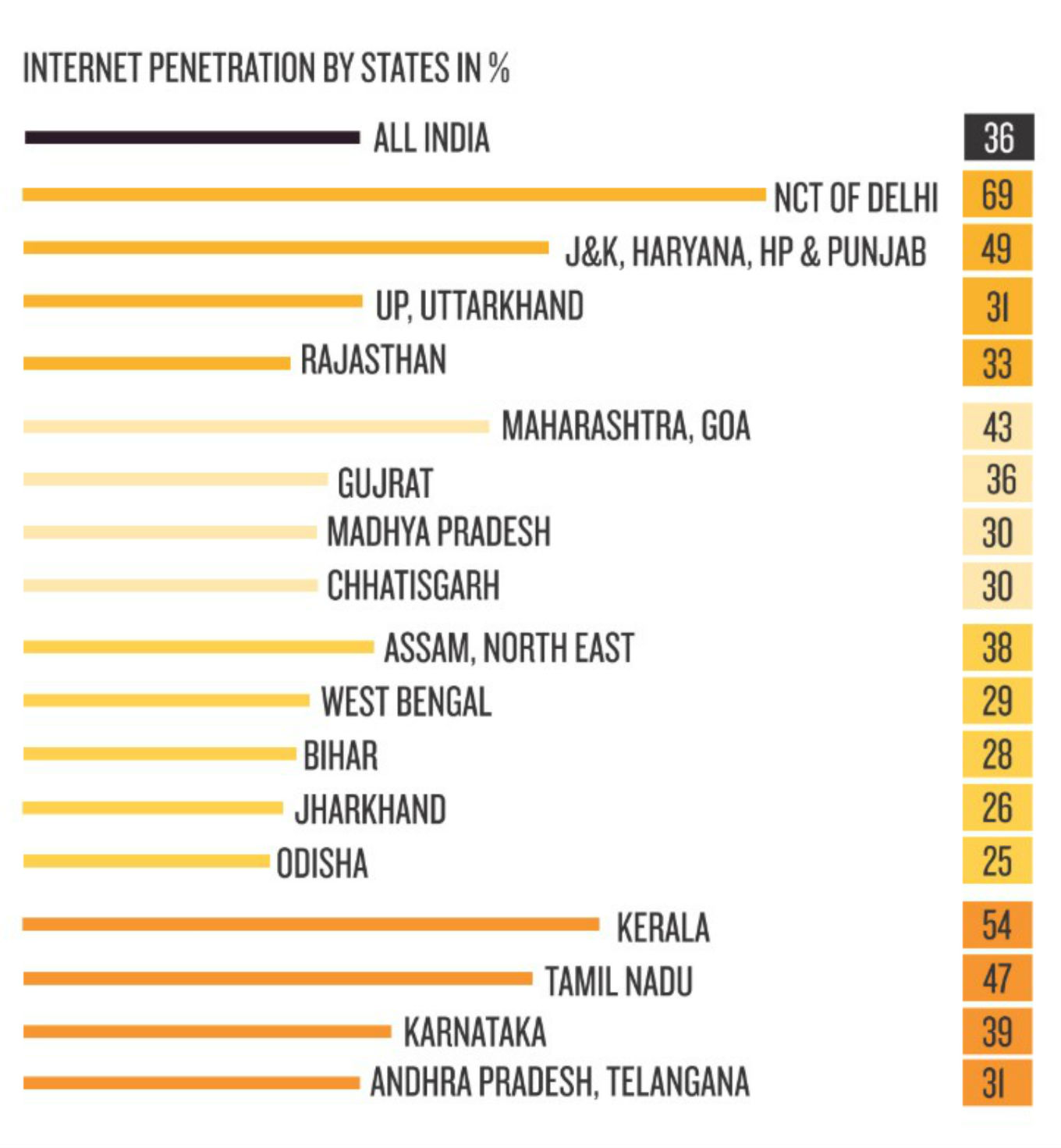 According to Mary Meeker's 2019 Internet Trends Report, India had the second largest internet user base with 12% of the world. The digitalisation and access to the internet has created a new growth story in India.
Besides the Indian government's continuous impetus for internet penetration through the Digital India programme, private sector initiatives such as Google Wi-Fi at 400 railway stations, Vodafone's Super Wi-Fi coupled with the entry of Reliance Jio 4G services have drastically brought down the cost of internet subscription.