A strong growth in business, with operating revenue doubling to INR 96.4 Cr in FY23, helped InsuranceDekho reduce its loss from INR 72.2 Cr in FY22
Total expenses rose 25% to INR 151.8 Cr from INR 121 Cr in the previous fiscal year
The insurance aggregator spent INR 1.5 to earn every INR 1 in operating revenue in FY23
InsuranceDekho, the insurance arm of used car marketplace CarDekho, reported a 29% decline in its net loss to INR 51.5 Cr in the financial year 2022-23 (FY23) from INR 72.2 Cr in FY22, on the back of a strong growth in its business.
The Haryana-based insurtech startup's operating revenue doubled to INR 96.4 Cr during the year under review from INR 47.9 Cr in the previous fiscal year.
The insurance aggregator, incorporated in 2016, generates revenue mostly from the brokerage fees that it collects from insurance companies. 
Including other income, InsuranceDekho's total revenue stood at INR 100.2 Cr in FY23, a jump of 105.7% from INR 48.7 Cr in the previous fiscal year. 
Meanwhile, total expenses rose 25% to INR 151.8 Cr from INR 121 Cr in FY22.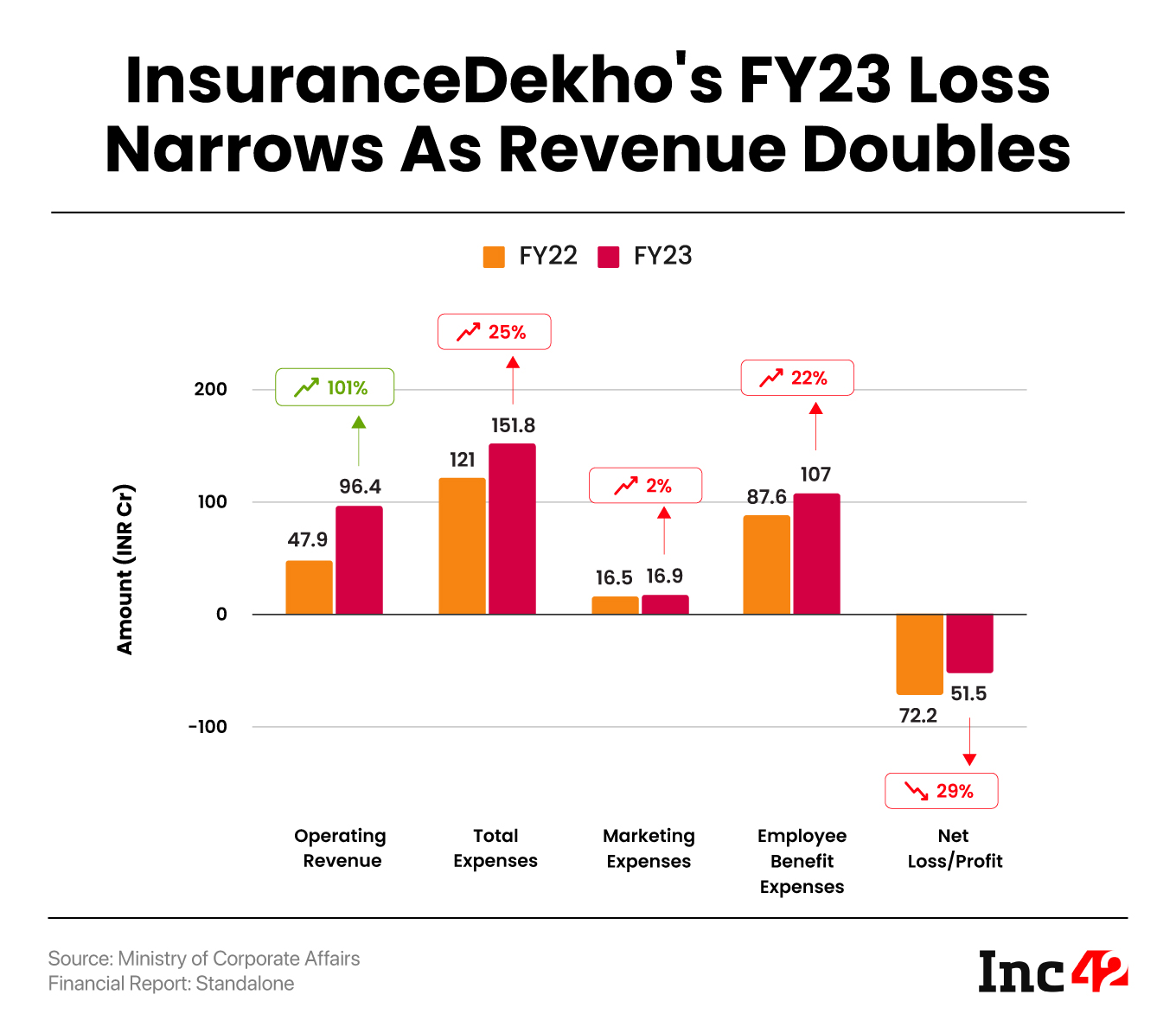 Employee benefit costs accounted for the biggest chunk of expenditure. In FY23, InsuranceDekho spent INR 107 Cr on employee benefit expenses, an increase of 22% from INR 87.6 Cr in the previous fiscal year. 
Advertising expenses saw a marginal 2.6% increase to INR 16.9 Cr in FY23 from INR 16.5 Cr in the previous fiscal year.
Overall, the startup spent INR 1.5 to earn every INR 1 in operating revenue during the year under review. EBITDA margin improved to -44.9% in FY23 from -143.6% in FY22. 
Amid the funding winter, InsuranceDekho raised $150 Mn in its Series A funding round in February this year. The round, which was a mix of equity and debt, was led by Goldman Sachs Asset Management and TVS Capital Funds. It also saw participation from Investcorp, Avataar Ventures and LeapFrog Investments. 
The startup, founded by Ankit Agrawal, Alok Bhatnagar, Ish Babar, and Sanjeev Gujral,  acquihired IRSS post its fundraise to strengthen its distribution network. In the same month, it also acquihired Peak XV Partners and LightSpeed-backed SME insurance distribution company Verak.
In an exclusive interview with Inc42, Agrawal said the company was aiming to break even by the end of the next financial year.
InsuranceDekho, which also counts TVS Capital Funds, Goldman Sachs Asset Management and Investocorp among its investors, competes with the likes of Digit Insurance, PolicyBazaar, among others.