India's electric vehicles (EV) market took a hit as China shut down in January due to the pandemic, it was brought to its knees when in the middle of its attempt to wean away from Chinese EV components, India was hit by Covid-19.
The double-whammy impacted the EV industry as cash flows and markets dried up. Moreover, there were hardly any buyers. As the Indian government started opening up, the sector was hit by political tension between India and China. These uncertainties made investors apprehensive about the EV segment, just like others which depended on China.
Maxson Lewis, managing director of Magenta ChargeGrid and EV charging station manufacturing startup added, "Investors these days are looking to eliminate any external risk on the supply chain, and exposure to China is now considered a long-term risk. Any startup that is assembling vehicles by importing components from China is 100% at risk now."
Meanwhile, a Mint report quoting sources said, "PE and VC investors have in the last few months become apprehensive of startups that have substantial exposure to China. They fear that with rising pressures from the Indian government, these startups can face disruption in the supply chain whenever bilateral ties take a hit."
Chart Of The Week: Covid-19 Impact On EV Industry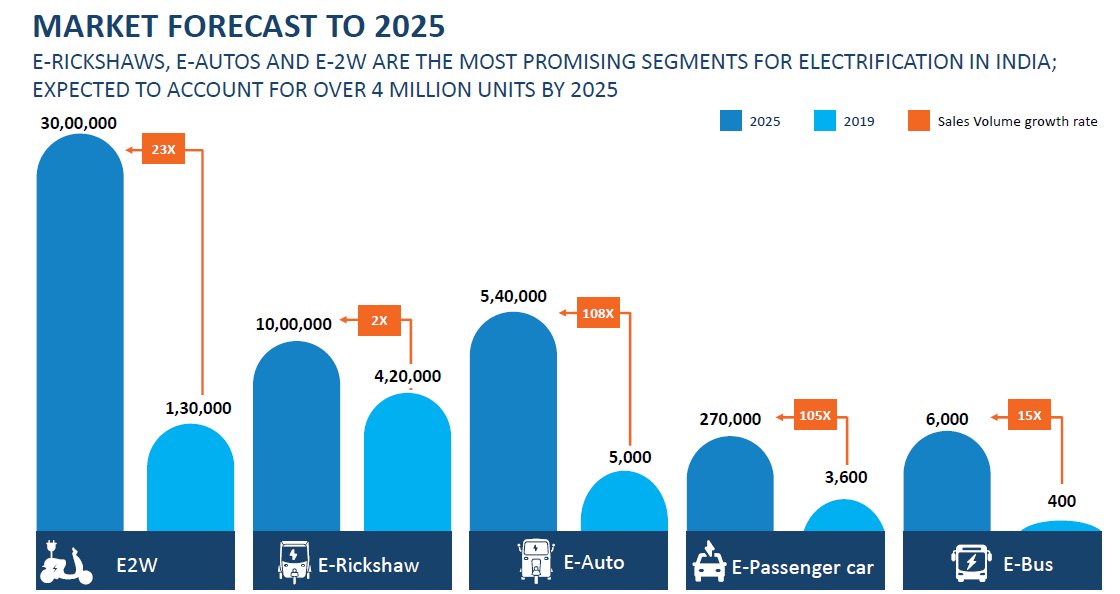 EV News Of The Week
Honda Will Start Rolling Out Its Hybrid Models From Next Year
Honda Cars India president and CEO Gaku Nakanishi has confirmed that Honda will stick to its plan to launch hybrid vehicles in India. The company had shared the electrification strategies two years ago, and intends to follow it through. The company will start the production and sales of hybrid vehicles next year.
"Internally, to launch a new model, we have to plan almost 5 years ahead and we have almost spent 3-4 years. At the moment, we don't have any plan to postpone the project," Nakanishi added. He also noted that the demand for automobiles should be back to its original state by the fourth quarter of 2020.
Ampere Vehicles Acquires Electric Three-Wheeler Company Bestway Agencies
Ampere Vehicles, a wholly-owned electric mobility subsidiary of Greaves Cotton, has acquired 74% stake in Noida-based electric three-wheeler company Bestway Agencies for INR 7 Cr. The deal is subject to customary closing conditions, the companies have clarified.
Through this acquisition, Ampere Vehicles will venture into the electric rickshaw segment to enforce a strong presence in both electric two and three-wheelers. Moreover, the acquisition will also allow it to offer a complete product portfolio to its B2B customers who have requirements for electric three-wheelers as well for both people and cargo mobility.
EESL Looks To Set Up 162 EV Charging Stations In Noida

Energy service company Energy Efficiency Services Limited (EESL) has planned to set up 162 electric charging stations in Noida to boost electric vehicle adoption in the region. The EESL has also signed an agreement with New Okhla Industrial Development Authority (Noida), which will help save more than 3.7 tonnes of CO2 emissions per electric car per year.
Ritu Maheshwari, chief executive officer, NOIDA, said, "Developing a sustainable landscape with strong supporting EV infrastructure is the key to cultivating consumer confidence in electric vehicles. This will significantly enhance consumer convenience as well. With increasing penetration of EVs, the local pollutants emission levels are also expected to reduce, leading to cleaner air and several public health benefits."
Dive Into EV Ecosystem With Inc42's Reading List
The advancement and innovation in this arena give rise to several myths and doubts about EVs and their usage. As commuters foresee this transition from traditional fuel vehicles to electric vehicles, it isn't surprising that many will compare the advantages of EVs with conventional ICE vehicles, which makes it imperative to demystify common EV myths.
As the technology is growing and many industries are adopting the changes, many electric vehicle companies are enabling modern technologies like Artificial Intelligence and IoT in their vehicles. They are providing these e-scooters for many purposes, from personal use to now in the smart delivery ecosystem.
EV Headlines From Around The World
Latest EV Subsidies In Europe Make Renaults Free In Germany
Shoppers in Europe can now buy electric vehicles as check as a mobile-phone contract all thanks to the latest subsidies on emobility. In some cases, the subsidies also enable people to take EVs for free. The state support is allowing a dealership chain Autohaus Koenig, which has more than 50 locations across Germany, to advertise a lease for the battery-powered Renault Zoe that is entirely covered by subsidies.
According to a Bloomberg report, more than 3K people have inquired about EV, while 300 have signed the contracts, in the last 20 days. "If we had more sales staff, we would have sold even more," Wolfgang Huber, head of electric-car sales for the dealer in Berlin, said.
Nissan Motor Unveils All-Electric Crossover Ariya
This week, Nissan Motor unveiled a new all-electric crossover called Ariya as part of a four-year business turnaround plan to achieve sustainable growth, financial stability and profitability. Ariya is one of the 12 new or redesigned models of Nissan and are expected to be released in 2021.
The restructuring of Nissan's product thinking will go up through early-2024 and includes several other initiatives like cutting billions in fixed costs, axing several vehicle nameplates and closing or realigning production plants.