Hackers stole 7000 Bitcoins from Binance, earlier this week
Leading mining company Bitmain cuts Bitcoin mining by 88%
Bitcoin is a gamling device, reiterates Warren Buffett
Bitcoin is notorious for its volatility and that's one of the reasons eminent personalities such as Microsoft founder Bill Gates have taken a U-turn from saying "Bitcoin is better than currency" to "it's a greater fool theory". Unlike Gates, Berkshire Hathaway chairman and CEO Warren Buffett, however, has maintained its stance on crypto since the beginning. And, that is — "Bitcoin has no unique value".
Speaking to Fox Business, Buffett reiterated his stance that Bitcoin is a "gambling device" that hasn't produced anything substantive. He said,
"Bitcoin doesn't reproduce. It doesn't speak to you. And it doesn't do anything. It's like a seashell or something, and that is not an investment to me."
Meanwhile, after a year-long crypto winter, the Bitcoin price is surging again. The cryptocurrency is currently trading at $6.3K. And, the discourse among crypto enthusiasts is not about the very existence of Bitcoin, but whether altcoins are a better investment and digital currencies.
Crypto investor and Bitcoin Cash promoter Roger Ver is more optimistic about Bitcoin Cash than the currency it forked from. He recently said, "Bitcoin Cash will outperform bitcoin in a few years," adding, "I am not so optimistic about Bitcoin anymore. Bitcoin had a big network effect but its usefulness isn't very good. The value or the use of bitcoin went out of trend as the scalability issue arose. The transaction fees on the bitcoin network became so high that it became impractical to use today."
Bitcoins Worth $41 Mn Stolen From Binance
In one of the biggest bitcoin hacks since Mt Gox, hackers obtained a large number of user API (application programming interface) keys, 2FA (2-factor authentication) codes, and other info to steal 7K bitcoins worth $41 Mn from Binance's hot wallet on May, 7, 2019. The stolen bitcoin contained about 2% of the company's total bitcoin holding.
Speaking about the latest security breach update, CEO Changpeng Zhao stated that the exchange team is making progress with the goal of resuming deposits and withdrawals, as soon as possible. Some of the changes will be done within a week, and many will be introduced at a later stage.
"We are taking this opportunity to significantly revamp some of our security measures, procedures, and practices. We are making significant changes to the API, 2FA, and withdrawal validation areas, which was an area exploited by hackers during this incident. We are improving our risk management, user behaviour analysis, and KYC procedures. We are working on more innovative ways to fight phishing. We also have a number of additional security measures being implemented that are not directly visible on the front-end," Zhao said.
Zhao further said Binance will introducing Universal 2nd Factor (U2F) support, such as YubiKey and other devices.  The company is reportedly working with over a dozen industry leading security teams to help improve the security as well as to track down the hackers.
Image Of The Week: Tree Chart Of The 7K Transaction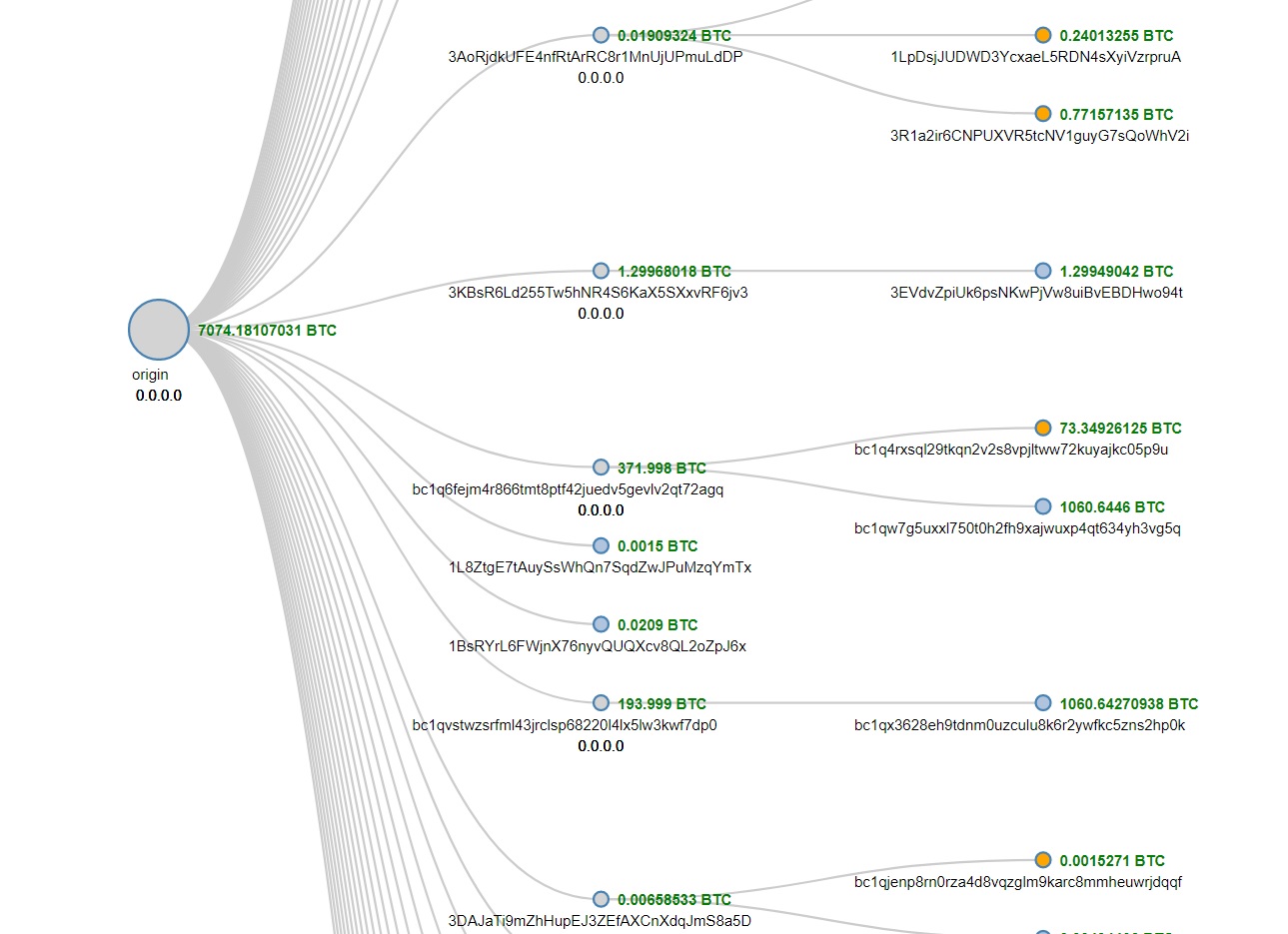 Fidelity To Offer Cryptocurrency Trading
US-headquartered leading global financial services company Fidelity Investments will soon start offering Bitcoin trading – buy and sell – feature as part of its products and services, reported Bloomberg.
Earlier this year, Fidelity Investments, one of the largest asset managers in the world, had started custody services to store Bitcoin. The company in its market research found that 47% of institutional investors think digital assets as worth investing in.
Bitmain Cuts Bitcoin Mining By 88%
Founded by Jihan Wu and Micree Zhan in 2013,  Beijing-based Bitmain — one of the largest bitcoin mining companies — has reduced its mining production by 88% between April and May, according to a Tom's Hardware report.
For the last few months, China has suspended thousands of bitcoin mining operations under the garb of tax inspection by authorities. Bitmain which had filed for an IPO on September 26 at Hong Kong Stock Exchange went under a huge loss of $500 Mn in Q3 of 2018, as the company had 11 mining farms in China. Consequently, its IPO application lapsed after six months.
In other news, the Federal Trade Commission of US has taken legal action against Douglas Monahan — promoter of Texas-based iBackPack — who was also operating a deceptive crowdfunding scheme. Monahan had told consumers that he was raising money to develop a high-tech backpack and other products, but failed to deliver any of the products and instead used the funds for himself.
Monahan had raised over $800K from consumers through multiple crowdfunding campaigns. The case is now to be heard at US District Court for the Southern District of Texas, Galveston Division.