Kashhcoins Promised A Return Of 10% For Five Years To Their Buyers
While the Bitcoin mania surges higher, so is the frequency of fraud being perpetuated in the name of cryptocurrency. In a recent case, a gang of crooks which floated a fictitious cryptocurrency Kashhcoins, put up a website and duped several people in Delhi and other parts of the country before the crime branch arrested a key player. The accused, Narendra Dahiya, hails from Sonipat, Haryana. Eight other members of the gang have been identified and raids are being conducted to nab them.
The gang had named the currency Kashhcoins and put them up for sale on the website Kashhcoin.net. They devised a unique combination of cryptocurrency and multi-level marketing to make huge profits. They asked each unsuspecting buyer to add their families, relatives and friends in the chain to earn profits. For every new member added, they were promised incentives over and above their profit.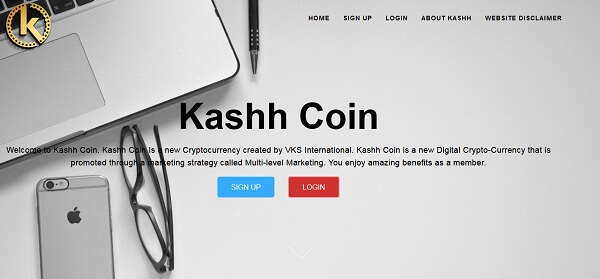 On the website, the company claimed to provide "all residents of earth" with sufficient number of coins to achieve independence from other money. It stated, "There is a finite number of KASHH Coins. The maximum amount of KASHH Coin is 2,515,020,000 and, unlike money issued by government, KASHH Coin can't be affected by inflation and are impossible to counterfeit."
The gang promised a return of 10% for five years to their buyers, apart from the "shooting rate" of the cryptocurrency, which they claimed would soon cross the rate of Bitcoin. Initially, each Kashhcoin was priced at $0.05(INR 3.5).
More About The Kashhcoins Fraud

In order to lure investors, the gang organised seminars in several cities and invited eminent personalities to impress people. As per DCP (crime) Bhisham Singh, videos of the seminars uploaded on YouTube and social media sites are being used to verify the antecedents of those who attended them.  A Bhojpuri actor and a Bollywood actress are seen in two of the videos that the gang uploaded. More arrests are likely to follow in the coming days.
The police were tipped by one of the buyers who was duped off $21,824( INR14 lakhs). After he filed an FIR in August this year, raids were conducted in Maharashtra and Gujarat to nab the suspects. Finally as more complainants poured in, the police were able to nab Dahiya. As per the police, the cryptocurrencies sold by the gang were valued at $7.79 Mn (INR 50 Cr).
Bitcoin and other cryptocurrencies are still not regulated in India. While the RBI cautions investors and traders against invest or trade in Bitcoins at their own risk, the traction towards Bitcoin has gone sky high in recent months. Bitcoin price has surged 12-fold this year, making many Bitcoin investors exponentially richer. This has also goaded the Income Tax (IT) department of the Indian government to conduct some survey operations at major Bitcoin and other cryptocurrency exchanges across the country as it has been widely reported that people have not paid any tax on these gains.
Although the rising interest in Bitcoins and cryptocurrency fuelled by their dizzying prices is luring many investors to dabble in them, the case of Kashhcoins also illustrates how gullible investors who do not fully comprehend its workings can be duped of their hard earned money. Last week, after Finance Minister of India Arun Jaitley made it clear that the centre doesn't recognise the use of Bitcoins and other cryptocurrencies as a legal affair, the Reserve Bank of India (RBI) has reissued its warning pertaining to cryptocurrencies.
[The development was first reported by TOI]