Under fire for running misleading ads and even creating imaginary characters to promote its platform BYJU'S-owned WhiteHat Jr is looking to clean up its act by discarding the campaign. The company has decided to trash the controversial ads featuring tech leaders like Microsoft's Bill Gates, Facebook's Mark Zuckerberg, and Google's Sundar Pichai among others.
As per data in Facebook's Ad Library, the last controversial ad run by WhiteHat Jr was in September 2020 on Facebook, Instagram, Messenger and other audience networks run by Facebook.
Many critics of the company had questioned the use of celebrities and even global political leaders to promote the app, without the consent of these big names. The company has also chosen to file defamation suits against two critics — software engineer Pradeep Poonia and angel investor Dr. Aniruddha Malpani. Now, the company has now chosen to use personalities in the news instead of ambassadors.
WhiteHat Jr's spokesperson noted that the company's launch campaign was replaced in September with ad campaigns featuring Deepa Malik, who is the first Indian woman to win a medal in paralympic games. She is the recipient of medals in 2016 Summer Paralympics in the shot put and Grand Prix held in Dubai in 2018.
Commenting on the same, WhiteHat Jr's spokesperson said, "Like every part of the business, we evaluate our campaigns actively after listening to consumer feedback."
The spokesperson added that the company would be focussing on "campaigns closer to the vision of celebrating the incredible creative potential of kids" through coding, but declined to furnish any more details beyond this generic description.
It must be noted that WhiteHat Jr spent close to INR 89 Lakh on ad campaigns on Facebook between February 2019 and November 2020 as per Facebook's Ad Library data.
The ads were a point of contention for WhiteHat Jr critics due to their allegedly "misleading" nature, which many claim lure parents by using the brand power of these prominent personalities. Another controversial ad campaign was the one featuring a teenager named Wolf Gupta, who supposedly landed a job in Google due to his coding skills.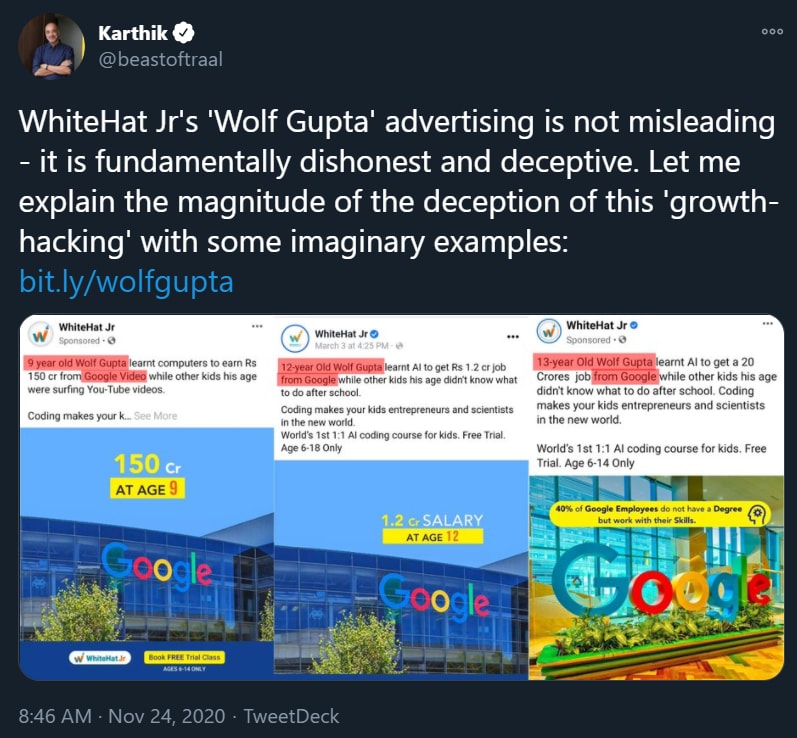 Will New Ads Impact WhiteHat Jr's Lawsuits? 
While many questioned the existence of Gupta, the company only confirmed that it was a fictional character in a defamation lawsuit it had filed against one of its critics Pradeep Poonia earlier this month. This despite the company even creating a LinkedIn page for 'Gupta'.
Previously, the company was asked by the Advertising Standard Council of India (ASCI) to pull down at least five of its advertisements which were in violation of the advertising code for making dubious and unsubstantiated claims. The council had received 15 complaints about seven advertisements of WhiteHat Jr, and found five of them to be in potential violation of the advertising code.
Even as it looks to fix the fallout from the ad campaigns, WhiteHat Jr is embroiled in two court cases over alleged defamation — the company had sued Poonia for INR 20 Cr and another critic Aniruddha Malpani for INR 15 Cr. Incidentally, many arguments from the defendant side in both hearings centred around the misleading nature of the ads run by the company. The question is will WhiteHat Jr's public acknowledgment of the misrepresentation have any bearing on the lawsuits against Poonia and Malpani.
Edtech Rivals Aping WhiteHat Jr's Misleading Ads
Another pertinent issue is that other startups have started following WhiteHat Jr's ad campaign suit to garner more eyeballs. One such startup is Mumbai-based Lido Learning that has featured Tesla's Elon Musk, Facebook's Mark Zuckerberg, former US President Barack Obama, former Indian President APJ Abdul Kalam and former president of South Africa Nelson Mandela.
Lido Learning had started this campaign back in August 2020 with an ad featuring Indian Prime Minister Narendra Modi, soon after the Indian government announced National Education Policy.

Inc42 has reached out to Lido Learning seeking clarification on their intent behind such ads, and upcoming ad campaigns.
Meanwhile, Malpani added that since WhiteHat Jr got away with their ad campaigns, several other companies believe that they can get away with it too without any major implication.
"The reason #WhiteHatJr featured Bill Gates and Google in their ads because they were allowed to get away with this. And to compound the problem, many other startups are happy to copy the 'market-leader',"  he added.