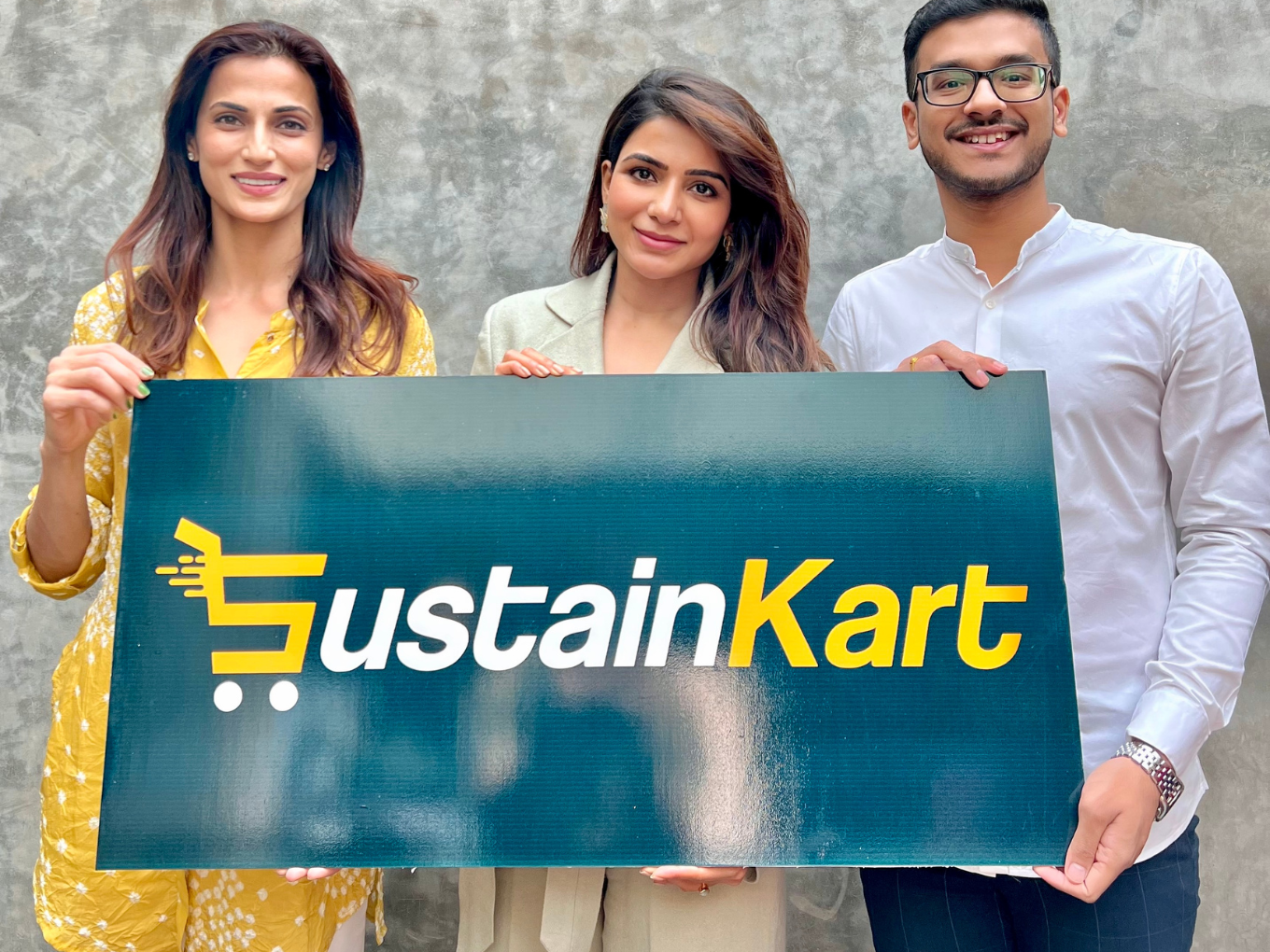 The startup will use the fund for customer acquisition initiatives and enable offline retail stores for a unique in-store customer experience
SustainKart is coming up with its first offline store launch in April this year
The one-year-old startup has launched a private label and acquired two direct-to-consumer brands so far
Actress Samantha Ruth Prabhu has invested an undisclosed amount in Hyderabad-based SustainKart, an ecommerce marketplace for sustainable products, part of its seed-round funding.
SustainKart offers sustainable and eco-friendly products ranging from fashion to decor, beauty and wellness, furnishings to gifting, nutrition and snacks, kids care, pet care, among others.
Launched in 2021 by Shilpa Reddy and Kanthi Dutt, SustainKart aims to revamp households with organic products. In 2021, SustainKart launched skin and hair care brand Bhoomitra, backed by actress Keerthy Suresh.
"We are scheduling SustainKart's first offline store launch in April. We have started partnering with entrepreneurs who believe in sustainability to launch our franchise experience stores across India. We aim to launch 30 stores in the first year and a total of 100 stores in two years from now," said Shilpa Reddy, cofounder, SustainKart.
Announcing her association with the startup, actress Samantha Ruth Prabhu, said, "The choice of consumers has been slowly gravitating towards more conscious and nature-friendly products. Consumer brands have been launching their sustainable range of products, more so after the pandemic."
With more than 950 brands and 68,000 stock-keeping units, SustainKart's products are organic, upcycled, earthy, recyclable, and durable, as claimed by the startup.
"We are planning to develop strategic celebrity partnerships for SustainKart's brands as well to attract capital investment to grow the private labels vertical," said Kanthi Dutt, CEO, and founder, SustainKart.
Last month, SustainKart acquired homecare brand FromVedas, founded in 2021 by Nadendla Vedashree. The brand was conceptualised to make the cleaning market more environmentally friendly. Their products include floor cleaners, air fresheners, fabric conditioners, dishwashing liquids, hand wash liquids, entirely made from organic oils, vegetable extracted colours, and pure natural fragrances.
Meanwhile, celebrities from the film industry to the sports world have mostly shown interest in beauty and fashion startups by making investments. For example, just yesterday, actress Sara Ali Khan invested in Mumbai-based casual wear and pop-culture D2C startup, The Souled Store. Khan has also infused an undisclosed amount in the D2C startup.
Last month, actor Suniel Shetty invested an undisclosed amount in fitness startup Aquatein and joined it as investor and brand ambassador too.
In the past, we have seen Bollywood celebrities such as Deepika Padukone, Shilpa Shetty, Anushka Sharma, Ayushmann Khurrana; and cricketers including MS Dhoni, Sachin Tendulkar, Yuvraj Singh, Virat Kohli, among others, investing hugely in startups of their choice and earning money.